Why would anyone in the 21st century buy shoes AND socks? For something seemingly so simple, how has a hybrid not been created, perfectly marrying socks and shoes into one, perfectly fitting, high performance machine. Worry no more, Saucony is here to help.
Introducing the Sauc-Knit, the first-ever 0mm compression knee high racing flats. Offering the closest thing to actually being barefoot, the Sauc-Knit is a one-of-a-kind hybrid that eliminates your need for buying both shoes and socks. Never go looking for that one missing sock again, as the Sauc-Knit is easy to just slip on as you would your normal sock, but provides the foot stability and protection of a sneaker.
Ok, in all seriousness, the Sauc-Knit isn't real. Saucony joined in on the April Fool's pranks and posted this picture on their Instagram and the response was surprisingly positive, even prompting people to ask where they can buy. Honestly, the idea isn't that far off from what some retailers are doing by creating skin like uppers, including the likes of the Nike Magista and the adidas Primeknit FS.
Let us know what you think of the Sauc-Knit @SneakerReport and if you would cop if these ever come to light.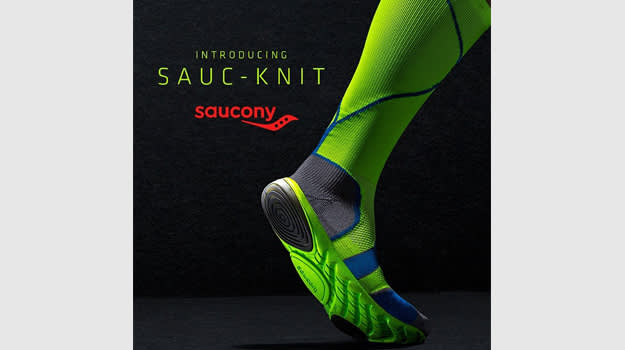 RELATED: Another Look at the Saucony Kinvara 4 "Boston"
RELATED: Breaking Down the Saucony Cortana 3