Today, Saucony officially unveiled the latest installment of their popular natural motion running shoe the Kinvara. Following the massive popularity behind the award winning Kinvara 4, Saucony is upgrading this years' model and will launch it at the upcoming April 18, John Hancock Sports & Fitness Expo during the Boston Marathon, which they are the primary sponsor.
The Saucony Kinvara 5 stays true to previous models by offering a ultra lightweight design, weighing in at just 7.7 ounces for a men's size 9. Designed with a 4mm heel-to-toe offset, the Kinvara 5 positions the foot closer to the ground providing for a larger range of motion then traditional running sneakers. Also included in this years Kinvara is the ProLock lacing system which encases the foot and locks it to the shoe's platform with adjustable straps on either side of the mid foot. Saucony FlexFilm was added and acts as a breathable mesh upper that secures and stabilizes the foot during runs. For extra cushioning, Saucony integrated their PowerGrid technology, which makes the Kinvara 5 lighter and more durable the traditional rubber soles, as well as providing a landing zone to absorb impact and transfer energy back into the runner's stride. Finally the collar was redesigned using Saucony's RunDry lining for extra comfort and superior moisture wicking properties.
The upcoming Kinvara 5 has everything you could want in a running shoe, but Saucony being a leader in running innovation wanted to design a shoe that can combat any weather. The Saucony Kinvara RunShield, combines all the tech features from the Kinvara 5 but adds a water resistant FlexShell to keep feet dry and warm without sacrificing performance.
The Saucony Kinvara 5 will be available in both men and women's sizes beginning May 1 at select retailers and Saucony.com for $110. Those interested in the Kinvara RunShield will have to wait a little longer as they won't be available until August 1 for a suggested retail of $110.
Keep it locked to Sneaker Report for all future news on Saucony and the Kinvara series.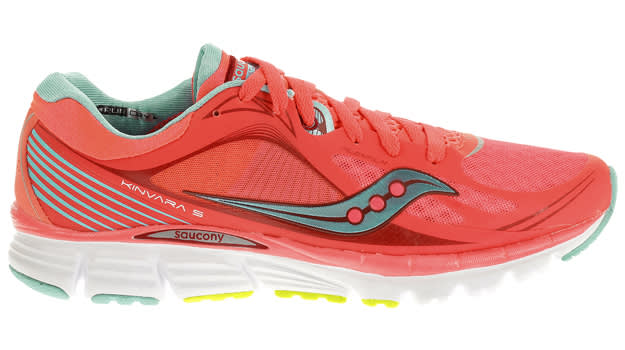 [Saucony]
RELATED: Another Look at the Saucony Kinvara 4 "Boston"
RELATED: 25 Marathon Memes To Get You Through Race Day