The Nike Women's DC Half Marathon welcomed over 15,000 women (and more men than you'd think) to dash by the U.S. Capitol Building and Washington Monument yesterday.
Just like many East Coast kids, a healthy of healthy dose of my knowledge about the nation's capitol growing up came from embarking on middle school class trips and a few family vacations designed to form me into the perfect little American. Little did I know then, this would equip me with an internal map of the National Air & Space Museum (gotta say hi to R2D2), National Museum of American History (Dorothy's shoes, original Muppets), Hirshhorn (fun to say), and the respected war and presidential memorials. It all came full circle this past weekend.
The Nike Women's DC Half Marathon course featured far more of the East Potomac Golf Course than expected and less of my predetermined idea of the District, but the cherry tree lined streets brought glamour to the Nike-created atmosphere and set a unique tone for the nation's capitol. The race itself was just as grand.
The massive scale of this race is clear when you reach mile two. Starting in the first two corrals (sub 7:30 and 8:00 - 8:30) requires patience and coordination to run without bumping into fellow runners (something every city runner is used to dealing with for the first mile). By the third mile of elbow and ankle brushing, the success of this event is tangible.
How does Nike make running a race so glamorous? By creating an experience that extends before and after the finish line.
The unbridled enthusiasm of the participants is matched by the sponsors featured in the appropriately named Expotique (usually it's just an "expo"). Nike Georgetown featured flash mobs of employee dance teams and enough race day merchandise to outfit the entire city. Paul Mitchell braided hundreds of heads complete with flower wreath, and Nuun continuously hydrated runners. You realize this isn't a sweatpants and "Oofos" occasion when a woman in towering heels and maxi skirt billows by displaying her runner's abs. This is an event full of photo ops and as Nike would say, "Make it count."
The race merchandise offered at the nearby Nike store isn't just a smaller version of the men's apparel that you plan to purge at the start line of your next race. The brand supplies hoodies, tees, and sneakers in tasteful shades free from the neon cliché that (for once) make the boys jealous. Located in the heart of Georgetown, it's easy to float from the expo into an afternoon of shopping.  How did they know this was how I wanted to spend my Sunday afternoon? Let's just chalk it up to fate.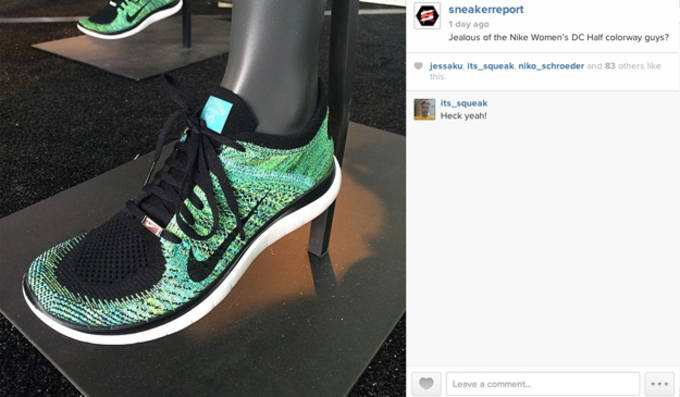 During the race DJ booths blast everything from electronica to Beyonce. High school bands played Michael Jackson hits on a festive loop while smiling volunteers handed out chocolate treats around mile 10. Nike ditched the macho Gatorade brand two years ago for Nuun, which supplies more than one flavor of drinks to keep our palettes entertained and our bodies hydrated from the inside out.
Post race is all about #treatyoself and lots of clapping. Shalane Flanagan and Joan Benoit Samuelson take the podium to talk about the achievements of female athletes, unintentionally convincing finishers to immediately sign up for the San Francisco event and further support the Leukemia & Lymphona Society's mission. Samuelson talks about the power of such an event:
"The Nike Women's Marathon Half Marathon celebrates the strength and passion of female athletes around the world. I'm honored to join the 15,000 women who came together not only to accomplish their goal of running a half marathon, but to run for LLS and its mission to find cancer cures."
If that doesn't get you all warm and gooey on the inside, just keep in mind the Tiffany's necklace that is handed out by a handsome stranger in a tuxedo, armed with a smile and enthusiasm to pose for the perfect post-race Instagram. Care to dry shampoo your hair and apply some lipgloss whilst recharging your phone? They've got you covered.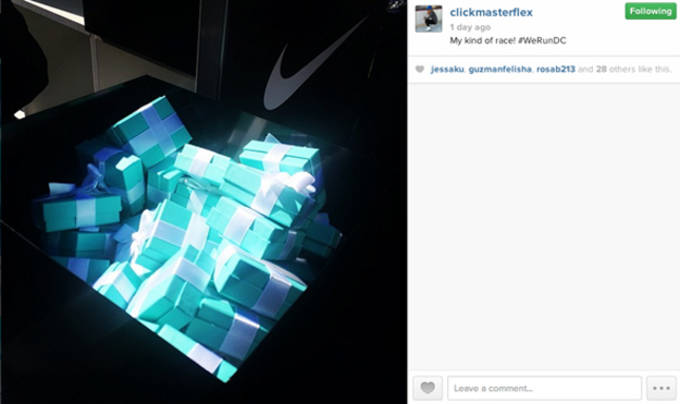 It's really at this point that it's hard to imagine a life without such perks, say...traveling back to the city via bus without wi-fi. You have reached hurry-up-with-my-damn-croissants status. The endorphins make it an easy transition back to normal life. Besides, now you have San Francisco to look forward to.
Sign up here and tell @SneakerReport all about it.
Calvy Click is the Editor-in-Chief of Sneaker Report. When she isn't writing about performance footwear and apparel, you can find her running around Manhattan to Rick Ross anthems or hitting the tennis court. Keep up if you can on Instagram or Twitter. 
RELATED: Is House of Cards to Thank for the Recent Popularity of Rowing Studios?
RELATED: adidas by Stella McCartney's Sneaker Lineup is So Good, You'll Forget It's For the Gym