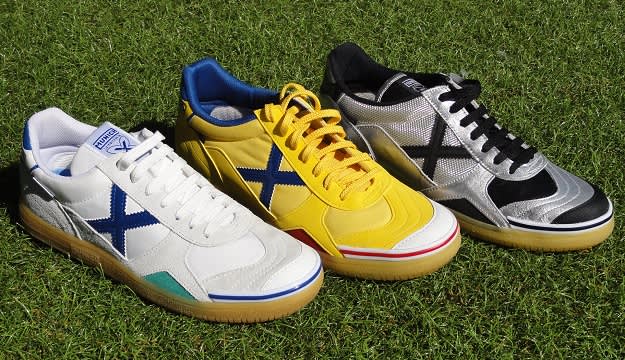 When you want to play Futsal, you need a shoe that is going to match the fast paced performance of indoor play. If you have ever played, you will know the game speed moves at a mile a minute and there is no time to rest between an attacking and defensive sprint. And because there are less players on a futsal court as opposed to a regular soccer game, you get to touch the ball a lot more frequently. Skill and the ability to work hard becomes the focal point for any top player.
Here is our list of The 10 Best Futsal Soccer Shoes Today.
Bryan Byrne is the founder of SoccerCleats101. Got a question about boots? Hit up Bryan on Twitter.
RELATED: The 10 Best Clearance Soccer Cleats Available Now
RELATED: The 10 Best Soccer Cleats From Niche Brands Available Now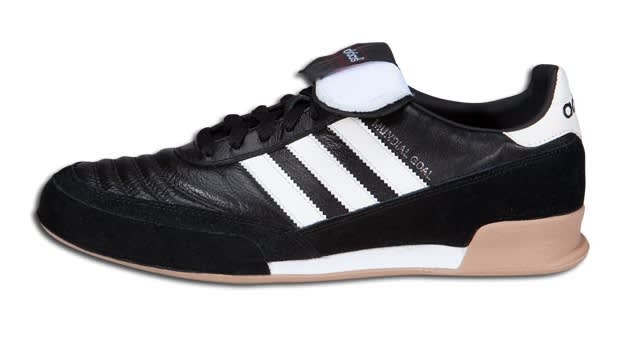 No. 10 – adidas Mundial Goal
Weight: 12oz
Retail: $95
When you are looking for the premier pair of Futsal shoes to provide a reputable level of performance, the ever classic adidas Mundial Goal is the way to go. There is tradition and heritage with this one, which transfers when you put them on your feet and into play. Nothing about the shoe is exhilarating, except for what it stands for. Here in the US, this shoe was formally known as the Copa IN, but the change in name to the Mundial Goal follows the same convention used by the rest of the world's soccer players. A kangaroo leather upper with a regulation gum rubber sole results in a "get it done" indoor shoe.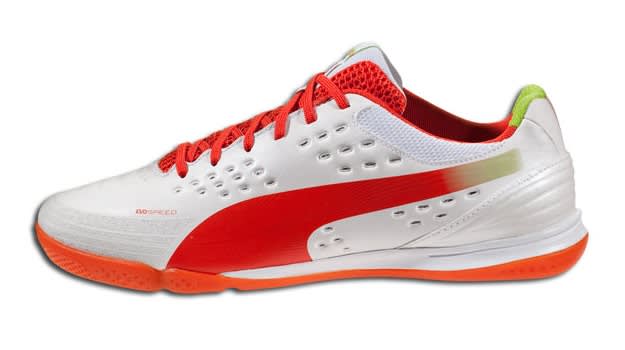 No. 9 – PUMA evoSPEED 1.2 Sala
Weight: $8.4oz
Retail: $70
Puma jump on the list with the evoSPEED 1.2 Sala, designed to provide a lightweight speed options for fast paced games. Puma are not really known for their futsal shoes, and this one is as good as it gets for the brand, with perforated microfiber on top of a cushioned EVA insole bringing out the best in players futsal games. There is a low profile nature to this shoe, meaning you are maintaining a more even balance closer to the surface.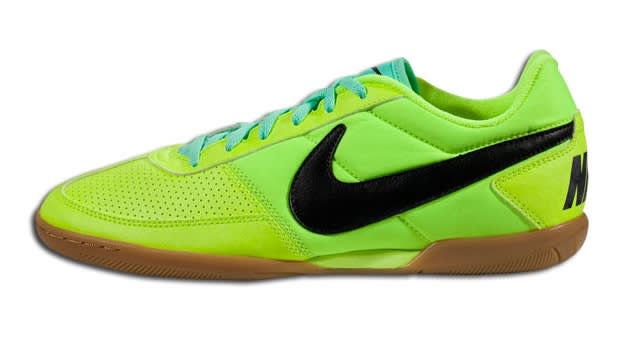 No. 8 – Nike FC247 Davinho
Weight: 9.2oz
Retail: $55
A relative newcomer to the market, the Davinho offers players a simple solution in a no-nonsense package. It is the boot you should look to pick up if you are lost and just want something that works with minimal complication. The upper is basic, the soleplate is nothing out of the ordinary – they keep your feet comfortable, offer the right amount of grip and will last you longer than a season. This one is quite simple.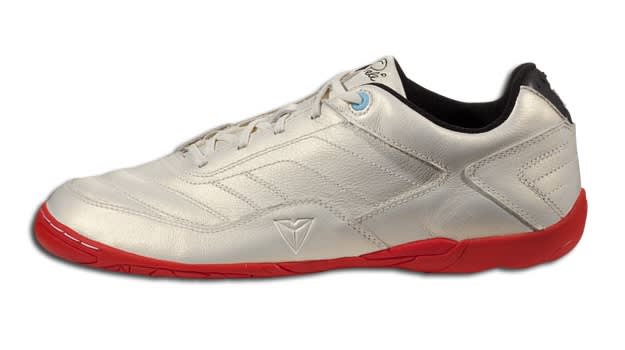 No. 7 – Pele Radium
Weight: 10.6oz
Retail: $85
Pele Sports are a brand that is still finding its way in the market, but the Radium futsal boots they have created definitely deserve a spot on this list. We are not in love with the visual design of the boot, but they are super effective performance wise. If you look at the front of the boot, you will notice it is angled in an unusual way, to serve a double purpose. The softer forefoot pod zone improves multidirectional flex over the ball while also maintaining effective control of the ball under foot. The upper is also a suede material to improve first touch in fast paced games.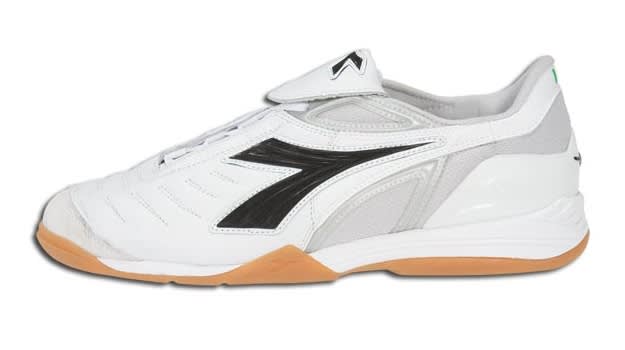 No. 6 – Diadora Maracana IN
Weight: 10.4oz
Retail: $90
If you are in need of a comfortable, consistent performing boot that will last an extended wear period, then the Diadora Maracana is the right shoe for you. Built using a K-Leather upper and plenty of padding, you are getting a shoe that has proven as effective as its outdoor compatriot for players who want a little extra power in their play. They don't excite visually and there is nothing that is independently unique about them, they just get the deal done!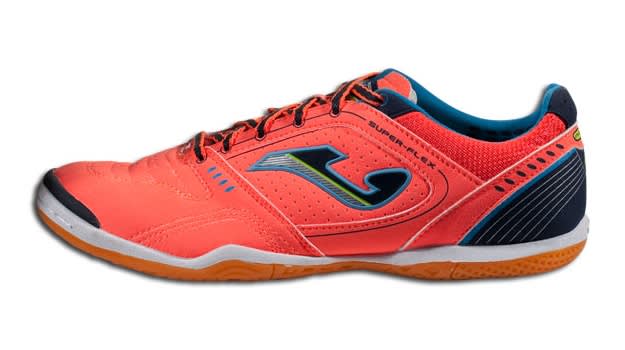 No. 5 – Joma Superflex
Weight: 8oz
Retail: $70
Players that have the opportunity to wear the Joma Superflex are the ones that continually rave about their performance. Unlike adidas and Nike, Joma spends substantially less on advertising and they have to rely on word of mouth. The Superflex is a gem of a shoe, with a flexible soleplate and comfortable upper providing players with an ideal weapon for indoor play. What is different about these is the inclusion of a suede microfiber upper, which adds a little extra grip on the ball while playing indoor. For recreation players, this proves extremely important and can be the difference between the ball staying close to your feet or running away after a heavy touch. Plus, they are considered a top value for money option.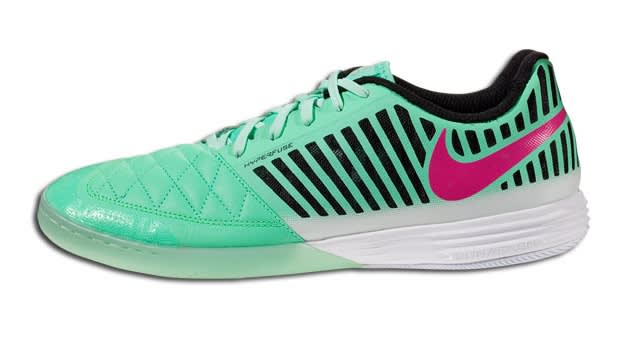 No. 4 – Nike FC247 Lunar Gato II
Weight: 8.6oz
Retail: $100
The Lunar Gato offers players another solid option when it comes to comfort and durability in a lightweight package. This is the hybrid addition to the list that suits playing on several different surfaces, they hold the most versatile package for players. Nike use a quilted, premium leather upper that has cross panel stitching across the forefoot, with a regrind rubber added around the toe to keep them durable and provide a little extra grip on the ball. There is also an excellent level of rebound on this one thanks to Nike including their patented Lunarlon technology on the heel.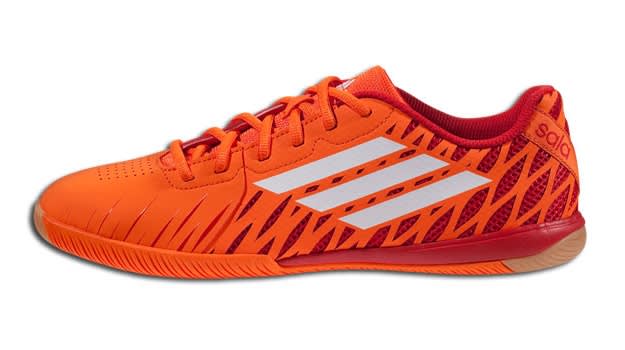 No. 3 – adidas Freefootball SpeedTrick
Weight: 8.8oz
Retail: $70
adidas addition to the market is all about quick play, nimble feet and the ability to keep the ball close as you move down the court. The most impressive aspect of tis shoe is the soleplate, which is tremendously flexible and allows players to gain control using their sole. With the upper, adidas use a perforated microfiber material to allow for a clean touch, with off-centered lacing increasing the strike zone.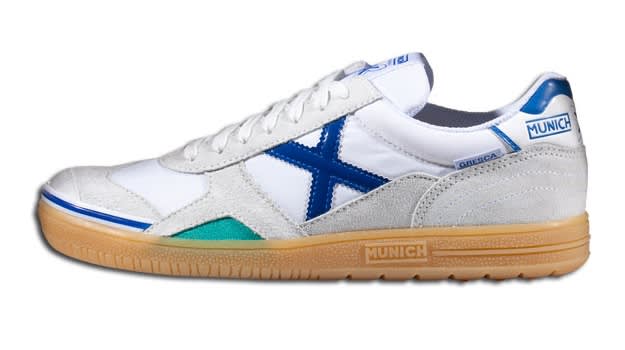 No. 2 – Munich Gresca
Weight: 11.6oz
Retail: $120
In Spain, where Futsal is one of the top sports, Munich is king of the market. Where we see so many players here wearing the likes of Nike and adidas while playing indoor, Munich is the choice of professionals in Spanish league play. The Gresca is a fantastic boot that should be considered no matter what your style of indoor play. They hold all the right characteristics to help you get up and down the court while keeping close control of the ball.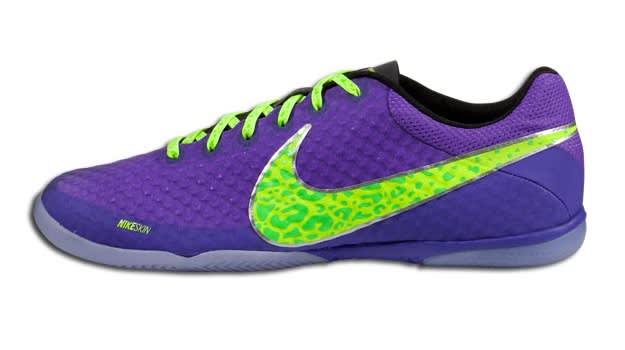 No. 1 – Nike FC247 Elastico Finale II
Weight: 6.8oz
Retail: $110
When it comes to a futsal shoe that provides a lightweight feel, plenty of cushion and great touch on the ball, the Nike Elastico Finale is the way to go. Nike has spent extensive time researching the requirements of indoor players and they have come up with this highly recommended mesh upper design. It proves to be a responsive, breathable upper that is snugger and thinner across the forefoot.