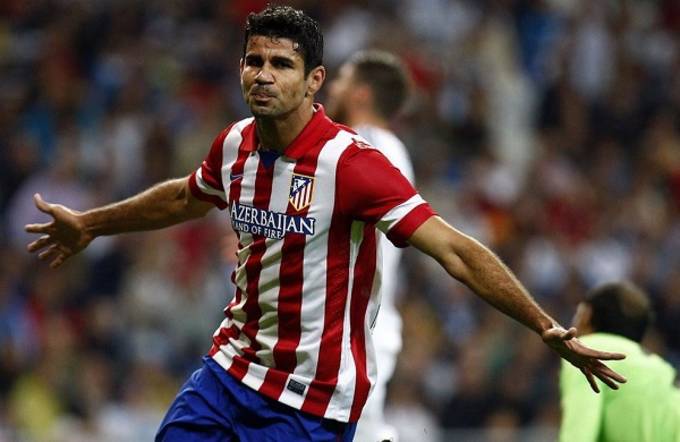 What a weekend of soccer we had! Between upsets and just downright impressive performances, there seemed to be a lot of energy and emotions in play. As always, there were plenty of boots also taking center stage and we are starting to see the highly colorful Winter style releases making some waves.
Here's what you missed this weekend in soccer.
Bryan Byrne is the founder of SoccerCleats101. Got a question about boots? Hit up Bryan on Twitter.
RELATED: 5 adidas Cleats vs 5 Nike Cleats: Breaking Down the Competition
RELATED: This Weekend in Soccer: Puma Boots Take the Spotlight
Image via Atletico Madrid on Facebook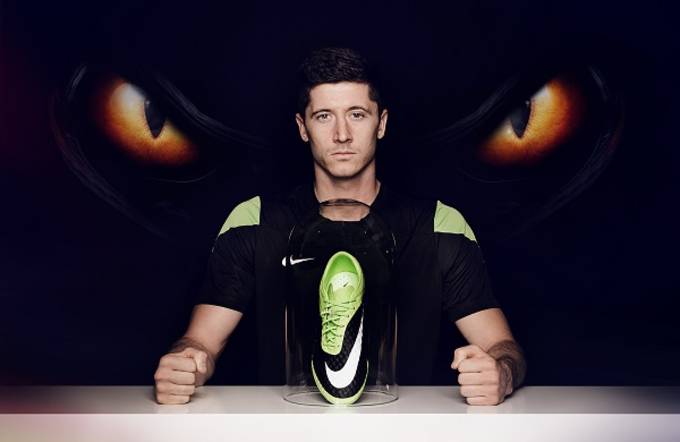 Image via nikeinc.com
No. 1 – Lewandowski Bayern Bound but Focused on Dortmund
Robert Lewandowski officially revealed he will be signing a pre-contract with Bayern Munich come the winter transfer window, bringing long standing speculation to light. Many wondered where he would be at the start of this season, but he stayed with Borussia Dortmund. The transition will not be an easy one and Dortmund fans are sure to be livid he is moving to their biggest rivals.
Even so, Lewandowski has been committed in his performances for Dortmund. Even this past weekend, many would have wondered if his head was in the right place. But he showed up and bagged 2 goals in Dortmund's win over Frieburg.
The big Polish striker has been a key player in the release of the Nike Hypervenom Phantom and he was recently treated to his own personalized pair. The colorway might only last this season, but his relationship with the Phantom is sure to live on a while. They suit his still very effectively. As a tall, strong, power forward, the added element of agility gives him a little extra edge as he turns and looks to change direction with pace and with the ball at his feet.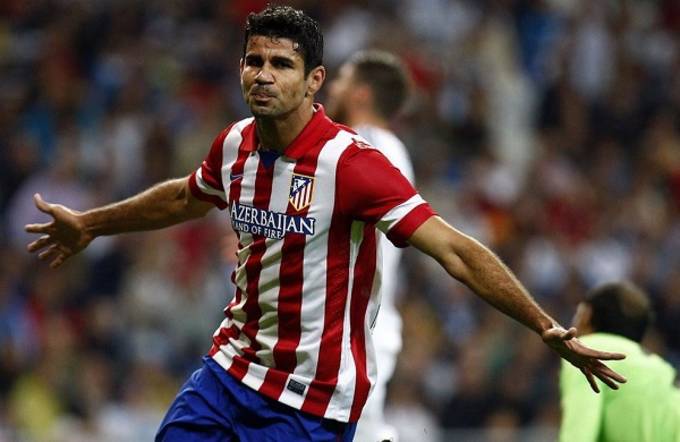 Image via Atletico Madrid on Facebook
No. 2 – Costa the Star of Madrid Derby
Gareth Bale made his debut at the Bernabeu on Saturday, but it didn't go as Real Madrid fans would have expected. Even Ronaldo couldn't put his usual stamp on the game as Atletico ran out 1-0 winners and demonstrated their strides toward winning the title this season. That is twice in a row Atletico has beaten their cross city rivals.
Star of the show was Brazilian striker Diego Costa. The big power forward put on a polished display, scored the winning goal and treated us to several examples of his aggressive style through the game. He has a very brash style of play and is quickly becoming a high profile player in the game.
On his feet, Costa has been wearing blacked out boots with green laces. As a regular Nike Vapor wearer, it seems like Costa has joined a long list of players wearing and possibly testing the newest version in the Mercurial series. Follow along as we await further news on the exact make-up of these mysterious boots.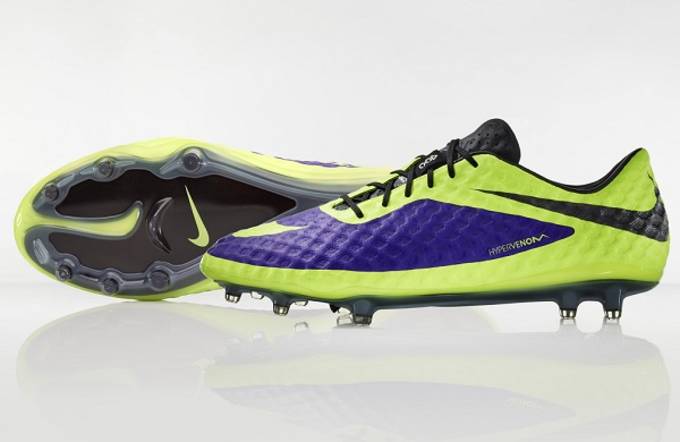 Image via nikeinc.com
No. 3 – A Tough Weekend for Manchester Clubs
Both Manchester United and Manchester City fell to disappointing and unexpected losses this weekend. United loss was the more shocking as they lost 2-1 at home to West Brom. City were 2-1 up and seemingly coasting at Llowly Aston Villa, before a late double sealed an important home win for the Villains.
Andreas Weiman (Aston Villa) and Berahino (WBA) were the match winners. Both players have something in common – they wear Nike boots and colorways from the new Hi-Vis collection. It is evident that the CTR360 Maestri, Which Weimann currently wears, hasn't got as much publicity since the release of the Hypervenom silo. The nature of the boot is that of a playmaker, allowing players to create. Although not a key dreator, Weimann has an eye for goal and likes to attack with pace. But, on the other hand, is currently sporting the newest Hypervenom Phantom colorway, which has a more visually prominent pop. There were several players in the game wearing the Hi-Vis colorway and they really stood out, but Berahino stole the show with his fine strike for the winning goal.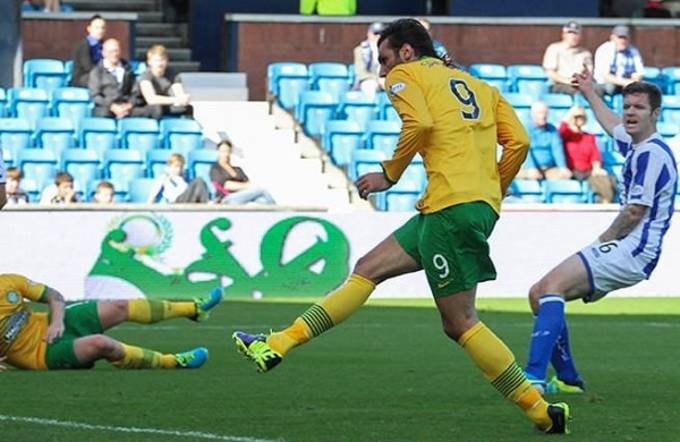 Image via nikeinc.com
No. 4 – Celtic Need a Goal Scorer – Samaras Bags a Hat-trick
It seems that Greek striker Georgios Samaras just needed to get a goal in order to start his season – his first was quickly followed by number 2 and 3 as he lead Celtic to an important 5-2 win. Celtic has actually been very shaky this season and a mix of results has left the team in moderate disarray. A consistent goal scorer is needed and Celtic fans will be hoping Samaras hits the goal trail again.
What we are glad to see is the fact Samaras has moved on from the CR7 colorway of the Vapor IX series he had previously been wearing. He was one of a very limited number of players, outside of Cristiano Ronaldo, who was sporting that rainbow-esque design. He has switched over to the Hi-Vis version, which is definitely easy to spot with his contrasting yellow Celtic away kit. In terms of performance, the Vapor IX is all about explosive speed and offering players a lightweight feel when accelerating out of quick turns.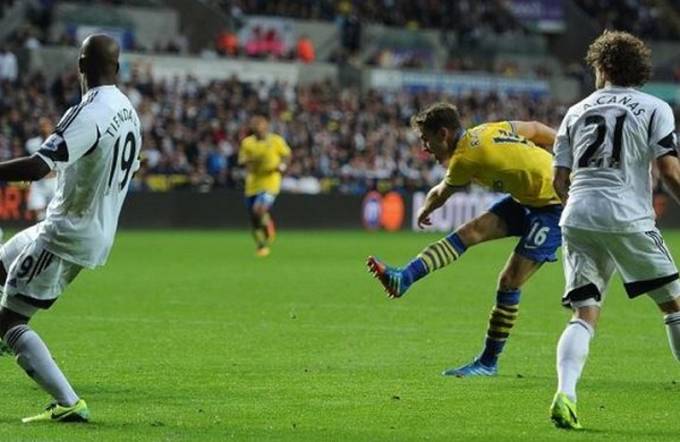 Image via Arsenal Facebook
No. 5 – Ramsey Continues Incredible Run in New Predator Colorway
Arsenal is top of the EPL right now, and a lot of that is down to a new, slightly unexpected hero – Aaron Ramsey. The Welshman continued his fine run of firm by bagging his 5th goal in seven Arsenal appearances this season – not a bad return for a midfielder fighting for a spot in the team.
Having sported and scored in the new CL Predator LZ colorway last weekend, Ramsey continued his fine streak with the winning goal on Saturday. The Predator LZ is advertised as being a control hybrid by adidas, and this plays right into the hands of Ramsey. He has been on the ball a lot over the first few weeks of the season, and he has scored a wide range of goals. With 5 different Lethal Zones to take advantage of, the Predator is an excellent compatriot to Ramsey's style.