We weren't treated to the most interesting weekend of EPL action, but it was great to have domestic action back after last weeks international fixtures. There were plenty of goals and attacking games, and we got to see several new signings making their debuts for new clubs. Here is a rundown of who made the headlines and the boots they were wearing in our EPL Weekend Recap.
Bryan Byrne is the founder of SoccerCleats101. Got a question about boots? Hit up Bryan on Twitter.
RELATED: EPL Weekend Recap: Gerrard Switches to adidas Nitrocharge
RELATED: EPL Weekend Recap: Bale Leaves For Real Madrid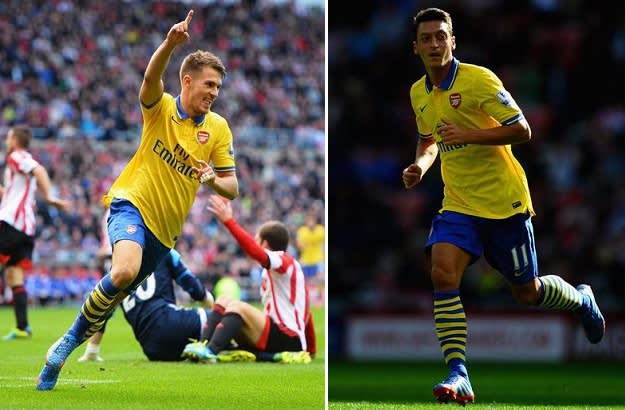 No. 1 – Arsenal – What a Difference 3 Weeks Makes!
After their opening day loss at home to Aston Villa, Arsenal fans were calling for Arsene Wenger to quit as manager and for the entire board of directors to basically "get lost!" Three weeks later, and the team has qualified for the group stages of the Champions League and went unbeaten in the EPL with some swift, attractive football. There are two players in particular that have helped change the mindset of the Arsenal fans.
First, is Aaron Ramsey, who seems to have found his rhythm and looks like he is living up to his potential. Two fantastic goals on Saturday helped lead Arsenal to a 3-1 win.
The other player is Mesut Ozil, who Arsene Wenger broke the bank to sign. It was an unexpected signing but one that stunned Europe and definitely pleased every Arsenal fan. His impact was immediate, with an assist only 10 minutes into his debut. He also created several wonderful opportunities and is going to be a definite assist king in the EPL.
And of course, what boots are they wearing? Funnily enough, both are sporting the same silo and colorway - the adidas Predator LZ in Pride Blue/Orange. This is actually the colorway adidas released as part of the Champions League collection and they look pretty awesome. The concept of goalscoring midfielders wearing the boot has become more prominent as adidas transitions from a Power boot to more of a Hybrid Control. The boot is no longer about simply shooting, it is about offering players a multitude of performance characteristics.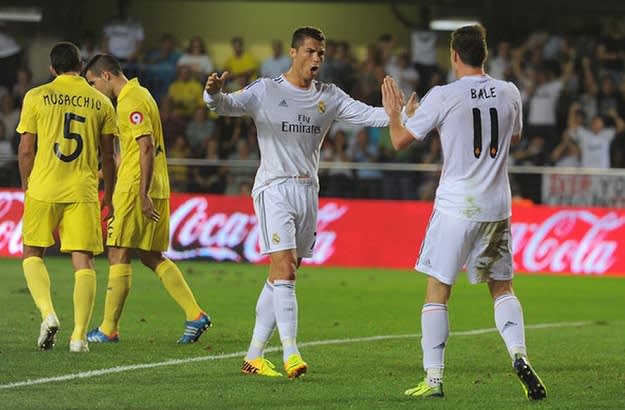 No. 2 – Bale and Ronaldo Do What They Do Best!
This is not EPL, but it is worth a shout out for it's significance!
Gareth Bale made his Real Madrid debut this weekend and he managed to cap with a goal – not a bad way for the world's most expensive player to kick things off. In similar fashion, Ronaldo also got in on the act and scored late in the game to help Real secure an away point.
What makes this pair unusual is the fact that they both wear different brands on their feet. Ronaldo has long been a Nike Mercurial Vapor wearer and he actually has his own line of "CR" boots to set him apart from the rest. He is currently wearing the Volt/Bright Citrus colorway and they look very suave with the Real kit. Bale is signed with adidas and he is currently wearing the F50 adiZero. During his signing, he actually unveiled the newest colorway in the range, which comes in Electricity. Both the current Vapor and adiZero are designed for speed and visually, they are about as similar as two different brands can come!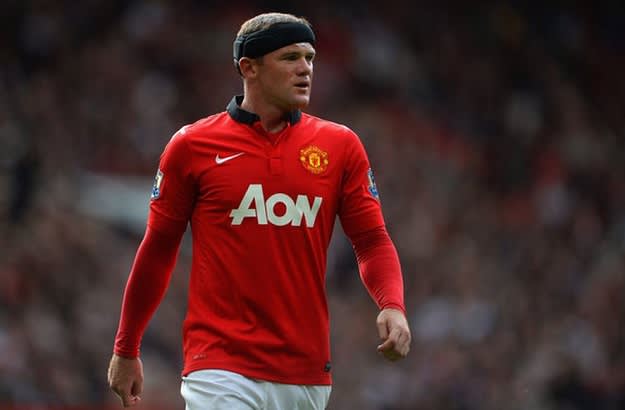 No. 3 – Wayne Rooney Scores Wearing a Headband
Wayne Rooney put a few troubled weeks behind him by scoring a pretty pinpoint free kick on Saturday, helping lift David Moyes to his first victory at Old Trafford. He has been a key figure in Nike's promotion for the recently released Hypervenom range and the Hypervenom Phantom (which is the top boot in the range) matches his performance characteristics to a tee. They are built for agility and the dimpled, honeycomb paneled upper provide a perfect surface for striking accurate shots.
But, what made Rooneys appearance even more interesting was the headband he wore on his head. Having busted his forehead open in a training ground incident a few weeks back, the protective headband was needed. It is actually called the Storelli ExoShield HeadGuard and it is designed to offer extreme impact protection. I have no doubt the company were pretty pleased to see him wear it in the game, and I'm sure sales jumped in the past few days. It is yet to be seen how long Rooney will wear the HeadGuard – he took it off at the final whistle and the gash looked to be healed pretty well.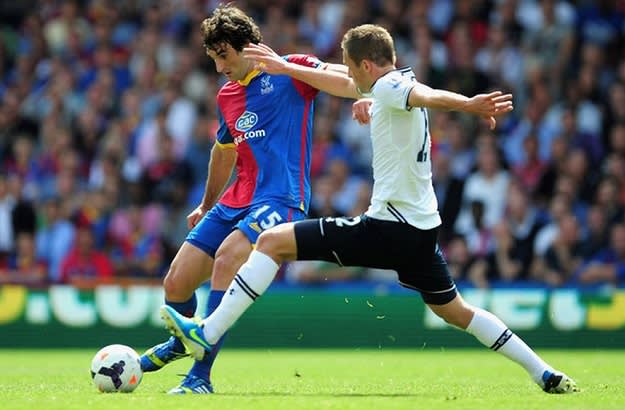 No. 4 – Gylfi Sigurdsson Comes Out of the Shadows
Last season, Sigurdsson was pretty much a bit player for Spurs. But already this season he is proving he deserves a spot in one of the deepest squads there currently is in the EPL. Competition seems to be beinging the best of the Icelander.
As a makeshift playmaking midfielder, Sigurdsson is pretty at home wearing a pair of Nike CTR360 Maestri III. They are a boot branded and advertised as being the ideal playmaker boot. Given he bagged both goals in Spurs 2-0 win over the weekend, they might prove to be instrumental in him keeping his spot in the team.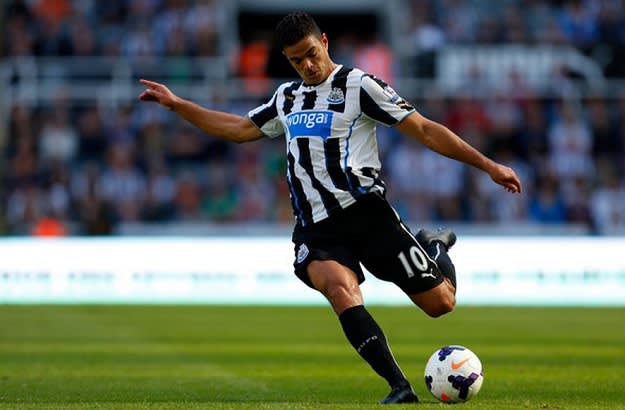 No. 5 – Goal Scoring Streak for Hatem Ben Arfa
Hatem Ben Arfa came back from summer holidays slightly chunky and "a little slow" according to Newcastle training staff, but that hasn't stopped him getting off to a great start this season. Yesterday, he grabbed his second goal in two games and his performance was very polished.
In terms of boots, Ben Arfa has become a bit of a mystery. Being that he has been a consistent Nike Mercurial Vapor wearer over the past few seasons, his current blacked out boots are sure to be something along the same range. We are not entirely sure if they are simply a blacked out pair of the Nike IX or if he is testing a new prototype. The latter is likely to be more accurate and it seems like the new boot is proving effective with his playing style.