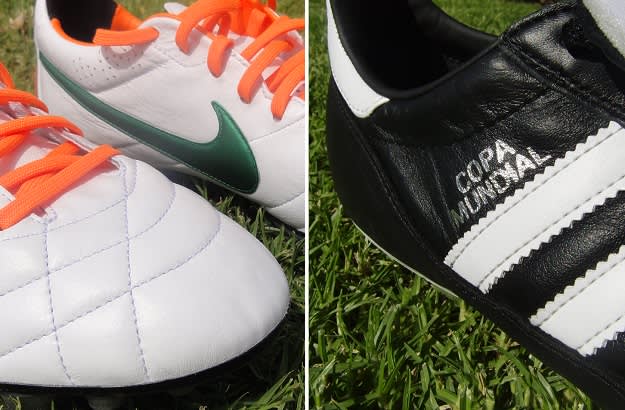 One of the easiest sports to get involved in is soccer. All you really need is a ball and the right pair of soccer shoes. Picking a ball is super easy – as long as it is round you probably have a decent one in your hands. Choosing the right boots, on the other hand, can be extremely complicated as they come with all different types of technology and performance characteristics.
If you are a new player to the game, then this post should serve as an extremely valuable guide to the current market. We consider important factors like comfort, fit and simplicity to bring you our list of Top 10 best Soccer Cleats for Beginners.
Bryan Byrne is the founder of SoccerCleats101, a website created as a valuable source of unbiased information for players looking to find out about soccer footwear. Got a question about boots? Hit up Bryan on Twitter.
CLICK TO CONTINUE STORY
RELATED: What to Expect From the Lionel Messi F50 adiZero
RELATED: What the 10 Best Attacking Midfielders Wear and Why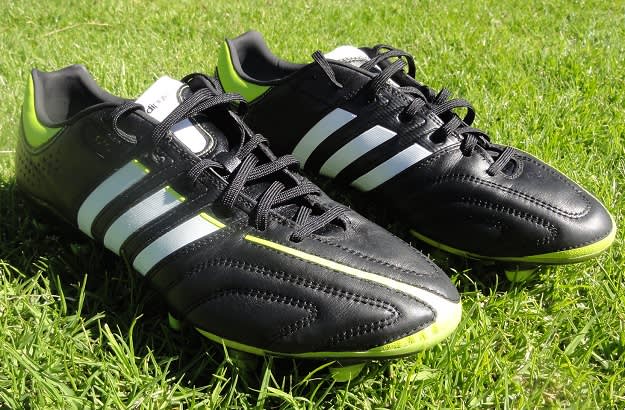 No. 10 – adidas adiPure 11Pro
Price Range: $159.99
Highlight: Since their initial release, the adiPure has been advertised as a new age boot for old school players. There is an air of sophistication about the range that has gradually evolved into a modern masterpiece over time.
There is also an air of simplicity about the designs that adidas use. Each rendition sticks to modern colors and you always get the famous 3-stripe emblazed on the side of the boot. In terms of performance, these boots are comfortable, with a very modern feel – mostly due to the soleplate, which adidas has developed to be slightly more flexible that older style boots.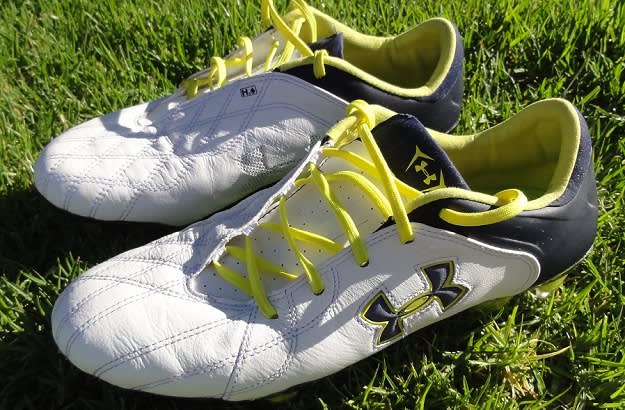 No. 9 – Under Armour Hydrastrike Pro II
Price Range: $124.99
Highlight: If you asked me to name a top performing boot that many people might not be aware exists, this would be it. The UA Hydrastrike is a great boot with a very appealing price.
UA has developed a unique H2Oi upper that offers excellent waterproof properties. When you combine this with the stud configuration employed, they are an ideal option for players who need a boot to use on natural surfaces, where it might rain a lot. For new players, this is a simple boot that will provide a comfortable right and a slightly more modern visual design.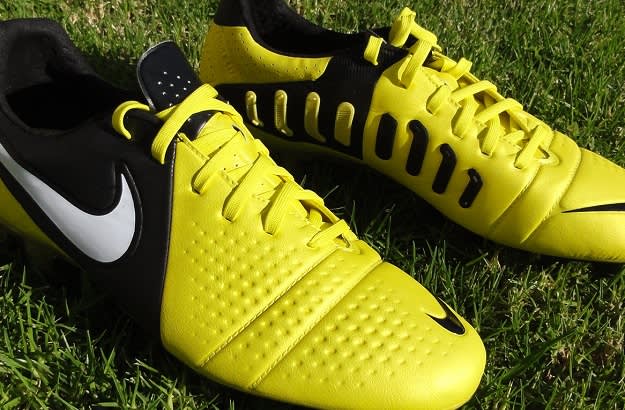 No. 8 – Nike CTR360 Trequartista
Price Range: $99.99
Highlight: Of all the boots on this list, this is the one boot that is not regarded as being the top tier release in its silo. The Trequartista is the younger brother of the CTR360 Maestri, or the mid-tier option. Having tested all mid-tier releases, this is the boot that really stands out and it makes for a perfect option for new players. The one thing I love about the CTR360 Maestri is the layered stitching that sits right across the top of the forefoot. You get the same lining on this release.
Best of all, if you shop around you can really get a great deal on a pair of Trequartista, making them one of the better priced options on the list. They are comfortable, look great and won't leave players scratching their head at what they are about.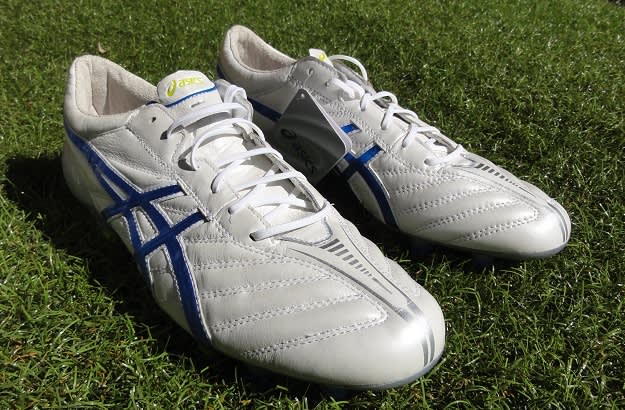 No. 7 – Asics DS Light X-Fly K
Price Range: $209.99
Highlight: Ok, so these might not be the cheapest boot on the market, but they are a great boot to wear if you can splash some cash on them. These boots fall right in line with the more expensive releases on the market, but where other companies seem to look at developing some sort of shooting technology on the forefoot or an ultra-thin and lightweight upper material, Asics has taken a more simple approach. This boot is all about quality and comfort.
For new players, you need a boot that provides comfort through long games and a quality upper that really molds to your feet. These fit the bill perfectly and they honestly are one of the most comfortable k-leather boots I have worn and they weigh in at 7.2oz, making them one of the lightest boots to feature a kangaroo upper.
No. 6 – Lotto Stadio Primato K
Price Range: $89.99
Highlight: It is starting to become slightly tougher to find pairs of the Lotto Stadio primate, but if you do find a pair they are a must have purchase. The key here is the fact that this boot has been developed with an old school design in mind. There is no modern technology on this one, instead they are a boot intended to provide players with a simple, yet effective level of performance.
The layered stitching across the front of the K-Leather boot is amazing and really defines the boot. On the ball, you get a very natural feel. Under the boot, Lotto employs a very basic conical stud configuration. In a world where companies look to develop and create the wildest blade configurations, this is one that removes the unnecessary bells and whistles and creates a uncomplicated level of traction.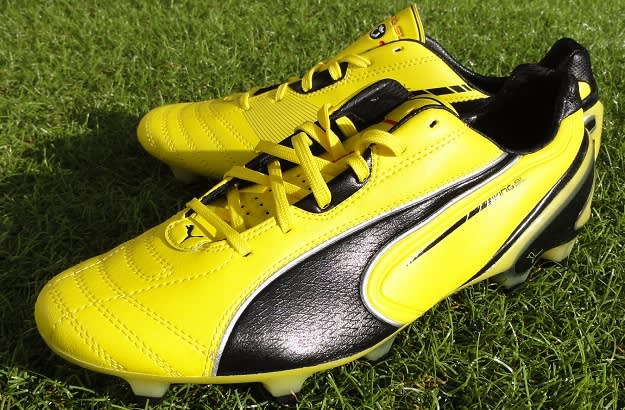 No. 5 – Puma King 2013
Price Range: $149.99
Highlight: Another boot that has undergone a transformation in the past year is the Puma King. Puma has looked at ways to upgrade performance and create a more modern fit without taking away from the tradition feel of the range.
At 8.4oz, this is a boot that lies in the sweet spot of boot weights. They really are an uncomplicated boot yet they provide a high level of reliable performance for players. You won't need an instruction manual with this one, just a willingness to play and a positive mindset toward a range that has been around since the 1960s!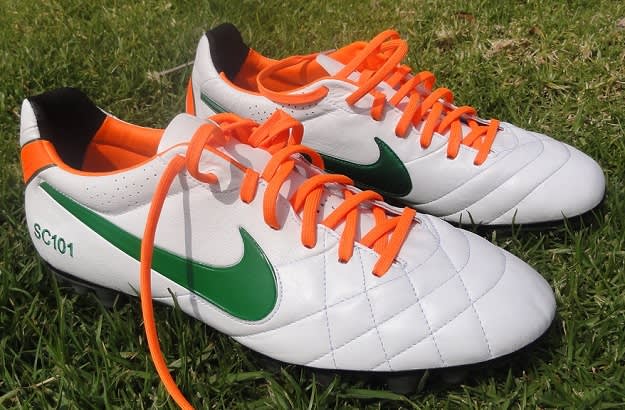 No. 4 – Nike Tiempo Legend IV
Price Range: $159.99
Highlight: Over the past few years, the Tiempo Legend range has become a top choice for players who want a no-nonsense, get the job done, option. The current version is slightly more modern than we have seen in the past, with a Kanga Lite, ACC treated upper providing a new-age level of performance.
I have to agree that they are a perfect beginner's boot, with the layered cross stitching across the forefoot providing a great region for new players to get on the ball and keep it close to their feet. You also get a really solid conical stud configuration that is designed to offer stability on both natural and artificial surfaces.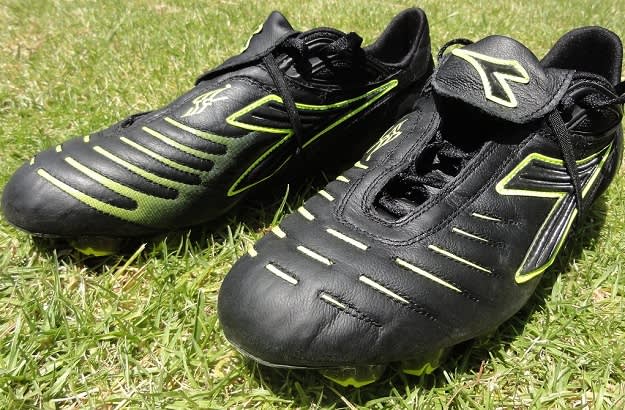 No. 3 – Diadora Maracana RTX 12
Price Range: $89.99
Highlight: Personally, I love the comfort provided by the Diadora Maracana. These boots are at a great weight point (9.4oz) and really offer players a simple solution in the craziness of the modern day boot market. There is a little extra pop to the design employed by Diadora but that actually plays a role. The additional stitching used on the upper adds an anti-stretch lining; this is intended to give you a great fit right out of the box.
Diadora also use a fold over tongue with an underfoot strap to give you a more modern look and the bonus of a partially covered lacing system. For new players, they offer a slightly different, high performing option outside of the mainstay brands.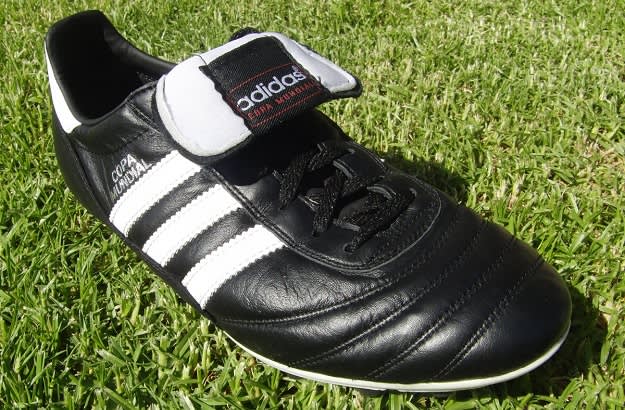 No. 2 – adidas Copa Mundial
Price Range: $199.99
Highlight: For a long time, the Adidas Copa Mundial has been the "go to" for players young and old. If you have ever worn a pair, you will be very aware of the comfort they provide. But their real value is in the durability factor they offer. When a boot manages to outlast the life of 99% of boots ever released, you know there is something special about them.
Again, this is a very basic boot that will not create any challenges for new players. There is an ease factor while wearing them and opposing players will immediately respect your style once they see what you are wearing.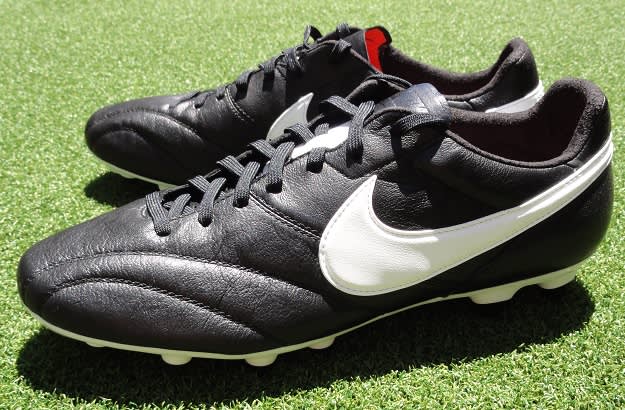 No. 1 – Nike Premier
Price Range: $99.99
Highlight: As one of the newest boot releases on the market, it is pretty remarkable how the Nike Premier has established itself as a top performing and extremely sought after boot. Nike's goal with this one was to create a high performing boot that they could sell for under $100. A lot of time and research was spent creating a boot that is intended to stand the test of time and not need continual reworking.
Everything about the boot is pretty simple and there is nothing whatsoever for new players to fear while wearing them. The upper is super soft and you won't need to spend time breaking them in – it is almost like the leather has done that for you itself. And best of all, they offer the best value for money option on the market right now. You are getting a high performing boot that won't break your budget.