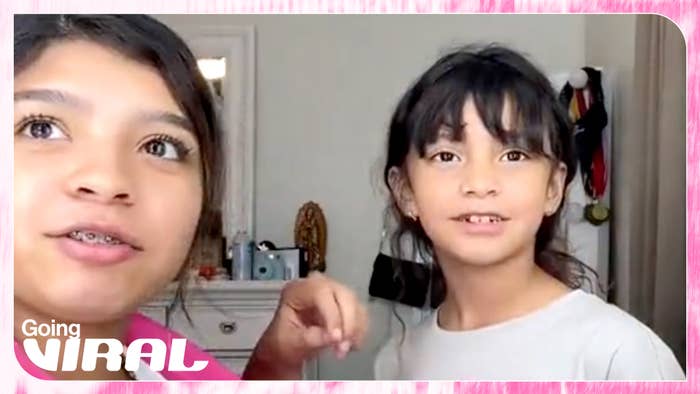 This is Going Viral: A space where the internet's biggest stars share what it's like to find fame online.
Tomorrow's picture day, and 8-year-old Camelia's having a hair crisis.
It's a simple premise, one that you wouldn't think would amass over 148 million views on Twitter, over 3 million plays on TikTok, or a Halle Berry quote-tweet, and yet the Zamarripa sisters have managed to do just that and then some—all by being themselves. Over the past week, their viral "Unget Ready With Me" TikTok has quickly left a handprint on the internet's heart with some likening it to a coming-of-age movie.
The six-minute ordeal is, by all means, the 2023 version of Little Women. The video starts off innocently: 15-year-old Valentina is walking us through her nighttime routine, pimple patches and all. But then, her 9-year-old sister Khaleesi walks in asking for a pair of scissors and disaster strikes. Khaleesi's made a mistake, Camelia has haphazard bangs, and Valentina's suddenly tasked with what all women know to be the greatest feminine plight—fixing at-home bangs.
"We got famous for something we literally could have gotten in trouble for," says Valentina in a video call with Complex. "All scissors are now in my possession," adds her mother, Gresia.
A mother of five, Gresia's making dinner for the family during our call while the girls show up one by one to talk about their newfound fame. Their energy is so infectious that a 30-minute video call felt like a matter of seconds, a reminder of how easy it was for the internet to fall in love with this hilariously heartfelt family.
"The people that know me, they were like we've always known those kids are going to be some type of way because they're so charismatic," adds Gresia, on the family's fame.
We caught up with the Zamarripas to talk about their overnight success, learning everything from TikTok, and most importantly, how picture day actually went.
This interview has been edited for length and clarity.
Can you guys tell me when and how you all started making TikToks together? Do you guys plan them together?
Valentina Zamarripa: Well our cooking videos started going viral, so we just started making a bunch of videos and it was really fun. The only thing we would ever talk about are the cooking videos. That's the only thing that my mom would really help us with. Whenever we'd do our cooking videos, she'd tell us, 'Okay, we're going to do this, this, and that,' but she would only tell us one time and we had to memorize the rest. It was so bad. She'd only give us one try, and then from there whatever happens just happens and we have to roll with it.
Gresia Zamarripa: It was also getting a lot of positive feedback on TikTok. People enjoyed their videos and were like, 'Oh my god! You're showing your kids how to cook!' My mom taught me how to cook but it wasn't to the full extent as what I'm doing with them right now. I just try to make it fun for them.
Obviously the TikTok of Valentina cutting Camelia's bangs blew up online. Can you tell me the real tea of what happened that day?
VZ: We were celebrating because my mom had hit 100k [on TikTok] and she'd been working really hard for it. So we went to Olive Garden to eat and everything. Then we were listening to music on our way home. We were all in a good mood. And all of a sudden, I was like 'Mom, let me do an Unget Ready With Me.'
And these girls [points to Khaleesi and Camelia], we did not hear a word from them when we got back home. I started recording and it was really quiet, all I could hear was my mom giving our sister a shower. Then [Khaleesi] comes in and asks for scissors. At first I was confused, what do you need scissors for at this time, what are you going to do?
Camelia Zamarripa: Steal Mom's candies, duh.
VZ: I was like 'Just be careful please, please don't do anything dumb.' Next thing you know, this little girl [Camelia] comes in screaming saying that her hair was messed up. I don't know if you could see it, but before this, she cut her hair with a comb in May. I don't know how or why but she was like 'Eff this crap' and chopped it off. And from there we just never let them touch scissors again, and now this happened, so no more scissors.
You did a really good job fixing it though.
VZ: I panicked. Like if one sister messes up, we all get in trouble. My mom has always taught us to stick together, so if one goes down we all go down.
Do you remember the TikTok you watched before fixing Camelia's hair?
VZ: I literally clicked the first TikTok, and I watched not even 10 seconds of it, and I just started doing it.
GZ: An academy in California even reached out to us to send her something because they were like [cutting bangs] is one of the hardest things to do and she did it so fast.
CZ: She just cut it.
VZ: When I was little actually, I always wanted to be a hairstylist.
GZ: She knows everything, when she was 5 years old she used to braid and style her own hair.
Well we could all see the talent! How has it been seeing the immense positive reaction online and how are you guys even processing it all?
CZ: We're so famous now, we're going to get a mansion. [Laughs.]
VZ: We've been getting interviews left and right. After the interview that we had before this one, I was getting exhausted and just wanted to shower. It's overwhelming, but at the same time, it's like 'Yay!' I feel like it hasn't really hit me yet because I'm not the type of person to watch the news. But once more things started coming from here and there, it finally hit me and I was like, oh shoot. [Laughs]
There's so many people in school that come up to me and talk to me. I don't know how to react because I'm very shy. Literally, today I was going to go talk to my coach and these two girls spotted me and were like, 'Oh my god! We just finished watching your TikTok video!' and I just chuckled.
GZ: [Camelia] is like 'I don't want to be famous, I just want to be rich.' [Laughs.]
So true.
GZ: She said the other day, 'I don't understand why I'm famous over something that I was gonna get my ass kicked for.' They still don't really get it. I explained to them that it brings back memories to all these people that have siblings and it goes way back. But they still don't really get it. I don't even understand it because I only had one brother and he's 15 years younger than me, but my husband does because he has five siblings.
VZ: But the thing is like, we're getting all this fame right now or whatever, but my mom's teaching us how to stay humble and be nice to other people. You know there's a lot of people that let [fame] get to them, so my mom's teaching us to stay humble, be nice, and be respectful.
Gresia, when did you realize that your kids love making videos and were as funny as they are?
GZ: Probably since they were born. They're characters, they've always been characters. I have so many videos of them vlogging when they were little. I have pictures of them arguing, when they bicker, everything you see now. I can't even fake the funk. Like, these are my kids.
They get into everything. This one [points at Camelia] has no filter. This one [points at Khaleesi] is very sassy. I can't even fake it because there's so many videos; this just happened to be the video that they caught at the right time and it went viral.
Is there anything you guys have to say for all your new fans and followers online?
GZ: We're flabbergasted by what's going on right now. We're blown away. But we're very glad that [we] can bring people some joy and take them back to their sibling memories—
VZ: And their inner child.
GZ: For every single background. There's Latinos, Hispanics, and a variety of other backgrounds worldwide that are tuning into this video, and if it's a positive thing that they can take in. We're glad.
Obviously I need to ask, how did picture day end up going?
CZ: I ate that.