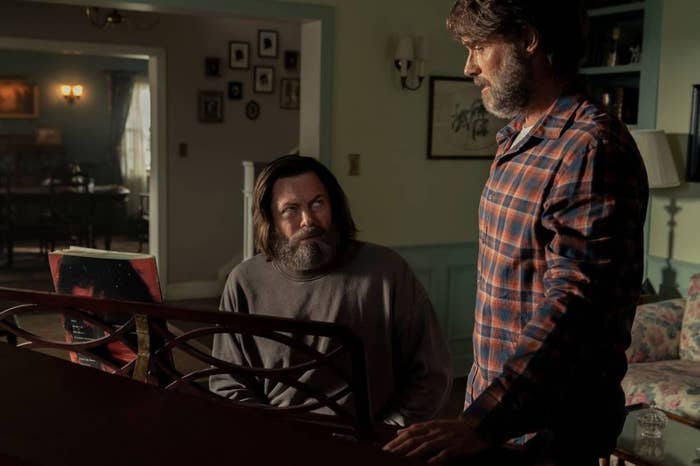 [Ed Note: MAJOR spoilers for The Last of Us' third episode—"Long Long Time"—below.]
I haven't stopped thinking about Episode 3 of HBO's The Last of Us since I watched it. Titled after the Linda Ronstadt song of the same name, "Long Long Time," the installment is a radical departure from the ongoing journey of Joel (Pedro Pascal) and Ellie (Bella Ramsey) as it sidelines the leads for a majority of the runtime. Instead, it introduces and fleshes out the story of Bill (Nick Offerman) and Frank (Murray Bartlett). Bill is a survivalist, living alone in an abandoned town after FEDRA packs and ships out the remaining townsfolk. A few years go by, and Frank wanders into town, falling into one of Bill's traps. After Bill brings Frank inside for a warm meal and a fresh change of clothes, the two fall in love.
What unfolds throughout the episode is basically The Last of Us' version of Richard Linklater's Before trilogy, as Craig Mazin's script jumps around in time, showing Bill and Frank at different points throughout their shared life together. Helmed by director Peter Hoar, the episode is an extraordinarily moving exploration of the relationship between these two men, anchored by slam-dunk performances from Bartlett and Offerman. The economy of the storytelling is fantastic, giving you just enough to fully invest in their relationship without ever feeling overwritten or overdone. It's an absolute masterclass in storytelling, full stop.
"We were blessed with a great script that had all the nuances of the relationship and the characters in it. We just needed to follow the breadcrumbs and connect the dots," Bartlett tells Complex. "One of the beautiful things for me about this experience was being paired with Nick and finding that both of us wanted to just go there. Go to the places that the script asked us to go to, to be vulnerable, and to fill out what the script was asking us to do." 
"It was a great map and a great compass. And our director, Peter Hoar, and Craig were around a lot, coloring things," Offerman adds. "But it all comes back to the script. If it ain't on the page, it ain't on the stage, as it were."
Complex jumped at the chance to speak with both actors about their performances. What follows is a delightfully fun conversation—complete with a few trademark sardonic remarks from Offerman—about their reactions to the script, how they conveyed empathy, the benefits of a good red wine pairing, and much more.
What stood out to you about the script when you read it, Murray?

Murray Bartlett: Um, everything? [Laughs.] I have said this before, but it's the truth; it's one of the most beautiful episodes of television I've ever read in that it's beautiful writing and feels like a film. It's so complete, it's so nuanced, it happens over a long period of time, and it punches in at sort of just the right moments to fill out the picture of what this relationship is in such an extraordinary way. That all happening in a world where it's very difficult to find connection, to be vulnerable, and to survive makes it extra poignant. 
All those things I responded to in a huge way, like in that, "Oh my God, I want to be in this!" kind of way. I'm not a gamer, so I didn't have a connection to the game. But I did love Craig Mazin's previous work, especially Chernobyl, which I think is a genius-ly created piece of art. There was no question in my mind about this. I was just bowled over by the material and the team of people who are working on it. I wanted to be part of it. 
Nick, what about you? Was your experience similar?

Nick Offerman: I didn't really care for the script. I thought it needed work. I mean, Murray put it very well. I would just also say—to make a contribution—it's a beautiful encapsulation, answering the question in a horror, action genre piece, with people trudging toward survival, or, "We must get her to the Fireflies at all costs." It's a wonderful lensing of why. Why should we do anything? Why do we humans strive for anything? This episode beautifully answers that question. And their answer is gourmet cooking.
MB: [Laughs.]
Listen, I watched that episode after I'd had dinner for the evening and almost went back downstairs and fired up the grill again. That food was beautiful.

MB: Did it inspire you to get just the right wine pairing?