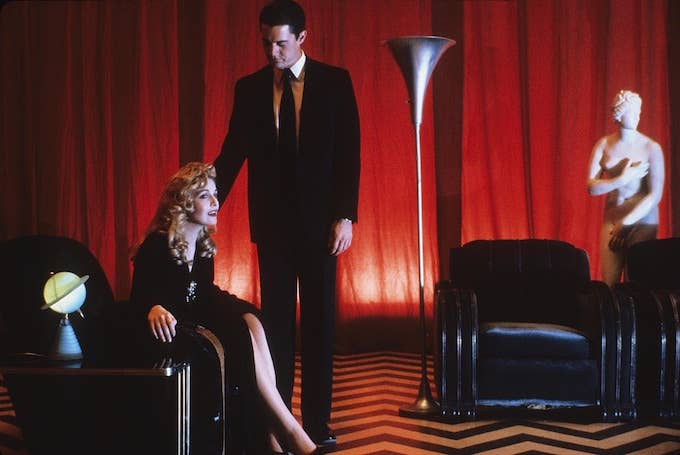 "It's happening again."
That infamous line from David Lynch and Mark Frost's Twin Peaks resurfaced earlier this year as the theme for Showtime's upcoming revival of the ABC series. Typed in the show's familiar red and green font and shown among clips of wind-blown Douglas firs and before and after shots of Homecoming queen-turned-murder victim Laura Palmer as Angelo Badalamenti's eerily-soothing score plays, the teaser reminded of a time when the seminal early 1990s murder mystery drama obsessed the nation.
Although, as anyone who has watched TV at all in past couple decades can attest, elements of Twin Peaks never really went away. Comical as it was tragic, bizarre as it was relatable, it took a story that could be rudimentary—Kyle MacLachlan's well-caffeinated FBI special agent, Dale  Bartholomew Cooper, is sent to investigate the shocking and brutal killing of a popular girl in a small Pacific Northwest logging town—and made it fresh. Whether it was a slo-mo fight scene at a funeral, a kid closing his locker and dancing off to class, brothers breaking into a jig to celebrate the return of a colleague, or, most famously, a dream sequence inside a mysterious red room where a character's dialogue is reversed, this was a show that would have dared you to be distracted by your smartphone during its broadcast.
By doing these things—poking fun at tired tropes; daring viewers to go on this increasingly spectacular ride even if they didn't really get what was happening and had to wait for the unofficial conclave at the office water cooler or homeroom classroom to talk each other through it—Twin Peaks was a roadmap for many members of the upcoming generation of TV creators and showrunners. So it's all the more fitting that we call this era of programming Peak TV.
"What David Lynch did—in a not dissimilar way to how John Waters tells stories—is he took something about American pop culture, fetishized it into a querying of America and explored that from his own point of view," says Hannibal and Pushing Daisies creator Bryan Fuller, who has often spoken of Lynch's impact on his work (and who now laughs that his new Starz series American Gods—which he co-created with Michael Green—will be airing opposite Showtime's Twin Peaks on Sunday nights). "If this is the Kinsey scale and John Waters is a one and David Lynch is a six, I would say I'm probably a four and a half or five."
Certainly, Fuller says, "there are many, many folks who have come before [Lynch] in television to craft specific visions that we're all building off of," whether it was DesiLu Studios and Star Trek or Garry Marshall series like Happy Days or Laverne and Shirley that "are coming from this same family of mind." But, he says, "what resonates about the show is the aspect of David Lynch's storytelling and that is world-building."
"It's a reality that has its own sense of rules that are dictated by… I was going to say whims, but I was going to say the artistic instinct of storytelling," Fuller tells Complex. "In those elements of how he makes those films and tells stories are a lot of aspects of points of view that are manifesting with sound design and production design, with the specificity of performance and retaining authenticity in an absurd tone. That is very tricky to pull off."
Specifically, Lynch and Frost went for the jugular when it came to exploring the dynamics of high school. Laura Palmer (played by Sheryl Lee) was the stereotypically perfect popular girl who dated the star football player (Dana Ashbrook's Bobby Briggs), had a super cool bestie (Lara Flynn Boyle's Donna Hayward) and even was nice to the awkward outcast (James Marshall's James Hurley). 
Still, Laura had secrets that deviated from the public persona she'd created for herself. And so did other members of her family and the town.
"Twin Peaks took the romantic idea of the '50s teenager—all these scenes of like Rebel Without a Cause and all these things that influenced Lynch—but in a dreamy, present-day world," says Sarah Schechter, a self-confessed Twin Peaks obsessive and an executive producer of shows like the CW drama, Riverdale, which borrows heavily from the older series (Among other parallels, actress Mädchen Amick appears in both). "To me, being a teenager is very strange. You're like an alien. And some of the strangeness of being a teenager in Twin Peaks became more realistic… I also loved that it was a multigenerational story and being a teenager was part of a larger story instead of being ghettoized into their own story."
Roberto Aguirre-Sacasa, who developed Riverdale based on characters from the Archie comics universe, told Complex and other reporters recently that "I think we did kind of pitch it as John Hughes via Twin Peaks, kind of as a mash-up." Riverdale wrapped up its first season earlier this month and Aguirre-Sacasa says, "I'm really glad we came out before the new Twin Peaks[comes] out. But I think we're not hiding or ashamed of the influence and that's one of my favorite TV shows."
That feeling of strangeness or being out of place isn't necessarily limited to high school dramas. Earlier this year, The Hollywood Reporter chief TV critic Tim Goodman argued that Legion, creator Noah Hawley's FX drama set (to some degree) in a mental hospital, "scooped Twin Peaks as 2017's weird show to watch." 
But while Goodman's argument is bolstered by Legion's tendency to have characters spontaneously break into dance numbers or to show parallel timelines featuring crimson spaces, Hawley doesn't see a direct resemblance. He told Complex that "I don't think my fantastical genre show set in no real place in no real time is really a comparison to Twin Peaks other than the fact that I am trying to combine a couple of specific tones and to disconnect images from information a lot of the time in the way that David Lynch certainly does masterfully." 
"I'm the first to mention my Lynchian inspiration," Hawley says. "But I don't think there's any literal comparison between the two shows other than the fact that the strangeness of the timing that I would imagine that [Twin Peaks] is coming back at this moment when we've been playing in the surreal… I think those lessons of David Lynch have certainly been spread to my generation directly from our experience watching David Lynch when we were younger."
But it is fitting that Twin Peaks is "happening again" now, in the current explosion of '90s nostalgia. Nearly daily, we receive news reports of reboots of that era's most beloved programming or actors like Family Matters star Jaleel White returning full-time to network comedy gigs. Then we log onto social media only to learn that it's time to celebrate another show or movie's silver anniversary.
"I'm not sure about all of these reboots; let's find new families instead of visiting old ones," Schechter says. "But Twin Peaks is like it's own universe and therefore, there's nothing more exciting than watching D.B. Cooper get to go back to that."