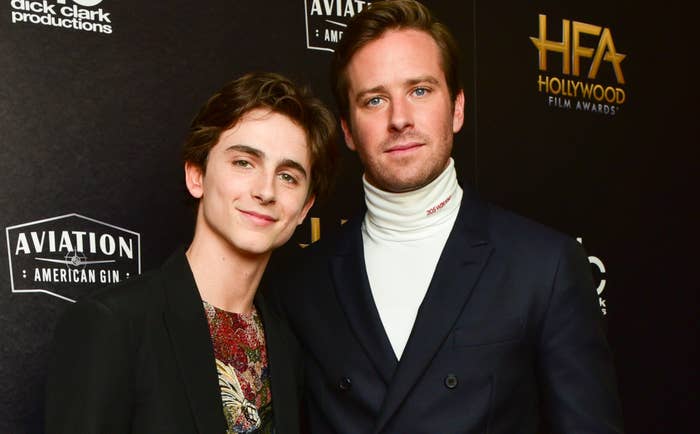 Timothée Chalamet, who recently offered a well-timed glimpse at his upcoming take on Willy Wonka, has been named a "next generation leader" by Time magazine.
In the resulting cover feature, which arrives just as Dune is set to hit theaters, the actor was asked about his Call Me By Your Name co-star Armie Hammer, who was accused of rape in March. Noted in the Time feature is that Chalamet "demurs" when asked about Hammer, opting instead for a "larger conversation" in the future.
"I totally get why you're asking that," Chalamet said, "but it's a question worthy of a larger conversation, and I don't want to give you a partial response."
A woman identified only as Effie alleged during a press conference in March that Hammer—who has been at the center of multiple allegations—had violently assaulted her in April 2017. In a statement shared with the Daily Beast at the time, an attorney for Hammer said the allegations were "outrageous," further arguing that the actor has only engaged in "completely consensual" behavior.
Elsewhere in the new interview, Chalamet briefly reflected on a key bit of advice he received from one of his personal heroes, though he declined to name the fellow creative who offered the wisdom.
"One of my heroes—I can't say who or he'd kick my ass—he put his arm around me the first night we met and gave me some advice," Chalamet said before summarizing the advice as follows: "No hard drugs," he recalled, "and no superhero movies."
The actor—who recently co-chaired the 2021 Met Gala—also offered up a succinct take on the debate surrounding the sustainability of day-and-date streaming approaches. The aforementioned Dune, notably, is getting that treatment later this month.
For Chalamet, the question is "so above my pay grade," though the actor remains excited that fans will finally get to see the film after a number of delays. "Maybe I'm naive, but I trust the powers that be. I'm just grateful it's coming out at all," he said.
Read the full piece here.
In addition to the unveiling of Denis Villeneuve's rendition of Dune, this month will also see the release of another Chalamet entry in the form of Wes Anderson's The French Dispatch. Peep the trailer for the latter below.