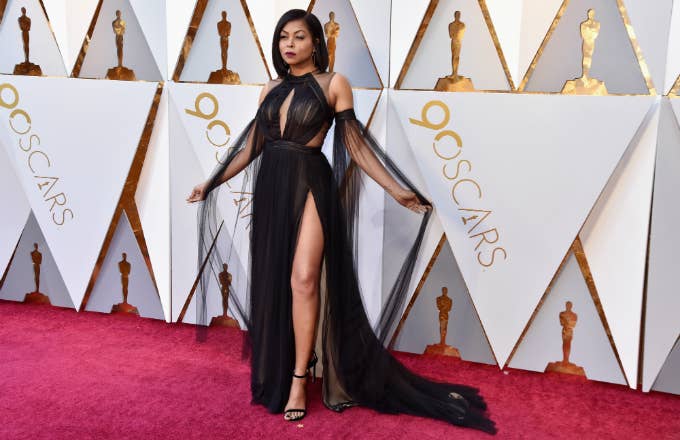 Sunday gave us one of the more memorable Oscars ceremonies in recent memory, with Jordan Peele making history in the Best Original Screenplay category and Guillermo del Toro finally bagging some well-deserved Academy recognition. Before the ceremony even kicked off, many were convinced that Taraji P. Henson had slyly derided Ryan Seacrest on the red carpet.
"You know what, the universe has a way of taking care of the good people," Henson told Seacrest when asked about Mary J. Blige's nominations for Mudbound. "You know what I mean?" The delivery of those comments was widely interpreted as Henson's way of confronting Seacrest about his sexual misconduct allegations.

Henson later responded to that interpretation, telling People that her comments had been "misconstrued" and that she "absolutely" supports Seacrest. "I did it to keep his chin up," she said. "It's an awkward position to be in. He's been cleared but anyone can say anything." As the clip went viral, Seacrest also shared his own comments via Twitter. "Nothing but love for my friend Taraji P. Henson," he said.

Former E! News stylist Suzie Hardy, who accused Seacrest of harassment and assault, said last week that she had been "emboldened by the bravery of others" to come forward with her story. "Ryan elected to take the story public with a false narrative that he was exonerated and the victim of some sort of money grab," Hardy said. "He is not the victim, and I refuse to let him victimize me for telling the truth." In early February, E! reps said their investigation into the allegations had uncovered "insufficient evidence." Hardy has disputed this, further alleging that someone involved with the investigation had intentionally elected to not interview multiple people who could have backed up her claims.