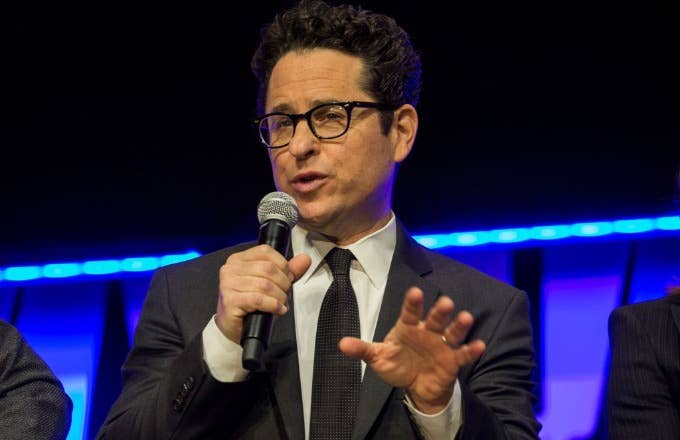 The central challenge of sticking the landing to this year's story-closing Star Wars: The Rise of Skywalker, as returning franchise director J.J. Abrams details in a new "ultimate preview" of the film, was to bring the characters to an ending that made perfect sense to fans.
Abrams' film, the ominous title of which was revealed last month, was given an expansive early look by way of Vanity Fair Wednesday.
In the piece's accompanying Lev Grossman-penned profile, Abrams reflected on that responsibility. 
"That's the challenge of this movie," Abrams, who previously helmed The Force Awakens, said. "It wasn't just to make one film that as a stand-alone experience would be thrilling, and scary, and emotional, and funny, but one that if you were to watch all nine of the films, you'd feel like, Well, of course—that!"
Abrams also discussed the greenscreen-heavy vibes of the prequels era (revealing he prefers the aesthetic decisions of the original trilogy), using leftover Force Awakens footage of the late Carrie Fisher, and more.
Additional revelations in the piece include confirmation that the Knights of Ren will indeed return in Abrams' Dec. 20 release, as well as word from sources close to the production that the longstanding Jedi Order x Sith battle will reach its conclusion in the film.
Daisy Ridley, who plays Rey in the Lucas-created franchise, also shared her assessment of the meaning behind the recently released Rise of Skywalker trailer's opening shot. "It's nice having that shot at the beginning of the teaser, because I think it's quite a good visual representation of where she is now: confident, calm, less fearful," she said.
For the full thing, including bits on new characters and additional quotes from other cast members, head here.
Earlier this month, Disney's Powers That Be confirmed that the next entry in the expanded Star Wars cinematic universe will be one from Game of Thrones duo David Benioff and D.B. Weiss. The untitled project currently has a release date slated for 2022. Previously, Disney boss Bog Iger informed fans that the team would be taking a brief hiatus after The Rise of Skywalker to "reset" after closing out the main saga.