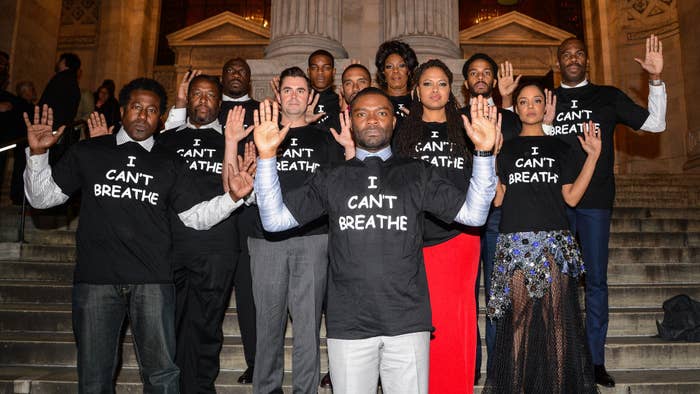 David Oyelowo says members of the Academy of Motion Picture Arts and Sciences kept the 2014 historical drama Selma from stacking up the awards it deserved due to his and fellow cast members' demonstration at the premiere honoring Eric Garner.
During a recent interview conducted as part of Screen Daily's Screen Talks live Q&A series, Oyelowo—who portrayed Martin Luther King Jr. in the film—recalled the Academy's response to the coordinated wearing of I Can't Breathe t-shirts.
"Six years ago, Selma coincided with Eric Garner being murdered," he said. "That was the last time we were in a place of 'I Can't Breathe' … I remember at the premiere of Selma us wearing 'I Can't Breathe' t-shirts in protest. Members of the Academy called in to the studio and our producers saying, 'How dare they do that? Why are they stirring S-H-I-T?' and 'We are not going to vote for that film because we do not think it is their place to be doing that.'"
Ultimately, the public responded to Selma not getting its due at the Oscars with #OscarsSoWhite, a campaign of awareness that Oyelowo specifically mentioned in his latest comments.
"It's part of why that film didn't get everything that people think it should've got and it birthed #OscarsSoWhite," he said. "They used their privilege to deny a film on the basis of what they valued in the world."
Selma director Ava DuVernay has since responded to Oyelowo's interview, saying on Twitter it's indeed a "true story."
The Academy has also responded, saying via a tweeted statement late Thursday that the members' behavior was "unacceptable."