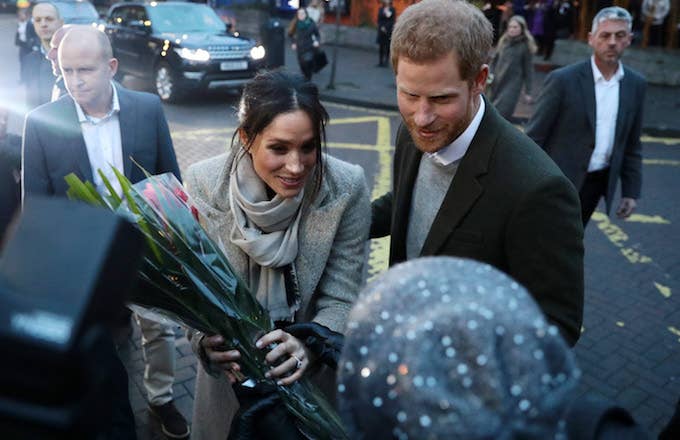 Harry & Meghan: The Royal Love Story is a real Lifetime movie that's actually happening, TV Line reported on Monday. The cable TV production has reportedly kicked off casting sessions. A release date is presumably imminent.
Unless Lifetime kicks into preposterously high gear with the production, Harry & Meghan likely won't be out before the real-life Prince Harry and Meghan Markle tie the knot in May. However, William & Kate: The Movie, Lifetime's take on Prince William and Kate Middleton's courtship, did premiere less than two weeks before their 2011 wedding date.
Entertainment Weeklyadds that Harry & Meghan will be directed by Menhaj Huda, who previously worked on E!'s The Royals. The film will chronicle Harry and Meghan's relationship, starting with their initial encounter on a blind date and wrapping up with their heavily publicized engagement.
As previously reported, none other than Cardi B has generously offered to perform at Harry and Meghan's wedding ceremony in exchange for $0.00. "I'm a fan of just, like, their whole story," she told Capital Xtra back in November. "I'm a fan of the fact that it's just, like, two people still stuck to that tradition of royal kingdoms and everything. That doesn't happen in America and it's just, like, when I see the palace it's like 'Oh my god! The freaking palace!'"
Given the fact that Harry and Meghan still haven't booked Cardi B for their May 19 wedding, we can at least expect the music selection to be abysmal.