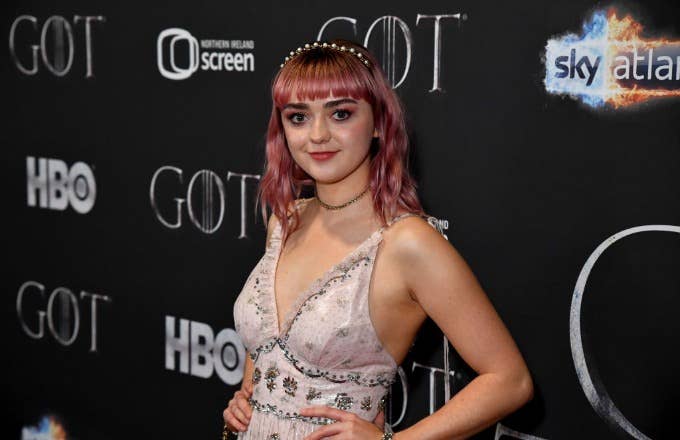 The following article definitely doesn't contain any Game of Thronesspoilers, as last night's new episode contained zero occurrences worth spoiling. Just kidding. If you're not caught up and plan on experiencing "The Long Night" on your own, then proceed forward with caution.
Star Maisie Williams, specifically, saw her character Arya Stark take down The Night King. As she revealed in an interview with Entertainment Weekly that dropped after the episode's Sunday premiere, Williams herself wasn't aware of Arya's move, not even on the day of the table read.
"I was coming into work and everybody was talking about episode 3 and [director Miguel Sapochnik] was like, 'Have you read the [episode 3 script] yet?'" Williams said. Met with this, Sapochnik told Williams he couldn't talk about the script further, a response which understandably confused Williams at the time. No one on the Thrones team would answer Williams' questions, a round of table read day inquiries that (now hilariously) included "Does The Night King die?" and "So who kills him?"
Once the team got to Arya's big Valyrian dagger moment during the read, cheers broke out. As Williams recalled, the realization was an "unbelievably exciting" one, though she wasn't immediately convinced that fans would be down. "It has to be intelligently done because otherwise people are like, 'Well, [the villain] couldn't have been that bad when some 100-pound girl comes in and stabs him,'" she said. "You gotta make it cool."
Kit Harington also got some words in, noting that he too was surprised by Arya taking down The Night King. "I thought it was gonna be me!" he joked. "But I like it." As Williams noted earlier, her boyfriend also had Jon Snow in mind. Check the full feature here.
Williams previously spoke on the final season production as a whole, assuring fans it's the "right time to say goodbye" to Stark and company. Following next Sunday's David Nutter-directed episode, Thrones will be just two episodes away from its series finale. New books and spin-off series, of course, are expected to keep rolling in.