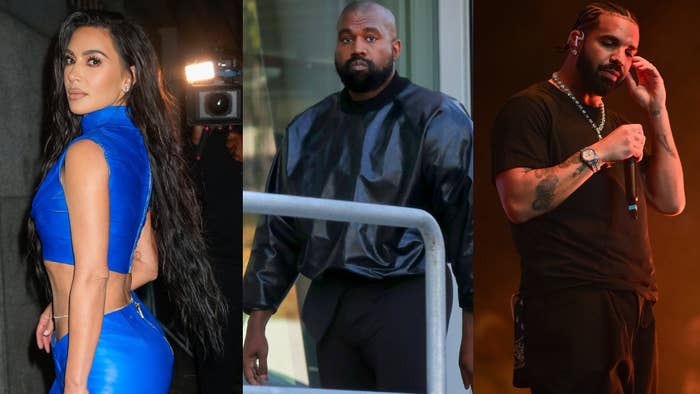 Kim Kardashian spoke at length about her ex-husband Kanye West, including his decision to publicly accuse her of "hooking up with Drake," on the widely headlined Season 3 premiere of The Kardashians on Hulu.
Toward the end of the episode, Kardashian opened up—both in confessional form and in an emotion conversation with her mother, Kris Jenner—about what she says Ye was putting her through at the time. As we previously pointed out, it's difficult to pinpoint when, exactly, these comments were recorded. It's fairly safe to estimate, however, that they were captured at some point in the last third of 2022.
"The one that was supposed to protect me and still does interviews saying they will be my forever protector is the one that is hurting me the most," Kardashian said in the episode. "He was the one that started a rumor that said I was hooking up with Drake, having an affair our whole marriage. He accused me of that publicly. So the person that's supposed to protect me the most publicly would accuse me of having an affair throughout our whole marriage. I really can't wrap my head around how he is a protector."
Elsewhere, Kim spoke candidly about the larger impact of Ye's actions, including on the children they share together.
"All of his shenanigans—I don't even know what the fuck to call it—is gonna be far more damaging to the kids one day than my tape will ever be," she said when talking with Kris.
Of course, Ye and Drake's publicly aired issues date back several years and have often had nothing to do with Kim. But on multiple occasions, she has been forced to comment. Back in September 2018, for example, Kim shut down a version of the hook-up rumor with a simple "Never happened. End of story."
More recently, Drake made an apparent effort to rile Ye with a trolling promo campaign leading up to the release of his Kim-sampling "Search & Rescue" track.