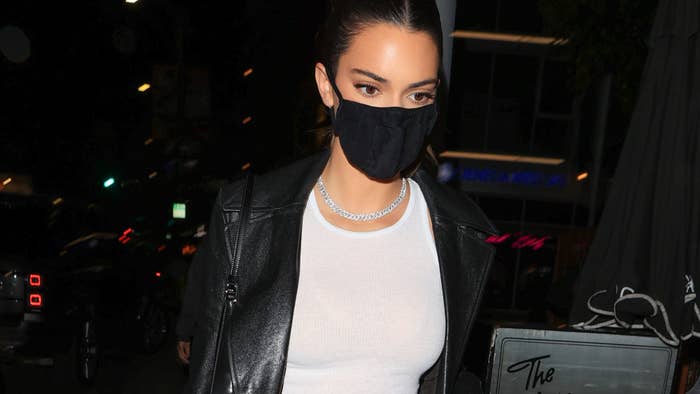 UPDATED 4/2 at 10:47 p.m. ET: The man who allegedly went skinny dipping in Kendall Jenner's pool is back behind bars.
Law enforcement sources tell TMZ that the suspect, 27-year-old Shaquan King, was released from jail on Friday after being arrested for allegedly stalking Kylie Jenner. The District Attorney's office called for further investigation, and ultimately slapped King with two trespassing charges and one count of disorderly conduct in connection to the Kendall pool incident. The DA issued a warrant for Kings arrest, and he was taken back into custody shortly after his Friday release.
(UPDATE) After a week of skinny dipping trespassers and death threats, Kendall Jenner has had enough. According to TMZ, sources report that the model and reality star has left her home with no plans of returning. Though it's unclear if she will sell her home, she has relocated to a new location with armed security present. See below for the original story.
After a 27-year-old trespasser allegedly tried to go for a naked swim in her pool, Kendall Jenner is said to be increasing her armed security team.
The incident in question, per a law enforcement sources-citing report from TMZ, went down around 2 a.m. on Sunday at Jenner's Los Angeles-area home. The trespasser, a man, is reported to have first started banging on windows while screaming Jenner's name. On-site security then started tracking the trespasser, who "stripped off his clothes" and tried to get in the pool at the house.
The man was then detained by guards until police showed up and ultimately placed him under arrest for misdemeanor trespassing. While Jenner is reported to have been home at the time and "in a safe location," the man did not directly encounter her during the incident, and—due to pandemic guidelines—he was reportedly released from jail after approximately six hours.
In response to this incident, Jenner is said in the report to have employed additional armed guards.
On Monday, in an unrelated incident, Jenner was reported to have gone to court to get a temporary restraining order issued after a 24-year-old man identified in a separate TMZ report as Malik Bowker threatened to purchase "an illegal firearm" and shoot her before taking his own life. Per legal documents cited in that report, Jenner was informed of Bowker's alleged intentions by an LAPD detective last week. At the time, according to the report, Bowker was under a temporary psychiatric hold at a local hospital.
Complex has reached out to local police for additional comment and will update this post accordingly.