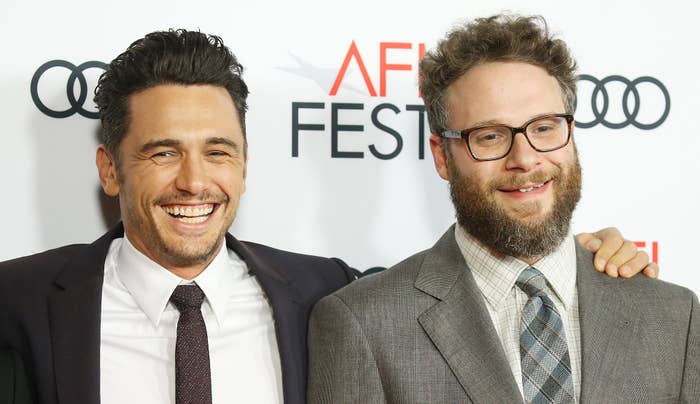 In a new interview, James Franco—who's been largely out of the spotlight for the last couple years after being accused by multiple women of sexual misconduct—addressed comments made earlier this year by his former collaborator Seth Rogen.
Responding to Rogen's remarks from May of this year in which he explained he had no plans to work with Franco again, the actor said Rogen "had to answer" for him because he had been silent.
"He was asked about me and, um, I just wanna say I absolutely love Seth Rogen. … I worked with him for 20 years," the actor/writer/director said in a Jess Cagle Podcast clip shared by TMZ. "We didn't have one fight for 20 years. Not one fight. He was my absolute closest work friend and collaborator."
Later in the clip, Franco echoed Rogen's comments about not having any plans to work together again.
"What he said is true," Franco confirmed. "We aren't working together right now and we don't have any plans to work together. Of course, it was hurtful in context but I get it. He had to answer for me because I was silent."
See more below.
Rogen's comments came as part of a Sunday Timesinterview in May, with the Pam & Tommy star reflecting on an SNL joke circa 2014 and another interview during which he had addressed the possibility of working with Franco again. "I also look back to that interview in 2018 where I comment that I would keep working with James, and the truth is that I have not and I do not plan to right now," Rogen said at the time.
In June, it was reported that Franco—whose credits with Rogen include Pineapple Express, The Interview, and more—had agreed (as had his co-defendants) to pay $2.2 million to settle a lawsuit that alleged he had carried out "professional sexual exploitation in the name of education" at his no-longer-active Studio 4 facility. Also named as defendants in that suit were Franco's Rabbit Bandini production company, as well as Franco's partners Vince Jolivette and Jay Davis.