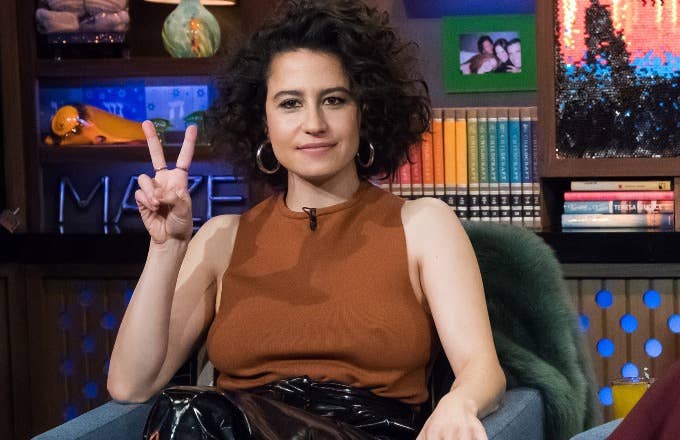 Mere days after the airing of the final episode of Broad City, co-star/co-creator Ilana Glazer will begin production on a new horror movie she co-penned with John Lee.
Glazer, who said goodbye to her Comedy Central hit with Abbi Jacobson Thursday night, will also star in the film compellingly titled False Positive. According to Deadline's report on the project, Glazer will be joined in the cast by The Leftovers lead Justin Theroux and former James Bond embodier Pierce Brosnan. Lee, who previously helmed episodes of Broad City and The Last O.G., will direct.
Production on the A24-backed feature is scheduled to kick off April 1 in New York ahead of a likely 2020 release window. Sophia Bush, Josh Hamilton, Gretchen Mol, and Zainab Jah also star.
Glazer's post-Broad City slate also includes voice talent on Jared Stern's upcoming Green Eggs and Ham series.
After five hilarity-loaded seasons on Comedy Central, the Broad City team called it a night with March 28's aptly titled "Broad City." In a parting interview of sorts with The Hollywood Reporterpublished surrounding the episode's debut, Glazer and Jacobson looked ahead to life after closing this chapter of their alter egos.
"It's not fresh, but my fear is that Broad City is the best thing I'll ever do," Glazer said candidly. "But I have to say, if it is, fucking yeah. Fucking nailed that shit."
Jacobson, meanwhile, is working on Amazon's A League of Their Ownpilot based on the 1992 comedy of the same name.