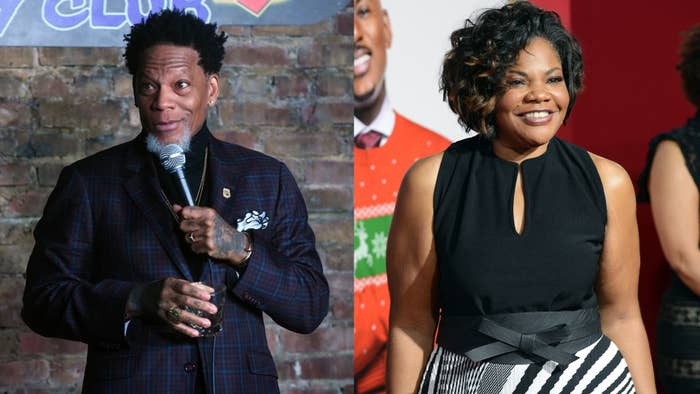 After sharing the bill at a show in Detroit in May, comedians D.L. Hughley and Mo'Nique have publicly been at odds over what's been widely referred to as a contract dispute.
The initial disagreement, however, has since expanded into a multifaceted feud that's spurred a slew of headlined social media posts and persistent commentary from those on the sidelines.
While Hughley recently suggested to fans he had shared his final word on the matter, widespread attention is still being given to the issues between the two stars. Below, we take a look at what's transpired thus far.
During a May 28 show at the Fox Theatre in Detroit, Mo'Nique told the crowd she was supposed to be headliner of the show and also claimed that Hughley was refusing to hit the stage if he wasn't in the slot instead.
"That's what the motherfucking contract says," she told the crowd. "Mo'Nique is to be the last motherfucking person on the goddamn stage. She is the headliner." According to Mo'Nique, this order of performers is explicitly why she signed on for the show to begin with. She also directly mocked Hughley, as well as mentioned Steve Harvey.
Hughley later responded via Instagram, mentioning the order of performers listed on the event's tickets and claiming he had agreed to "take a chance" by working with Mo'Nique "against my better judgment" and the advice of his team.
"The fact that you point the people to the ticket stubs for the order of the names versus to your contract implies that you don't have a contract that shows you are the headliner like I do," Mo'Nique said in response, adding that Hughley's alleged behavior was a "prime example" of the bias against Black women in the entertainment industry.
On May 30, both Hughley and Mo'Nique shared various paperwork related to the Detroit show to Instagram. 
First up, Hughley shared his "Deal Memo," listed provisions of which included that he would be "the highest paid artist on [the] show" and have "approval of lineup and running order." Additionally, the Deal Memo shared to Instagram stated that Hughley would be closing the show.
Mo'Nique then shared a "Performance Agreement" for the show, which said  she "shall be the Headliner of the show and the closing Talent for the show." When sharing the agreement (as well as additional screenshots and info), Mo'Nique also pointed to how confusing different types of paperwork as interchangeable is a tactic used to take advantage of artists.
"Now, you told me to check with my management and this is what I came up with, so how'd did I do?" she said. "Perhaps you should've taken your own advice, because I'm sure your team would have advised you against trying to pass a deal memo off as a contract."
That same day, Hughley questioned the agreement and highlighted Mo'Nique's Hicks Media Inc. company. "I smell bullshit and I wouldn't pick it up with the old ass birth certificate paper it was written on!!" he said. "Stop the [cap]!!"
By the beginning of June, Steve Harvey had addressed the growing back-and-forth, saying during a Steve Harvey Morning Show discussion with his panel that he couldn't "care less" what Mo'Nique thinks about him.
Speaking more generally on these types of artist-to-artist feuds, Harvey expressed his belief that shows should keep the goal of entertaining an audience at the forefront. In Harvey's opinion, this is "the mission" of a stand-up show. He also speculated about what may have happened behind the scenes that contributed to the disagreement between Hughley and Mo'Nique.
"Her management, whoever he is, simply stated 'I got this gig, you co-headline.' I promise you that's what was told. … And that was incorrect information because D.L. put that contract online," Harvey said at the time. "He was 100 percent headlining. Co-headlining affects the money. If you're co-headlining, you're gonna get the same cash."
The same day, Mo'Nique and her husband, Sidney Hicks, shared an hour-long video to Instagram in which they both discussed the Hughley feud and spoke on the larger issues they said were also in play here. Harvey was also mentioned in the video.
"I've never stopped being a stand-up comedian, baby," she said at one point in the IG upload. "I've been out there on that road doing my thing the whole time, so stop trying to put a false narrative out there—that's Steve Harvey's big word—stop trying to put a false narrative out there."
After Mo'Nique amplified an old interview clip on June 3 showing Hughley talking about his initial reaction to his daughter telling him about an alleged sexual assault (and a member of Hughley's family responded), Hughley shared a five-minute clip in which he referred to Mo'Nique as a "monster."
In the video, Hughley addressed the clip shared by Mo'Nique, as well as his initial reaction to his daughter informing of the alleged assault. While he said he would "never forgive" himself for not immediately believing his daughter, he said Mo'Nique had taken the clip and "perverted it for her own uses" by adding "her own narrative."
According to Hughley, "nothing could be further from the truth" than how Mo'Nique presented this particular issue. Elsewhere, Hughley brought up Mo'Nique's Oscar-winning performance in Precious.
"You are a monster. You literally are," he said. "You didn't play Precious' mother. You let her out. You stopped pretending to be human and you won…an Oscar for being exactly who you are. Who says they love women and are there for women…and would trot out someone's sexual trauma just to use in an argument?"
Shared by Mo'Nique the same day was another old clip of Hughley, this time from an interview with Jay Leno. In it, Hughley is seen joking about the 2007 Don Imus controversy by mocking the women who were the targets of the since-deceased shock jock's widely condemned remarks.