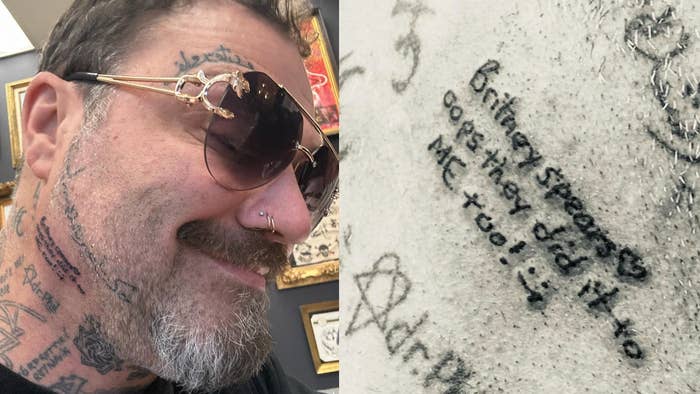 Bam Margera, who once introduced himself as "the Britney Spears of Jackass," now has a new tattoo referencing the singer's 2000 album and single Oops!… I Did It Again.
Margera revealed the ink on Instagram this week, saying in a video taken during the tattooing process that he had "been through the ringer" when it came to rehab programs.
"I've been through the ringer with the longest Florida shuffle, which means that if the interventionalist knows you have insurance money, they'll find reasons to keep you there forever," Margera said in the clip. "So, Britney Spears. Oops, they did it to me too. I'm on your level."
Toward the end of the clip, Margera reiterated what he sees as the similarities between himself and Spears.
"Britney, I'm on your level," he said. "I feel your fucking pain."
In the caption of the post, Margera elaborated on his claims, stating he's spent hundreds of thousands of dollars after a series of 10 different rehabs in Florida. Margera, who recently marked one month of sobriety, also said he's now "a happy camper" after removing certain "pieces of shit" from his life.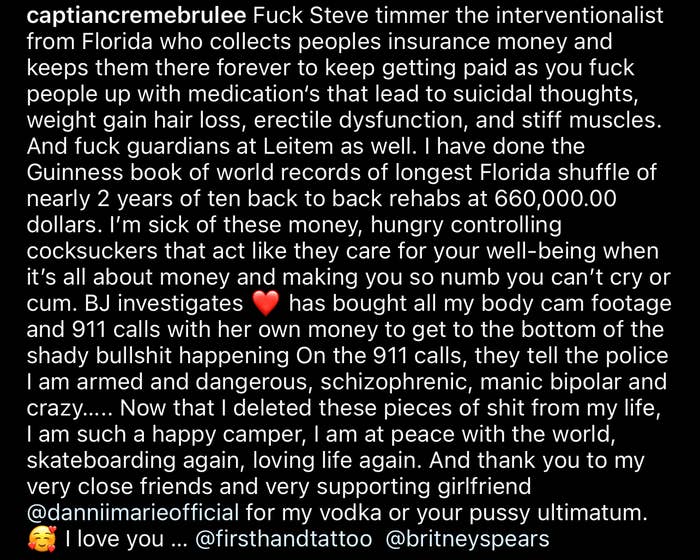 See Bam's update in its original context below.
Tagged in the post is First Hand Tattoo, a shop based in the Warminster area of Pennsylvania. The business also commemorated Bam's new ink with a post of their own, thanking the Jackass and Viva La Bam for being "genuine and cool" during his time in the shop.
Back in January, Margera was on the road with Steve-O when he introduced himself to the crowd as "the Britney Spears of Jackass." At the time, Margera claimed he had been "stripped … of all my rights" by a judge. But during an April episode of his Wild Ride podcast, Steve-O revealed that Bam's time on the road with him ultimately came to a disappointing conclusion.
"Sitting in jail is the only place where everybody can have a reasonable expectation that he's safe, that he's not harming himself or others," Steve-O said at the time.
This wasn't the only time that Margera's former Jackass co-stars spoke out about his substance abuse issues. Johnny Knoxville, for example, said last year that he simply wants Margera "to get well."