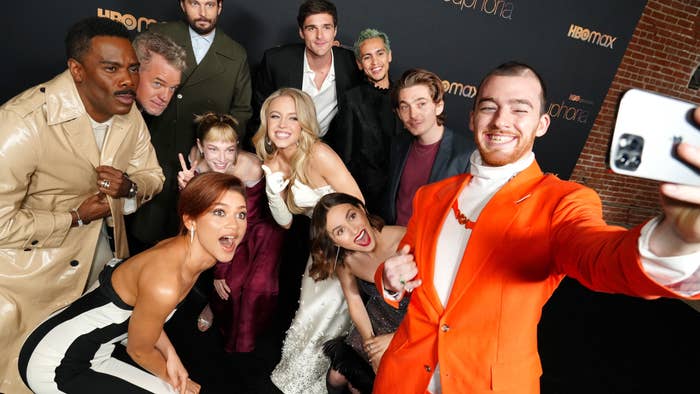 Angus Cloud's casting tapes that ultimately put the wheels in motion for his casting in Sam Levinson's HBO hit Euphoria have been shared.
As first spotted by Rolling Stone, the late actor's mother, Lisa Cloud, shared a link to the footage on Facebook earlier this week.
"This was just sent to me by Jennifer Venditti who scouted Angus in Brooklyn," she wrote when sharing a link to two clips, one of which is an informal interview. "It's his first tape. After this was seen by the creators of [Euphoria], he was asked to read for Fezco. It really captures my son's extraordinary spirit."
The first clip opens with Cloud, who died in July at the age of 25, being asked how he would describe himself.
"Probably goofy, I don't know," he's seen telling the camera. "I just kind of, like, do whatever is in front of you. I try to take full advantage of—I don't know to explain it—but we call it peppin.' It's just when you engage in any random spontaneous activity."
Deeper into the clip, Cloud—just 19 years old at the time of the interview—detailed once hopping the fence at the San Francisco Zoo with a friend. After making their way inside, Cloud recalled, he and his friend realized they had jumped into a cage full of kangaroos. Another zoo incident, meanwhile, saw Cloud in close proximity with a warthog.
In a particularly touching highlight, Cloud also spoke candidly about what he considers the best part of his life.
"I don't know what's the best part of my life but just being alive, I would say," Cloud said.
The interview clip also sees the beloved actor discussing his favorite music, his closest friends, his thoughts on true love, and more.
"It is with the heaviest heart that we had to say goodbye to an incredible human today," a statement from Cloud's family read last month. "As an artist, a friend, a brother and a son, Angus was special to all of us in so many ways. Last week he buried his father and intensely struggled with this loss. The only comfort we have is knowing Angus is now reunited with his dad, who was his best friend."
Following news of the actor's tragic death, his Euphoria collaborators remembered his kindness and talent and indelible impact on all of their lives. On Wednesday, Zendaya shared a photo of a tribute mural to Cloud. Per People, the mural is in the Los Angeles area.