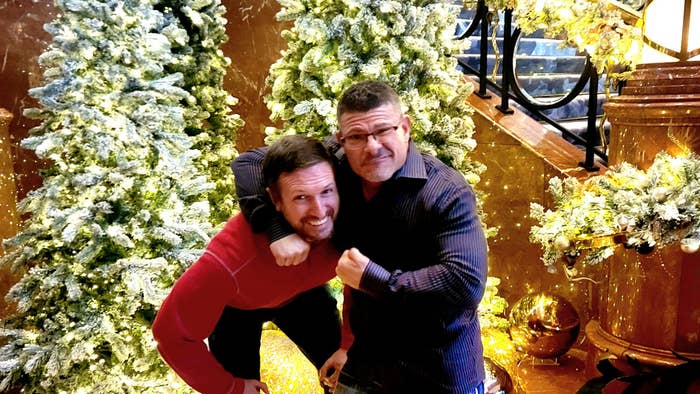 The two gentlemen at the center of a recently-made-viral confrontation outside the revered house from the holiday classic A Christmas Story are kicking off the new year with an example of letting bygones be bygones.
As you may recall, Yano Anaya—who played Grover Dill in the 1983 family comedy and reprised the role in last year's A Christmas Story Christmas on HBO Max—made headlines back in November in connection with footage of him and home owner Brian Jones exchanging words outside the famous residence.
As revealed in recent Facebook and Instagram posts from the official A Christmas Story House and A Christmas Story Family accounts, however, the two have since quashed their apparent feud in the name of lifelong friendship.
"So… in my experience of life, the family may always have dysfunction, arguments, fights, yelling, etc. But love always finds a way to reconcile," Anaya said when announcing the reconciliation, which was further celebrated with several photos of the two in full-blown holiday mode.
Anaya went on to note that he and Jones have been friends for nearly two decades, adding that fans who "created stories" about the viral incident should "think hard as to why you chose to believe what you did (the negative things said) without ever having facts."
See more below.
A subsequent report from TMZ added a bit more context to the reconciliation, including word that Anaya had initially not received a response from Jones after sending him several emails following the November 2022 incident. In late December, however, Jones is reported to have reached out to Anaya to make breakfast plans in the Atlanta area, thus spurring the peacemaking photos and related social media posts seen above.
A Christmas Story, of course, has remained an enduring holiday classic and is likely to continue that dominance in the years ahead. The film was recently highlighted among Complex's coverage of the best Christmas movies of all time, which you can read in full here.