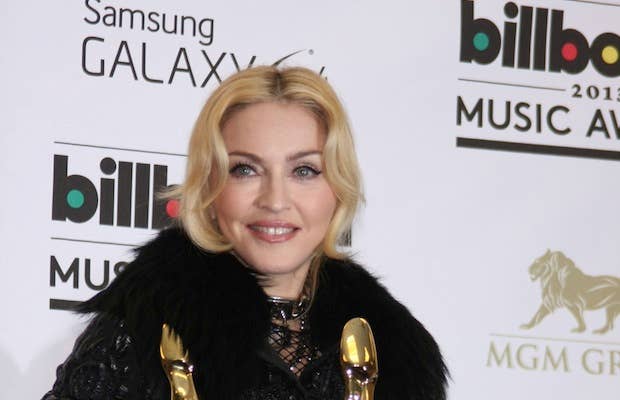 Lists of top-earning celebs are generally depressing to look at, if only for the amounts of money listed on there—and this year's Highest Paid Celebrities List from Forbes is no different. Warning: The following information may be severely depressing and/or confusing, but we know you're going to read on anyway, so here we go. 
According to Forbes, it was Madonna that dominated the celeb world this past year in terms of big fat paychecks; between June 2012 and June 2013, Madonna earned about $125 million from her Material Girl concert tour, which she launched to accompany her new album, MDNA. While album sales were stale and disappointing, her concert—at $100 a ticket—was a huge financial success for the singer, and in total it grossed about $305 million. Forbes also included this fun fact about Madonna's claim to the number one spot: "That's more money than Madonna has ever earned in the time we've been doing our Celebrity 100 list."
Second on the list is Steven Spielberg, who earned a total of $100 million, mostly from his 'extensive library' of films including E.T. and Jurassic Park.
After Spielberg, though, the list starts to get a little grim. There's no easy way to say this, so I just will: Tied for the number three spot are reportedly Howard Stern, Simon Cowell, and Fifty Shades of Grey author E.L. James, having each earned $95 million this past year. Stern and Cowell, whatever your opinions of them, are understandable, but E.L. James? For writing erotic Twilight fanfiction that just so happened to get a book deal? Life is never fair.
You can check out the rest of the list over at Forbes.
[via Forbes]