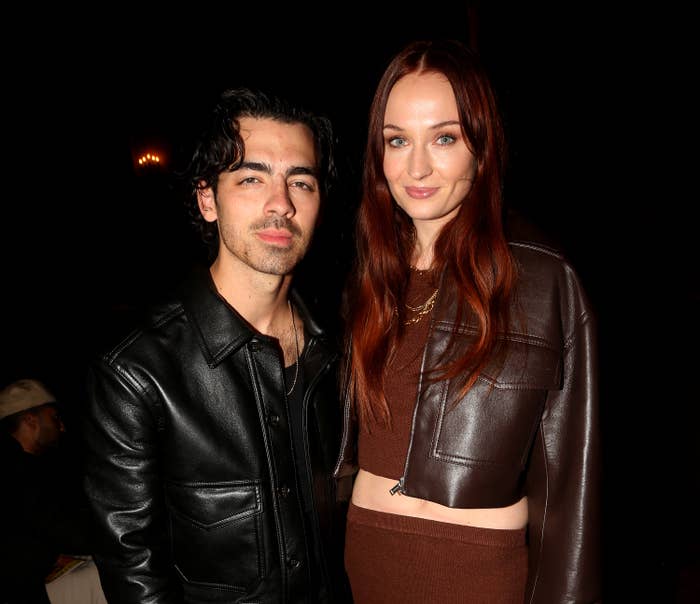 Joe Jonas, 34, and Sophie Turner, 27, were one of Hollywood's most private couples until a recent turn of events. Their bombshell divorce announcement sent shock waves through social media, surprising fans and packing on a boatload of drama.
In late 2016, the couple first sparked romance rumors when they were spotted on a PDA-filled date in Amsterdam at a Kings Of Leon concert. The Disney Channel alum then proposed to Turner in 2018, which led to a double wedding––one in Vegas and another in France—in 2019. The duo share two children: a three-year-old daughter, Willa, and a one-year-old baby girl, whose name has not been disclosed.
Despite being an "it" couple, Sophie and Joe were fairly quiet and stayed out of the spotlight. In a conversation with Mr. Porter in 2022, the Happiness Begins artist revealed why he kept his love life private. "I want to feel like an open book," he said. "But when we started dating, I realized that I didn't have a ton of stuff that was just for me. And in the end, it makes me a better person to have something for myself." He continued, "There have been a lot of situations in my career where, like [Harry Styles], a small thing has been blown out of proportion. It's had this trickling effect."
Externally, their marital bond appeared strong as Sophie attended a Jonas Brothers reunion concert in August 2023. The actress posted pictures of the night, including a photo of her and her husband hand-in-hand backstage.
But everything appears to be different from how it seems. Unfortunately, Sophie and Joe's love story came to a close after the musician filed for divorce in September. The divorce document stated that "the marriage between the parties is irretrievably broken." Since then, their divorce proceedings have been far from drama-free. Instead, Jonas has faced lawsuits and child abduction allegations since the filing.
Here is a timeline of Sophie and Joe's love story, tracing back to all the events that led up to their split and the drama surrounding their ongoing divorce.
The couple have their first public date at a Kings of Leon concert
Date: November 2016
Turner and Jonas were spotted cozying up to each other at the pre-MTV European Music Award concert in Rotterdam, Amsterdam, packing on the PDA at the Kings Of Leon show and sparking dating rumors. An eyewitness gave US Weekly a description of the pair's night out. "Joe and Sophie arrived together before the show started. He had his arm around her as they walked in, and then he was holding her before the show. Joe and Sophie kissed a few times and were talking and drinking soda," they said.
Jonas meets Turner's parents in London
Date: December 2016
The Daily Mail reported that things were heating up between the couple after Joe met Sophie's parents. The paparazzi captured Sophie kissing Joe as she grabbed his face. According to the outlet, the DNCE singer tagged along for a family day out in North West London.
The couple make things IG official on New Year's
Date: January 2017
A couple of months later, the pair made their relationship official on Instagram. As the new year began, the UK native shared a picture of her new boo smoking a cigar on a boat, enjoying Miami weather. "Miami Daze," Turner penned in the caption.
Turner and Jonas adopt a dog together
Date: September 2017
A new furry member joined their family in 2017: Porky Basquiat. Turner posted an adorable first look at their Husky puppy on Instagram writing, "Meet Porky Basquiat, the newest addition to the krew."
The Jonas brother proposes to the Game of Thrones actress
Date: October 2017
In October, the couple announced their engagement in a double social media post. The songwriter posted a picture of his fiancé's hand dressed in a pear-shaped diamond ring. "She said yes," Jonas captioned, while Sophie posted, "I said yes."
The private couple make an appearance during Paris Fashion Week
Date: October 2018
Nearly one year later, the pair made their first red carpet debut as an engaged couple. The twosome attended the Louis Vuitton show during Paris Fashion Week, sporting coordinated gray and black attire. Sophie gave fans an inside look at their night as she posted a sweet pic of her and her finacé, "With my love in Paris," she captioned.
The two have a surprise wedding in Las Vegas
Date: May 2019
Jonas and Turner officially became husband and wife in May after a surprise wedding in Las Vegas. The two decided to tie the knot after a post-Billboard Awards, celebratory night. During the award show, The Jonas Brothers also reunited after a six-year break.
According to People, DJ Diplo captured the event on Instagram live. The Vegas-style nuptials took place at Chapel L'Amour. The marriage documents showed that the two actors applied for a marriage license in Nevada. The outlet spoke to Turner's rep, who confirmed the speculation, saying, "We can confirm Sophie and Joe were married in Las Vegas last night."
The pair tie the knot again in France
Date: June 2019
The lovebirds made it down the aisle again in the city of love. Paparazzi caught glimpses of the venue, along with pictures of Jonas and his groomsmen posing for a professional photograph. Of course, Joe's brothers were in attendance—Nick, Kevin and Frankie. As for Sophie's bridesmaids, sister-in-law Priyanka Chopra, and Ashley Graham attended. Turner's Game of Thrones costar Masie Williams also joined as the bride's maid of honor.
Porky also made a grand entrance as paparazzi snapped pics of the young pup wearing a miniature tuxedo.
Turner gave a glimpse of her wedding in an Instagram post, captioned, "Mr and Mrs Jonas. Photo by @corbingurkin." The pair looked overly filled with joy as they walked down the aisle hand in hand.
Turner opens up about her marriage
Date: March 2020
In a conversation with ELLE Magazine, the Emmy nominee opened up about her marriage to Joe. "I feel like the only thing that's changed for me is having this incredible sense of security," she said. "Just the word husband and the word wife—it just solidifies the relationship." She then emphasized how much she loves being married, saying, "I think it's wonderful. I'm sure we'll have our hiccups and our different things. But right now, it's like the security and the safety is everything."
The two welcome their first child together
Date: July 2020
The pair welcomed their first child together one year after tying the knot. Turner gave birth to a baby girl, Willa, in a Los Angeles hospital. A source told Entertainment Tonight that, "The couple is already obsessed and can't stop gloating about their new addition. The couple is taking time to enjoy this special moment and have only shared the news and updates with family and friends."
Turner reveals never-before-seen wedding photos
Date: June 2021
In honor of their second wedding anniversary, the X-Men: Dark Phoenix star shared romantic throwback photos from their wedding. She posted an array of never-before-seen photos that were taken at their French ceremony. "I mean… fuck it, it's been two years," Turner wrote.
The couple move from L.A. to Miami
Date: September 2021
The LA Times reported that Jonas and his family were moving cross-country to Miami, Florida. According to the media outlet, the family of three sold their Encino home for $15.2M.
Later in the year, the Hollywood star spoke to ELLE UK about her new home and said she would love to live back in England. "We're very lucky to live in Miami. We have good weather and live by the water," she said. Turner then emphasized that England would provide more mental stability for her and her family. "I really love living in America, but for my mental health, I have to be around my friends and my family. And also for my daughter – I would love her to get the education and school life that I was so lucky to have. England would ideally be the final destination, but [Joe] might take quite a bit of convincing!"
The pair welcome their second child
Date: July 2022
Months after announcing her pregnancy, Turner gave birth to a baby girl in July. The family rep spoke to PEOPLE confirming the news, saying, "Joe and Sophie are happy to announce the arrival of their baby girl."
The two are extremely private regarding their children, so they have yet to disclose their youngest child's name.
Jonas and Turner attend the 2023 Vanity Fair Oscar Party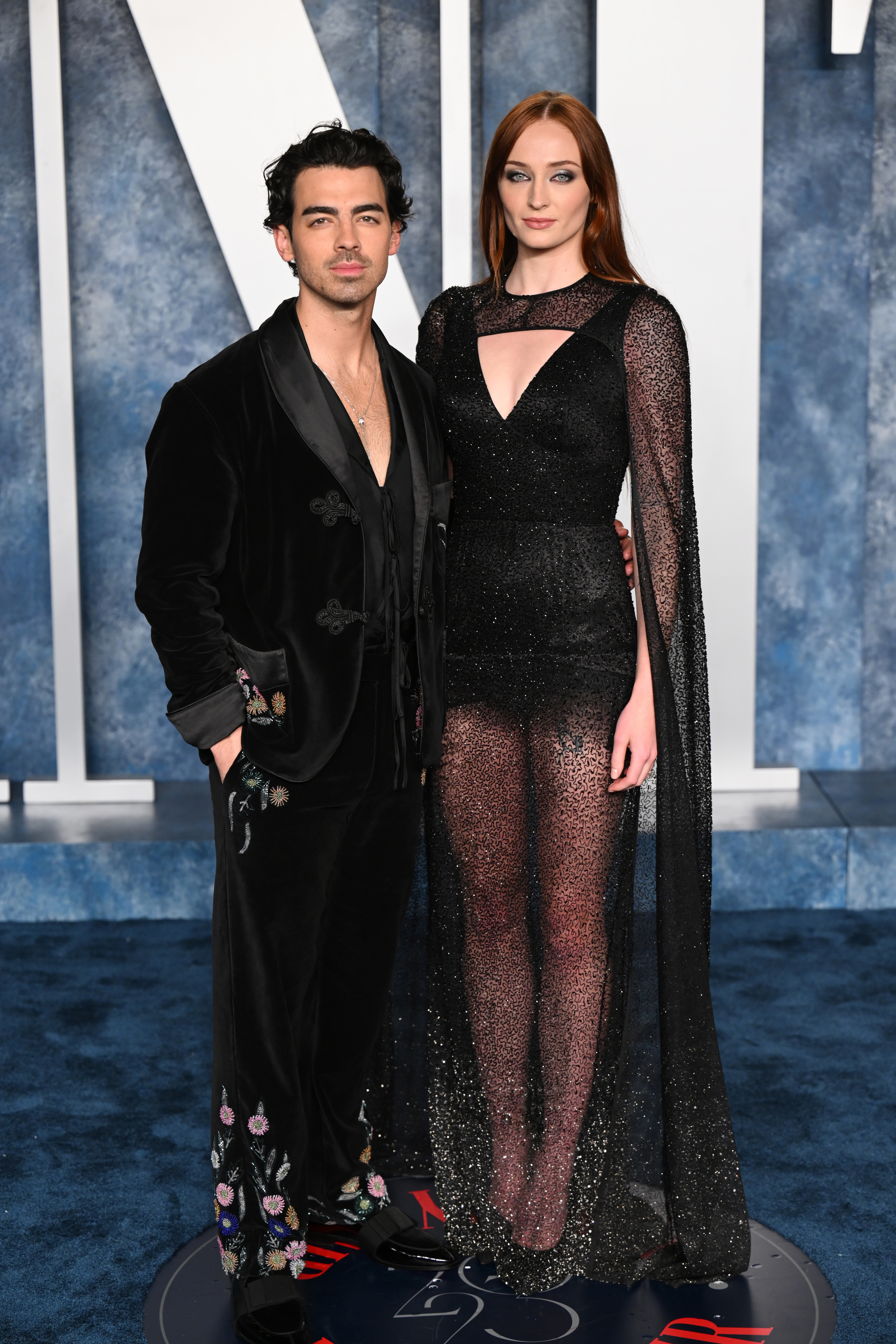 Date: March 2023
The private couple stepped out on a rare occasion to attend Vanity Fair's Oscar Party. Still going strong, the twosome were photographed alongside each other while coordinating gothic black fits.
Turner speaks on the importance of her children's privacy
Date: May 2023
Turner accidentally posted, then deleted, an IG post of her daughter Willa, which led to a lengthy message on her children's privacy. The mother admitted her mistake, saying, "We have always advocated for our kids' rights to privacy, so sharing this publicly is against anything I stand for."
She continued, "Our children deserve the right to grow up out of the public eye, to learn and grow in private. If I ever were to post anything of our kids, know that it is unquestionably a mistake." She then urged media outlets to erase the identity of their children from their platforms. "I would greatly appreciate if anyone who has reposted on any other platform [to] delete the video."
Turner attends a Jonas Brothers concert
Date: August 2023
In support of her husband, Turner took a break from her busy filming schedule for her upcoming TV series, Joan, to tend to her hubby. The 27-year-old gave her 14M+ followers an inside look at her night festivities at The Jonas Brothers stop in New York City. In a slideshow of photos from the evening, the star shared a shot of herself kissing her beau's hand as they walked happily together backstage.
Joe Jonas files for divorce from Sophie Turner
Date: September 2023
The Hollywood couple called it quits after four years of marriage. TODAY reported that Jonas filed for "dissolution" in Miami Dade County on Sept. 5. The document stated that "the marriage between the parties is irretrievably broken." The petition notes that their children are mainly with Jonas while he tours, suggesting that "it is in the best interests of the minor children that the parties have shared parental responsibility." The pair have a prenup in place.
A day after the news broke, the pair confirmed reports by posting statements on Instagram on their behalf. The messages read, "After four wonderful years of marriage, we have mutually decided to amicably end our marriage. There are many speculative narratives as to why but, truly this is a united decision, and we sincerely hope that everyone can respect our wishes for privacy for us and our children."
Turner hits the streets for girls night out with another famous ex
Date: September 2023
Shortly after Joe's filings, Sohpie stepped outside for a girls night out in NYC. She hit the streets with Joe's old flame, Taylor Swift. The two were photographed strutting down Lafayette Street with linked arms, making their way to Temple Bar.
Turner files a lawsuit against Jonas
Date: September 2023
The pair's divorce drama heated up as Turner sued her estranged husband regarding a custody dispute. The documents stated that Turner wanted her two children to return to England. The Game of Thrones alum demanded "the immediate return of children wrongfully removed or wrongfully retained," per People. She also noted that Jonas agreed to move their children to England in the past.
The outlet noted that the two parents mutually agreed that Jonas would have primary custody of their kids while he was on tour due to his lighter day-time schedule, compared to Turner's strict filming agenda in the UK.
Jonas and Turner reach a temporary custody agreement
Date: September 2023
Amidst their custody drama, the two reached a temporary agreement regarding their children's whereabouts. People reported the court ordered that their children will reside in Southern and Eastern districts of New York. The filings read, "The parties have agreed to the entry of the attached proposed Interim Consent Order, without prejudice to either party's claims and defenses, prohibiting the removal of the parties' children from the jurisdictions of the United States District Courts for the Southern & Eastern Districts of New York pending further order of this Court."
Days before, the two were seen out together with their two young daughters grabbing a bite to eat, per TMZ. Paparazzi captured the family outing while sitting together at the NYC restaurant Momofuku Noodle Bar Uptown. An eyewitness noted that there were "zero signs of drama."