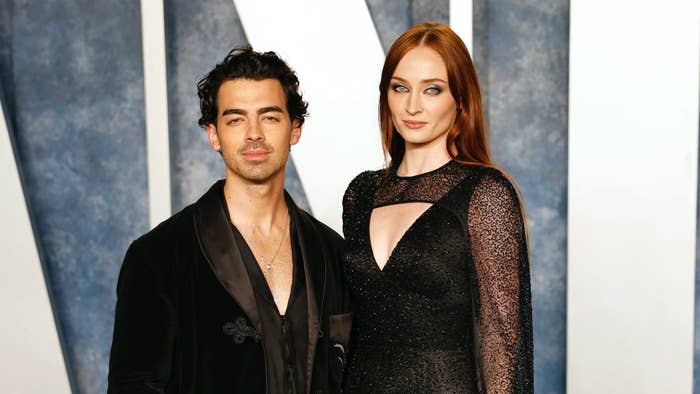 The Sophie Turner and Joe Jonas split has taken another messy turn.
According to legal documents obtained by The Messenger, Turner has accused her estranged husband of withholding their children's passports and refusing to return them to England. The Game of Thrones star made the allegation in a lengthy lawsuit filed Thursday in Manhattan court. Turner claims she and Jonas wanted to make England their "forever home" and agreed to raise their two daughters there.
The complaint alleges that the former couple had moved into a UK rental back in May with plans to switch to permanent residence by December. However, once Turner secured a small-screen gig that required her to shoot in England, they agreed that the kids would live in NYC with Jonas and his extended family, and would go on tour with him beginning in July.
The actress claimed they planned for her to pick up the kids in mid-September— when her drama series wrapped up production—and take them back to England, but those plans were derailed earlier this month when she was allegedly blindsided by Jonas' divorce filing.
According to the complaint, Turner had met with Jonas on Sept. 17 to address their separation and their children's living situation. She said she reminded Jonas about their UK plans and their agreement to have their girls attend school in England. Turner said Jonas ultimately prohibited their kids from going with her, which she said "is a breach of the Mother's rights of custody under English law."
The suit cites the Convention on the Civil Aspects of International Child Abduction, a multilateral treaty that aims "to secure the immediate return of children wrongfully removed or wrongfully retained in any Contracting State, and to ensure that 'rights to custody' under the law of one Contracting State are effectively respected in other Contracting States."
Turner and Jonas' daughters reportedly have dual citizenship in England and the U.S., but the mother argued that England is where they've had playdates, gone to school, and established a stable routine.
The actress is currently in NYC with her daughters as she attempts to return them to the U.K.
Jonas has denied the child abduction allegations and accused his wife of failing to uphold their co-parenting deal. A representative for the singer confirmed that the couple did meet on Sept. 17, but Turner never shared her intentions to move the children out of the country.
"Less than 24 hours later, Sophie advised that she wanted to take the children permanently to the UK," the representative told Page Six. "Thereafter, she demanded via this filing that Joe hand over the children's passports so that she could take them out of the country immediately… Joe is seeking shared parenting with the kids so that they are raised by both their mother and father, and is of course also okay with the kids being raised both in the US and the UK."
The spokesperson also denied Turner's claim that she did not see the divorce coming, as she and Jonas allegedly discussed separation on multiple occasions.
"This is an unfortunate legal disagreement about a marriage that is sadly ending," the representative continued. "When language like 'abduction' is used, it is misleading at best, and a serious abuse of the legal system at worst. The children were not abducted. After being in Joe's care for the past three months at the agreement of both parties, the children are currently with their mother. Sophie is making this claim only to move the divorce proceedings to the UK and to remove the children from the U.S. permanently."