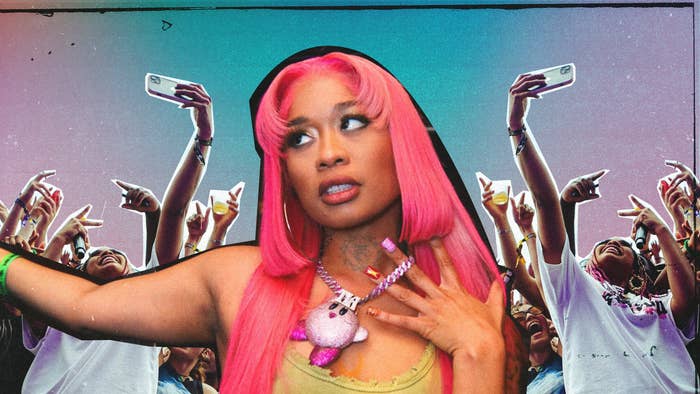 At 60, Marshall has a lot to celebrate. At its core, it's a brand dedicated to supporting revolutionary artists who make you remember where you were when they first popped up on your radar. The company started as a music store in 1962 in London, and was founded by Jim Marshall, the innovative amp maker known as the "The Father of Loud." He tapped into his experience as a drum teacher and band member to create a product he believed musicians needed to thrive. Eventually, he created an amp so loud — louder than anyone had experienced before, at that time — that it became a favorite of popular rock 'n' roll artists who were literally able to turn their music up and rock out in ways that set precedents for performers to come.
Throughout the years, Marshall has continued to play a critical role in bringing the sounds of groundbreaking musicians across genres, such as rock, disco, hip-hop and more, to the masses. And now, in 2023, Marshall, like hip-hop, has a well-earned reputation for innovation, and they're still along for the ride. And above all, they're still making sure that change-making artists continue to be amplified. As Marshall celebrates its 60th anniversary, and hip-hop, its 50th, both continue to expand in ways that push boundaries and set new standards and norms.
Enter TiaCorine.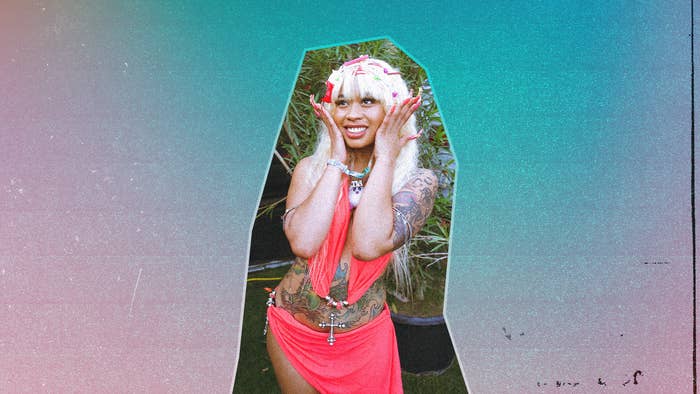 She's not an OG yet, but she's on her way, as a rising boundary-breaking rapper, singer, songwriter, and producer, who isn't afraid to play with a variety of sounds and concepts to bring her talent to life. Visually, she has an affinity for junk nails, Kirby, and ever-changing, sometimes BAPS-inspired, hair. Sonically, that color spills into her eclectic genre-bending music, which is a nod to anime, alternative rock, and hip-hop.
Growing up, her older brothers played a range of 2000s and 2010s R&B and hip-hop while her mother played '60s, '70s, and '80s pop and rock whenever she cleaned the house. Her father listened to neo-soul, classic hip-hop, ratchet, and gangsta music.
"The melody of these songs [I heard growing up] are just so fun, and the beats. They just made you happy," she says. "Everything was always just a really positive, happy mood with my mom and my dad [and] the songs that they played. They were all really funky and really catchy, and it was me listening to two different types of sounds and then also getting to my own self and picking up my own instrument, like the flute, learning how to read and write music."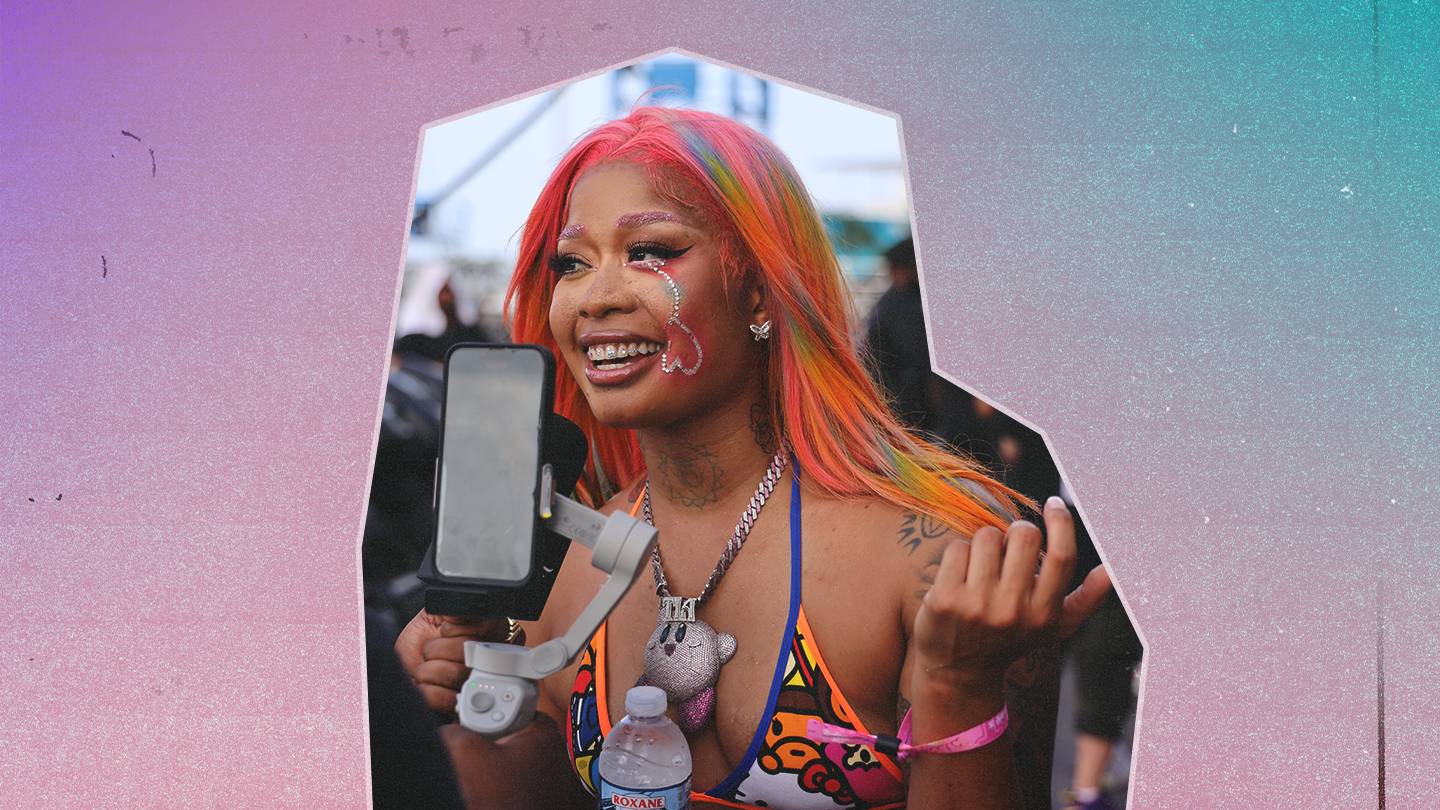 The Winston-Salem, NC native got a lot of practice figuring out who she was as an artist during her college years, by performing, and meeting other creative minds who helped her refine her unique sound. Eventually, TiaCorine got the world's attention with her first viral moment in 2020, when her 2018 song, "Lotto," began making its lightning rounds on social media. One of Houston's latest lyricists hopped on the remix the following year, and her ascent to stardom was solidified. She used that foundation to continue experimenting on her third album, I Can't Wait, which was released last fall. It fuses hip-hop, pop, and alternative rock. On "Freaky T," which features a fellow female rapper on the remix, TiaCorine channels an influential hip-hop sound and spits over a mellow rap groove while talking her smack.
But don't forget, TiaCorine's an eclectic artist that's taken inspiration from everywhere. You can hear her self-described trap-alternative influences on songs like "Pink" and "Rockstar."
"When I'm doing my alternative bag, it's still hip-hop in there. Even when I do my rock songs, that hip-hop cadence always carries it into the alternative sound. It's very intuitive," she says, citing one of America's favorite 2000s female punk rockers, the leader of one of hip-hop's biggest crews, and the only artist to rap and cry at the same time as some of her favorite artists. "I don't think my music would be what it is without hip-hop. It's very fluid. When I hear alternative sounds, I can still hear that sound like they're rapping. I don't know how to explain it, it's a feeling, [but] the biggest connection [between hip-hop and rock] is the instruments and the attitude of not caring what anyone has to think."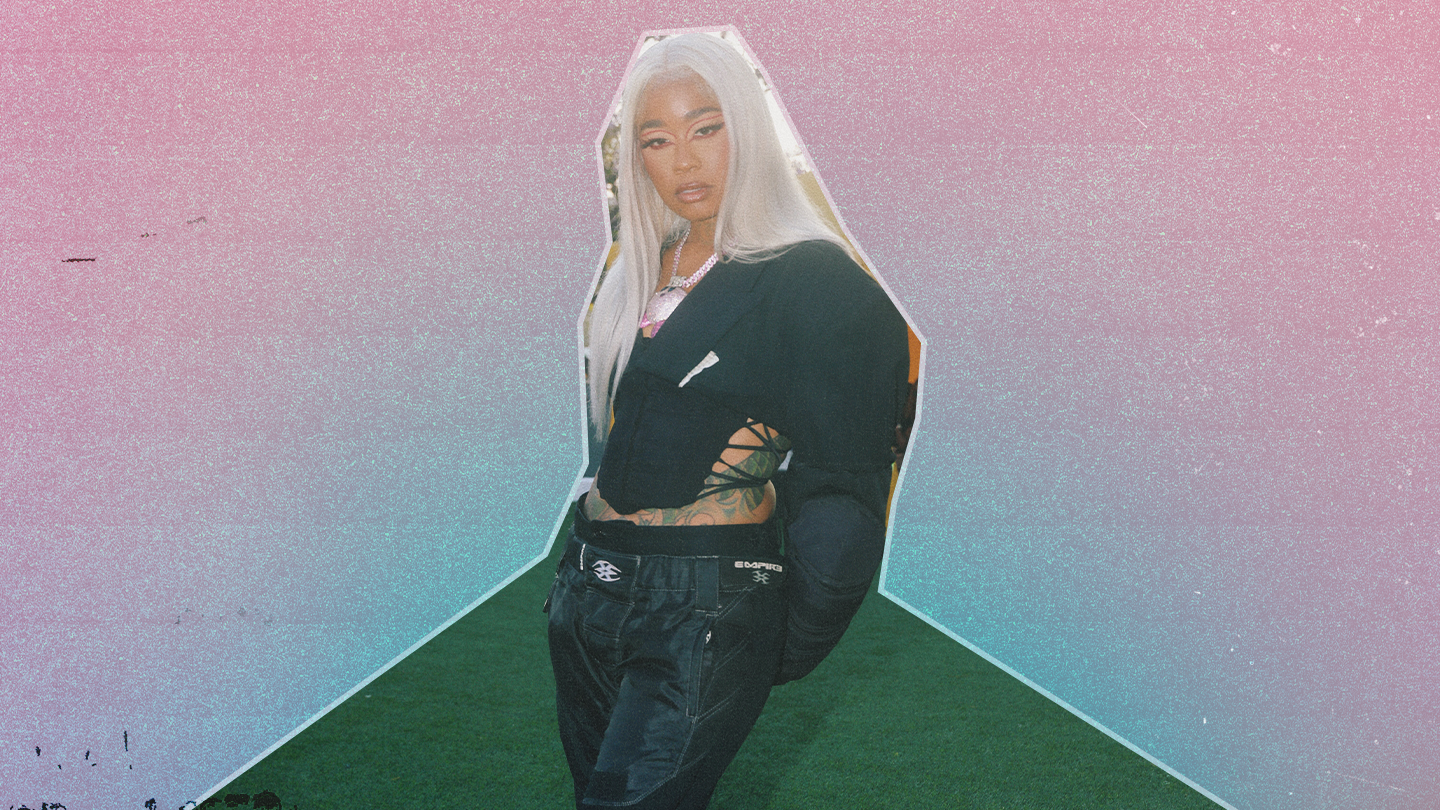 The burgeoning star is also known for switching up her flows, using different vocal pitches, and vacillating between rapping and singing on the same song. In other words, the liquidity is the point.
"You can hear that alternative sound when you hear SZA sing, but there's still that rap element in there, that edge," she tells Complex. "So that's how I come with my music. My process is about the energy that I put behind the music, and that energy is in alternative and hip-hop. I can't explain it, but it's just the attitude behind it. And, the realness and the emotion."
So far this year, TiaCorine went on her first tour, headlined the BMI stage, performed at a major music festival for the first time, and was named as one of this year's rappers to watch. She is rapidly building a fanbase, which also includes an impressive mix of celebrity fans.
Her formula is simple—just be yourself.
TiaCorine is excited about how more women have taken up space in music, especially hip-hop, and embraced having more creative freedom. To that point, she is confident that her music is contributing to the change that she wants to see in the world. It's a combination of what she has learned from artists before her, and setting the tone for creative fearlessness for musical innovators to come.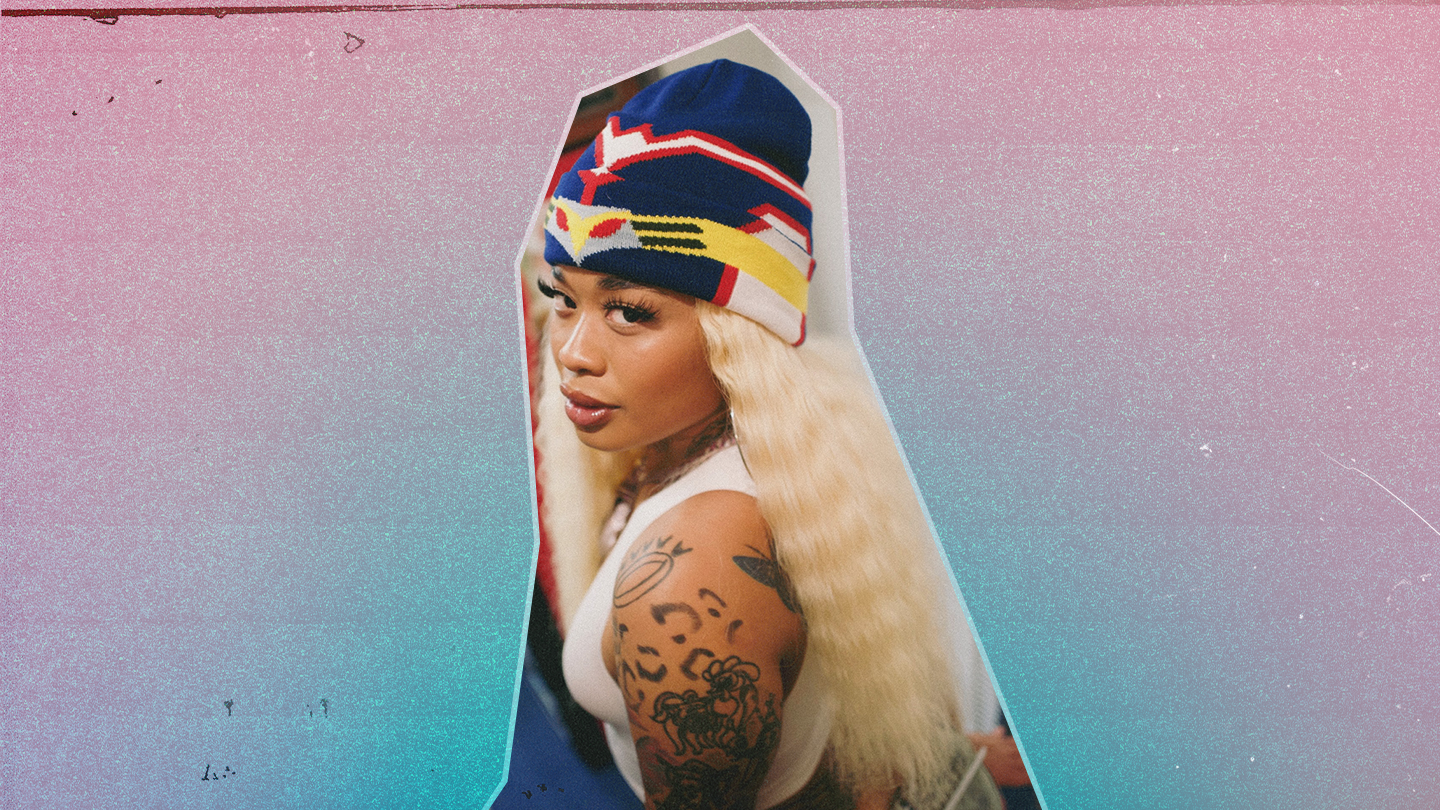 "I'm adding on to what I've learned from other great artists, but I know that I'm different than most by the way I create, how I direct my videos, my lyrics, and the style I choose to display through my beat selection, cover art, tracklist, clothes, and how I use my voice as an instrument," she says. "I demand energy and I demand respect. When I get on stage, I know I'm not ass, so y'all gonna look at me. You gonna listen to what the f--k I gotta say. So that's how I come with my music."
What's next for TiaCorine is more touring, an EP release before the end of the year, and working on a new album that is slated to release early next year. Most importantly, she hopes to set an example for her No. 1 fan, her seven-year-old daughter—that it's okay to make your own rules like she does in music, but also in life.
"I really hope that she realizes that there's no limit. A lot of people tell me you can't be a mom and work full time, and go to school, and rap, you gotta pick one or the other. And I was like, 'Who is telling y'all this?' she says. "I really want her to see that I pushed really hard to make my dreams happen [and] she can do anything she wants to do. There's no limit."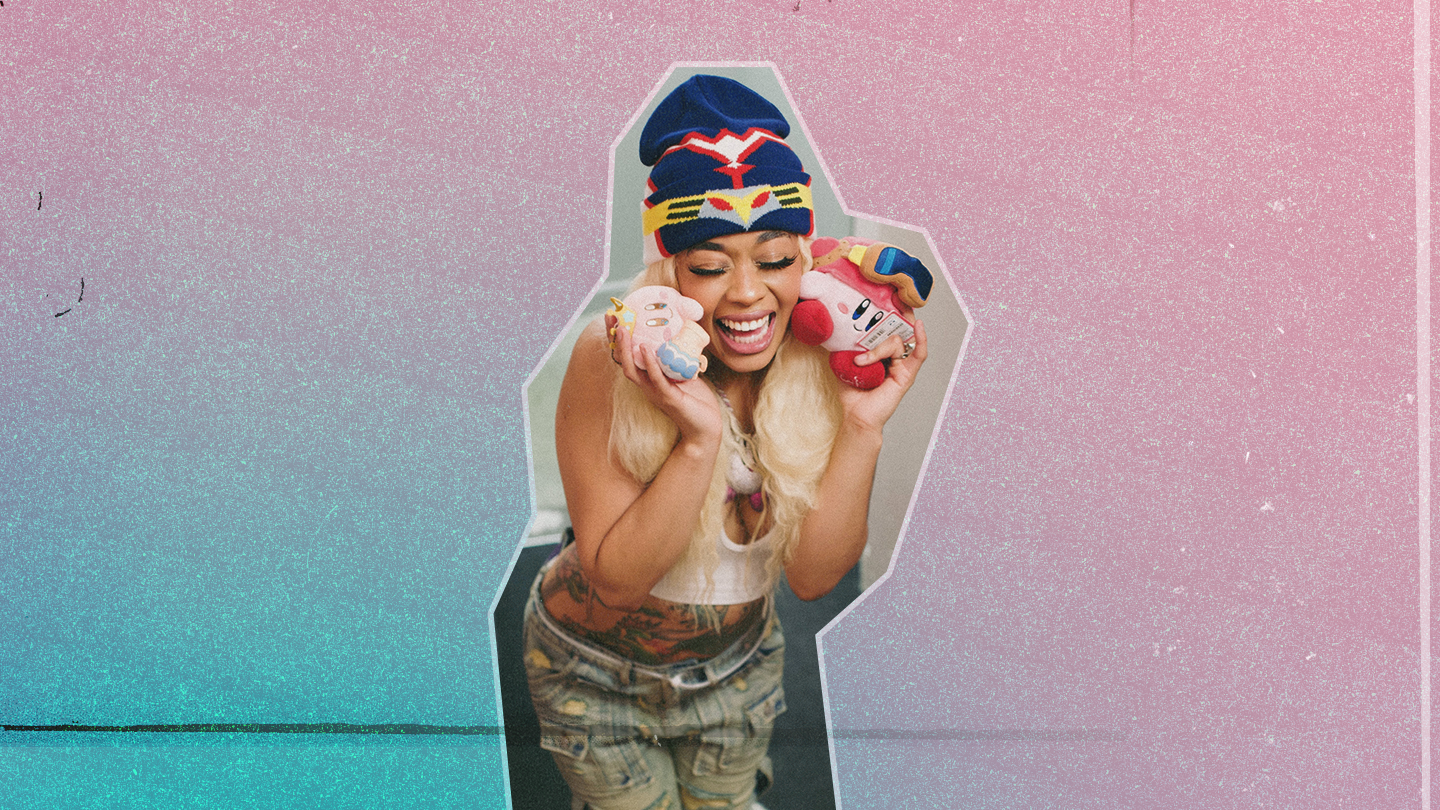 And just like TiaCorine is breaking limits, Marshall will continue to do the same and serve as the backbone for musical moments and milestones to come.