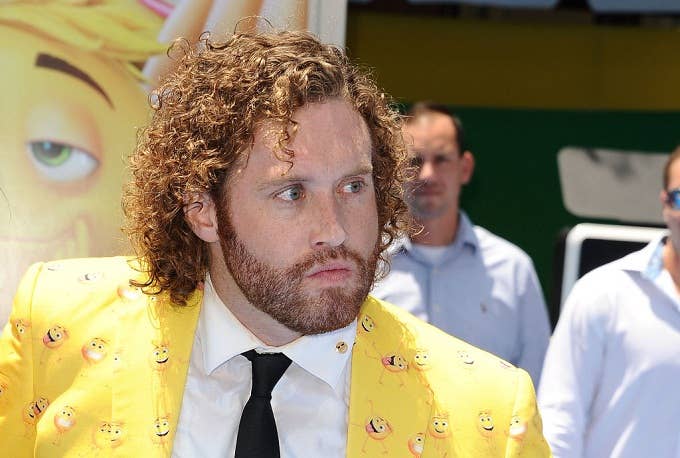 UPDATE 12/19/2017 3:10PM: THR​ is reporting that Comedy Central has canceled T.J. Miller's series The Gorburger Show. A rep from Comedy Central told THR that "the decision to not move forward with the animated comedy came before" the sexual assault allegations were released today.
The Gorburger Show aired for two seasons on Funny Or Die, from 2012 to 2013, before being picked up for an eight-episode season on Comedy Central, which began in April of 2017. It involved Miller as a giant blue monster named Gorburger that took over a TV station and interviewed a variety of guests.
Original story below.
Silicon Valley actor and comedian T.J. Miller is the latest entertainer to be accused of sexual assault, joining in what continues to be an avalanche of misconduct allegations within the industry.
In 2003, according to the Daily Beast, Miller physically and sexually assaulted a former college classmate he dated during his years at George Washington University. The woman, who wishes to remain anonymous, told the outlet the actor "punched her in the mouth" during sex and left her with a busted lip.
"He just tried a lot of things without asking me, and at no point asked me if I was all right," the woman, referred to as Sarah, said. "He choked me, and I kept staring at his face hoping he would see that I was afraid and [that he] would stop...I couldn't say anything." Several individuals who know both parties were able to corroborate Sarah's story.
Sarah's life was radically altered by her interactions with Miller. After pursuing a career in improv comedy in Los Angeles, she eventually dropped out of the industry because she had to see him a improv school in the city, and would see his name plastered everywhere, like billboards and bus stops. Sarah ultimately ended up leaving L.A.
Miller, who vehemently denied the allegations, and his wife, Kate Gorney, wrote in a statement provided to the Daily Beast that Sarah "is now using the current climate to bandwagon and launch these false accusations again." The Millers claim the woman is undermining the #MeToo movement by casting allegations they feel are not legitimate.
However, Sarah expressed to the Daily Beast that she has no desire to see Miller in jail, despite the allegations. "I didn't want him in jail. I didn't hate him. He was someone I cared about...I don't want to mess up his life," she said. "But he behaved in a way towards me that I have to live with...and I don't think it's appropriate that I carry this by myself."
In addition to a role in Deadpool and its upcoming sequel, Miller is a prolific voice actor in kids' fare like How to Train Your Dragon, Big Hero 6, and The Emoji Movie.