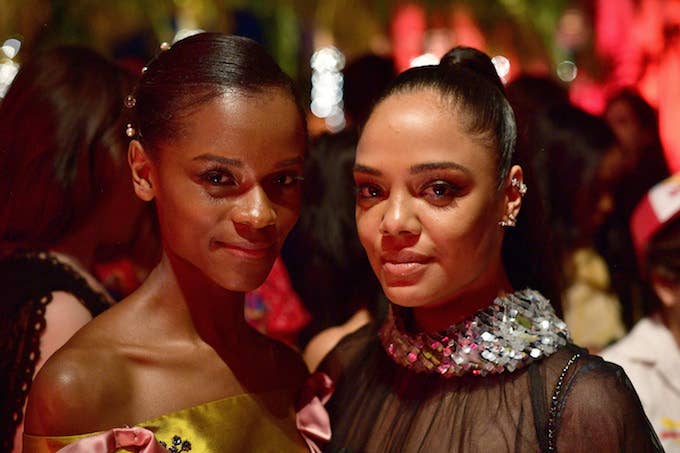 The hype surrounding Avengers: Endgame has officially reached max levels. A series of posters were unveiled on social media on Tuesday, with the characters who survived Thanos' universe-altering snap in full color and the heroes that were reduced to ashes in black and white.
New York Comic Con shared the posters of the heroines that we knew survived, including Captain Marvel (Brie Larson), Okoye (Danai Gurira), and Black Widow (Scarlett Johansson).
But fans were quick to point out Tessa Thompson's Valkyrie character poster, which appears to put to rest any rumors that she too fell victim to Thanos' snap. Valkyrie was noticeably absent from Avengers: Infinity War, leaving many to speculate as to what happened to her after the events of Thor: Ragnarok.
The poster unveilings also confirmed the death of Shuri, Letitia Wright's character, which happened offscreen. Looks like that means Angela Bassett, who played T'Challa's mother Ramonda in Black Panther, was wrong about who survived Thanos' gesture of annihilation.
Other fan favorites Happy Hogan (Jon Favreau) and Wong (Benedict Wong) also survived.
Avengers: Endgame is set to hit theaters on April 26. You can watch a new featurette with the cast below.
And here are some of the best reactions from fans who were overjoyed at the particularly-out-of-nowhere reveal that Thompson's character would be back to avenge the fallen.