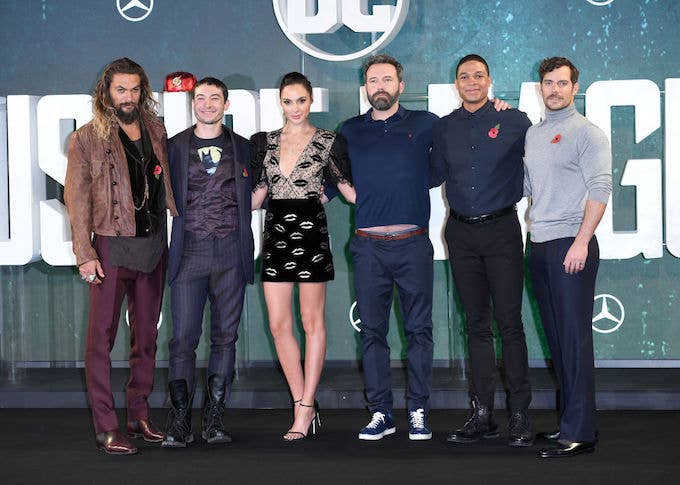 One of the biggest mysteries of the superhero movie genre has resurfaced.
Gal Gadot, Ben Affleck, and Ray Fisher raised eyebrows Sunday calling for the release of director Zack Snyder's cut of the 2017 superhero flick Justice League. The stars tweeted the hashtag #ReleaseTheSnyderCut, a reference to the director's fabled edit.
Gadot, who plays Wonder Woman, tweeted a picture of her character, while Affleck (Batman) tweeted the hashtag.
Snyder affirmed both actors' tweets, quote-tweeting with his thoughts: "This ancient Amazonian can't be wrong," and "Neither can Batman." Fisher, who was Cyborg in the film, tweeted a picture of himself with the words: "Two years."
Since Snyder stepped down as director of the film back in 2017 due to the death of his daughter, fans have called for Warner Bros. to release the cut of the film he may (or may not) have completed. Joss Whedon took over the reins for the film after Snyder stepped down, which led to the Justice League we know today.
Jason Momoa, who played Aquaman in the film, has expressed his support for the campaign before. He even went as far to say that he's actually seen the mysterious cut. "I think the public needs to see it. I'm obviously indebted to Warner and DC and I don't know how they feel about it, but as a fan, I'm very, very happy I got to see it," he told MTV News in an interview.
Clerks director Kevin Smith also said that there is definitely a Snyder cut. "I've not seen it firsthand. And also to be clear, I know Zack, but it's not like 'we're fucking tight son!'" he said, according to CinemaBlend. "That being said, I've spoken now to enough people at various levels in that production. There is a Snyder cut. For sure. That's not a mythical beast. It exists. Now, it's not a finished movie by any stretch of the imagination."
Despite the renewed calls for the fabled version of the film, sources told The Hollywood Reporterthat "no announcement of a release of a Snyder Cut is imminent."
That hasn't stopped fans from taking to social media to shore up support for the cut.