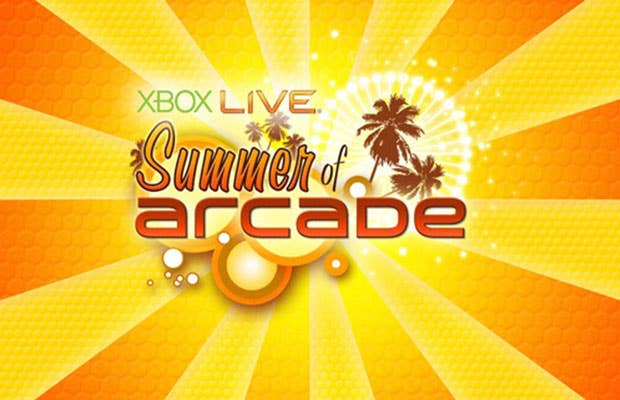 We've known about Microsoft's Summer of Arcade lineup for a few weeks now, but we finally have a firm release calendar to go along with it. We've pulled together a ton of screenshots above for your perusal, so check 'em out and decide which ones you're going to cop. Or just grab all five—the good people at Xbox have announced they'll throw in September XBLA release Crimson Alliance for free as a thank-you for feeding their already overflowing coffers.

Bastion (Supergiant Games/Warner Bros. Interactive Entertainment)
Release Date: July 20
Price: 1200 Microsoft Points
We've talked about it before, but the game that won Best Downlodable at E3 this year blew our minds. It's a cartoonish action-RPG with persistent narration that's tailored on the fly to how you're playing the game. If that doesn't sound impressive, wait 'til you try it.
From Dust (Ubisoft Montpellier/Ubisoft)
Release Date: July 27
Price: 1200 Microsoft Points
A god game from Eric Chahi (Another World), From Dust won Best Strategy Game at E3 and has built itself quite a little buzz. The quick-hit description: you control a primitive tribe (i.e., The Sims this ain't) in its quest to recover ancient ancestral powers in an ever-evolving world. Oh, and it looks great.
Insanely Twisted Shadow Planet (Fuelcell/Microsoft Studios)
Release Date: August 3
Price: 1200 Microsoft Points
An sidescrolling action-adventure helmed by the artist Michel Gagné, it's a blend of puzzles and combat that appeals to the 11-year-old in all of us. Even if the art direction would probably creep an 11-year-old out. But fuck it, we're ALL GROWNED UP.
Fruit Ninja Kinect (Halfbrick/Microsoft Studios)
Release Date: August 10
Price: 800 Microsoft Points
Sure, it sounds like overkill, but we have to say that the Kinect interface is the perfect way to bring the iOS phenomenon to consoles. Swipe, slash, destroy, stress! 
Toy Soldiers: Cold War (Signal Studios/Microsoft Studios)
Release Date: August 17
Price: 1200 Microsoft Points
Ever since Toy Story took over, you know you wonder what those old-school toy soldiers do when you're not looking. Half shooter, half RTS, all tiny plastic war machines. Bring the pain, Made In China (presumably with lots of harmful melamine) style!