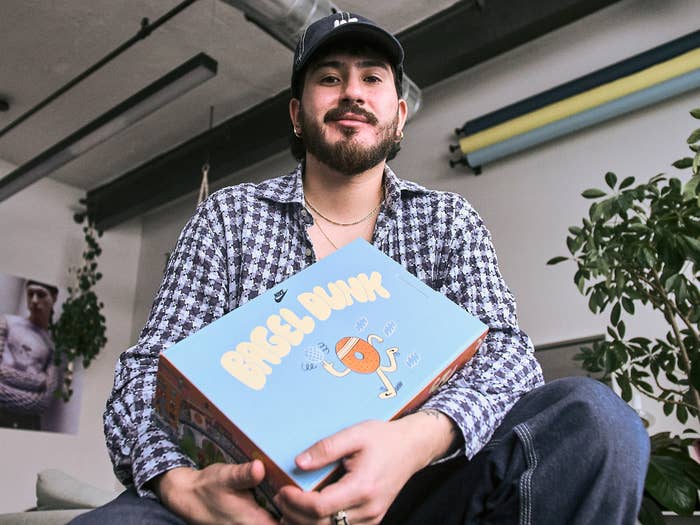 Felipe Arriagada-Nunez wants to tell stories. Born and raised in Montreal's Mile End, the artist—a.k.a Chien Champion—comes fresh off a recent collaboration with Nike, illustrating the Canada-exclusive box art for the limited edition "Montreal Bagel" Dunk Lows.
But this isn't the first time he's paid tribute to the city and its people. From album covers and music videos to BIXI bikes and fashion collaborations, Arriagada-Nunez brings an energetic flair to the 514's creative scene that combines his Montreal upbringing with his Chilean roots. 
At his studio in Eastern Plateau, Arriagada-Nunez shares a collection of projects that decorate the walls—illustrated children's books, posters, and record plaques showcasing his work with Montreal rapper Fouki featuring Jay Scøtt. 
"I want people to see themselves in my work," he says.
We sat with Arriagada-Nunez to talk more about his creative process.
You share a particular reverence for Montreal—shown through various collaborations with artists and brands. With the "Montreal Bagel" Dunk Lows, you got to work with Nike to create the overall imagery and branding. What was the vision behind the collaboration? 
It was a nice experiment. The people I worked with—from Nike and LNDMRK—were really passionate about it. Everyone wanted to tell an authentic Montreal story.
In all [my] work, I like to take the things I know—little moments in life and sceneries—and put some magic in them. So from the stadium to the people speaking to each other, I wanted to show [the magic behind] the Montreal community.
You describe your work as dynamic, bright, colorful, and expressive. It all culminates into this very playful visual philosophy. Do you incorporate a sense of playfulness into your work?
Playfulness is the basis of my life. If there's no playfulness, there's no fun!
When I was young, I always watched cartoons… you know, like The Simpsons, Courage the Cowardly Dog, Johnny Bravo, and Hey Arnold! I always wondered why we didn't live in [these worlds]. Everything was so colorful and playful.  
Outside of fashion, you're also active in the Quebec hip-hop scene, having created music videos and visuals for artists like FouKi, Clay and Friends, LaF.
I grew up with a lot of these people! As a teenager, I'd do graffiti and rap. We'd have these cyphers at the park. There was a nice sense of community there. After working on my clothing brand, it just became natural to go outside of fashion and collaborate with them.
You've mentioned community quite a bit. Looking at Chilean art—from urban murals to the traditional arpillera—it's all very fluid, bright, and people-focused, with each piece telling a story. Do you incorporate your Chilean roots into your art?
Of course. It's what I grew up with. All this art was present in my life. With what I'm doing, I'm paying tribute in a certain way. Because of the military dictatorship in Chile, art was one of the things that people could hold onto.
In a certain way, I connect with that. I'm a people person. I spend time with my family and my friends. I value my time with them. If you look at my work, there's always a reference to people I know. It's my direct community. I want to represent the everyday person.
Last question. Fairmount or St-Viateur bagels?
Felipe: I like to say Fairmount by night and St-Viateur by the day.