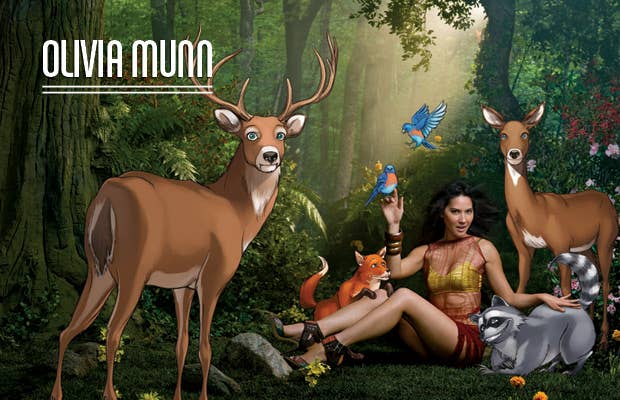 She's been blowing our minds for years, but with scene-stealing roles in two of the year's biggest movies, Hollywood is taking notice of our best kept secret.
This feature originally appeared in Complex's April/May 2010 issue. 
Everytime you think ill of Olivia Munn, a baby unicorn gets cancer. Seriously. Whose heart so brims with scorn and tar that they can't find love for our favorite actress/G4 host/fanboy crush? She's beautiful and hilarious. She's in Iron Man 2 and Date Night. She once jumped into a vat-sized pie to demonstrate her admiration of the delicious dessert. And she did it in a French maid costume. Clearly she's a good person.
And it's not just that thing where dudes want to bag her because she can arch her back provocatively in photographs. Every day there's a new gaggle of glittery girls storming the Hollywood gates who can do that. With Olivia, it's something else. A lot of something elses, actually. Even the ladies dig her, and we all know that chicks are haters. Shit, I'm a hater and I can't hate. She successfully straddles small and big screens, is equally at home in Tinsel Town or at Comic-Con, and is not only willing to shake the hands of a million clammy fans during flu season but is actually happy to oblige. Despite an exhausting schedule, whether you're famous or not, she'll bust her ass to hear you laugh. It's an irresistible combination that makes you want to root for her. And it's why we're giving this 29-year-old Oklahoma native her second Complex cover: You just feel like she deserves it. So the growing, enthusiastic ranks of Team Munn (which includes some guy named Robert Downey, Jr.—no big deal or anything) are stoked that it's this rising star's day in the sun. And you should be, too. Because baby unicorn cancer is inoperable.
Now there are pictures of me walking out of the pleasure chest with a bag overflowing with condoms.
You're in two gigantic movies this year. Let's talk about Iron Man 2 first because it's fucking Iron Man 2.
Actually, they just gave me another role in the film. I had to reshoot all of my scenes.
Wait, didn't they start filming like last year or something?
Yeah, but as they started to edit they realized it was becoming darker than what they'd expected and what my scenes had allowed for. My parts were lighthearted and comedic.
Yikes.
Jon Favreau called and was like, "I've got good news and bad news: This is what's happening in editing but we all really like you." Marvel and Jon had to add another character from the Marvel universe to keep me included.
I need details! Tell us anything about the old or new role.
I can't talk specifics because it's Iron Man 2! But when they call, you say, "OK, I'm there. What do you need?" You don't say, "Who is this Marvel? Did you call my agent? Is FIJI Water on set?" Everyone knows who the stars are in this movie. I'm not one of them and I understand the editing process. Some things don't work out.
What if you'd stayed on the cutting room floor?
I would've started crying.
Comic-Con would not have been pretty. Your fans would've bugged.
My Chinese mother would have gone absolutely ballistic. She would've thrown shoes. Curling irons. She would've been physically looking for Jon Favreau.
And then you're in Date Night starring Tina Fey, Steve Carell, every comedian in the free world—and Ray Liotta, who is perhaps the best creepy-dude in funny movies ever.
Ray Liotta is strange. I have a friend who had a meeting with him and he showed up in all red. Full-on, head-to-toe red. A red adidas tracksuit with a red hat and sunglasses that he wore the entire time. It was dope. I wish I'd been there.
Dope...or scary? Seriously, what's scarier than that?
His entire closet. You go into it and it's all red tracksuits.
He's a Blood?
Yes, and I should call [L.A. news station] KCAL 9 and report him. Oh, I know what's scarier: if Ray Liotta who only has red tracksuits called it "adi-dah." All day I dream about...something.
Internet rumors say that you'd originally been offered a bigger role but went for a smaller one on Date Night—true or false?
The director, Shawn Levy, wanted me to come in and read for a role that I didn't think I would get. It's not that they offered me a huge role and I said, "Yeah great, but can I have that small one?" They had me audition for the role of the female cop. This movie is filled with great people and I knew the role would go to a Taraji P. Henson.
I now think of the internet as a perverted old man with candy.
You hedged your bets. Smart.
I wanted to be in this movie. I knew there was something fun I could do with the role that I got. I was the only person who got the role from their audition. No one pulled strings or called for me, I went in and got the role and feel really good about that.
But you could've pulled strings. You got a new agent, right?
I'm at a little company called CAA. It's awesome there. I get a plus-one, you can come with me next time we visit.
I wouldn't pass the retina scan. Your new book is called, Suck It, Wonder Woman!: The Misadventures of a Hollywood Geek. You had a Hollywood adventure recently with the media attention surrounding your relationship with Chris Pine.
There's been a sudden focus on this one aspect of my life; I can say I don't read comments on blogs anymore, but I understand the curiosity.
It was a dork fan-fic wet dream. You and Captain Kirk!
It's been great to see the positive things, and support is nice, but you have to remember that things can turn, too.
Right. Doesn't the Internet rule?
Yes, and it's accurate 100% of the time, always! I now just think of the Internet as a perverted old man with candy. You go there for the candy and sometimes come out with anal bleeding. It's just like, [wagging finger] Ohhhh, that Internet!
It's the best. Was paparazzi fun? You got some good pictures in the tabloids.
Well, as much as I would love to only have good pictures of me out there, it's not realistic. I have a weird face sometimes.
Pshaw.
No, I accept that I have a Shallow Hal side. Sometimes it's like, "Oh, that's a nice picture and this one...OH MY GOD WHAT IS WRONG WITH HER FACE?" I just throw my hands up. They'll take whatever picture they'll take. Just because I get shot with one eye closed doesn't mean I'll go cut myself.
Well, looks aren't the only thing you offer. You've got great comedic timing...
Wow. So what you're saying is I don't have to be pretty. That's what you're saying. Thanks a lot.
Come on, I don't need the 2.4 bajillion members of your Olivia Munn Fan Group, a.k.a. OMFG, to come beat me up. Is it true that you get together and hang out with them? And isn't that dangerous?
No, because my rider clearly states I only travel in a Popemobile and eat white M&Ms. I did an OMFG meet-up at a convention once and it got a little crazy. My stylist sprained her ankle and they were trampling her; I had to turn around and be like, "Stop! I promise to meet all of you. Please don't hurt anyone." I had to walk them out of the convention center to get space.
"Let my people go!"
I'm always nervous about those meet-ups; it's like throwing a party and being really scared that nobody's going to come. Then I see them all huddled together and they start to gravitate towards me. And then I'm like, "Let's play Red Rover!" If someone gropes me, I'll slap 'em.
Let's be honest, things start with the physical. People ask me if there's a perfect pick-up line, and I don't think there is one.
OK, so that sounds totally frightening.
I was just talking to Jon Favreau about this the other day and...
I love that sentence. You should start all conversations like that.
Oh, I've got sentences! I was talking to Jon Favreau, Elijah Wood, and Malin Akerman the other day when…actually, we really were talking about this because they were concerned that I was so "out there" with the fans and fans think they're my friend. They were worried that my fans would cross lines. I understand their fear, and I hope I'm not being naïve because that would not be a good ending, but—
Holy shit. Stop right there. You have to cancel out the direction you're going in because you were about to say something really famous-last-words-y.  
God, don't say that.
You said it!
OK, crap! I love Rocky Road ice cream! Ice cream is so delicious! Yum! Totally cancelled. 
So you're not afraid of your fans, but what's the kookiest incident you've had?
I was doing a video diary showing how I can blind-text on my BlackBerry. I was using a PA's phone, and her name happened to be Olivia too. Fans taped it and were like, zoom in, zoom out, two seconds, stop, stop, stop, stop, frame, frame, and zooooooom. They got the return address off the screen and saw the other Olivia's contact, and she got an influx of emails. 
Um.
…OK, it might be scary, but hey, congratulations for being so tech-savvy!
To some degree, you must be used to the attention. 
I need to start being more conscious about where I go. Like, the one day in my life I went out expressly to buy condoms, the cameras were following me. 
Of course they were.
Not only was it the one day I went to expressly buy condoms, it was the one day I went to buy condoms at the Pleasure Chest. I go in, buy my condoms, and they were like, "We're doing gift cards today." So I'm like, "Well, since I'm here I'll just get more condoms with my gift card." They ask if I want another bag and obviously I was like, "No thank you, I'll stuff all of these condoms in this tiny bag." I walk out and click, click, click! Now there are pictures of me walking out of the Pleasure Chest with a bag overflowing with condoms. 
At least it wasn't a gigantic 144-pack of anal suppositories or something.
No, not that day.
Surreal. Did you ever think you'd be in this position?
I'm grateful for every opportunity I've had. I grew up with a stepfather who was horrible. After 14 years with him, my mother, my sister, and I were able to escape, and all I've ever wanted was to make people laugh and to work hard and hope that whatever I get isn't temporary.
Suck it, stepdad! 
I don't need another person for validation. The best revenge is to get to a point where you're no longer seeking revenge, but I grew up always hearing, "She can't do it, she's not smart enough, she's not pretty enough, she's not anything enough."
Oof. Do you think you'll date another actor, or are you strictly into regular dudes now?
It's not something I think about. Right now, I just want to meet a nice guy who's respectful and isn't an egomaniac and isn't super-self-involved.
What if he was 4'11"?
If he was 4'11" I would take him to Peter Jackson for a job on The Hobbit. I am sooooo excited for that movie.
Do you have a type?
Let's be honest, things start with the physical. People ask me if there's a perfect pick-up line and I don't think there is one. In the beginning it's all physical—you're either attracted or you're not.
I wish they'd recreate Labyrinth, and I could be in it. I love Lord of the Rings. I'm gay for Narnia.
That Chris Rock thing is totally true, right? About how girls know in the first five minutes if they're fucking you. 
Yeah. Guys can then ruin it by saying something stupid, but mostly you can tell by, "Hi." 
What's your type, then? 
I like tall and athletic, but not like he's at the gym all the time. Boyish but still looks like a man…
So hot guys. Your type is hot guys.
I used to only date guys who were 6 feet and taller. That was my thing, height. But it's changed. Now I want a good guy who's talented at whatever he does and we laugh a lot.
What about hair?
I would consider dating a guy who had hair. 
Who wouldn't you date?
No emo shit. And no metrosexuals. But I'm not always dating. I go from relationship to NOTHING. And then maybe a relationship. 
You're on hiatus.
I'm on a break unless Paul Newman comes back in a twentysomething or thirtysomething version. If that happens, then I wouldn't be above making the time.
A girl can dream. The pictures you just shot with us are pretty fantastical. Are you into that stuff?
Are you kidding? So into it. One of my favorite movies ever is Legend. Tom Cruise and Sloane from Ferris Bueller? Amazing. And Labyrinth is so good because David Bowie is sick. I wish they'd recreate Labyrinth and I could be in it. I love Lord of the Rings. And like, I'm gay for Narnia. Gay! 
Nerd. You're in a book club too. What's it called and what are you reading?
It's called Book Club. It's with my sister. Anna Karenina is up next. Holla. We make tea and curl each other's hair.
Pillow fight in your underpants?
Of course!
What else are you working on?
I'm in the process of creating my own show. Everything is in a really good place and I don't want to jinx it, but it's a scripted comedy show. 
Wow, you're going to be busy. 
I'm excited. Robert Downey, Jr. came up to me during reshoots and said, "You're one of my favorite things ever." I was just kinda like, "I love you Robert Downey, Jr.!" I mean, how great is that? It's a wonderful thing to be in this world—and I'm not at all pretending that I'm anywhere near his caliber, or Tina Fey's or Steve Carell's. But as small as my parts may be, getting to do all of these cool things? It's like, "Wow. Thank you for letting me play with you."
WATCH OLIVIA'S BEHIND THE SCENES VIDEO:
ADDITIONAL CREDITS: (STYLING) Tara Swennen. (HAIR) Clyde Haygood. (MAKEUP) Julie Cuomo using M.A.C. Cosmetics. (SET DESIGN) Garlock-Deguiceis for Judy Casey Inc. COVER IMAGE: Bikini by Marlies Dekkers / tank by Obesity and Speed / shoes by Rock & Republic / bangles by Sara Weinstock. FIRST IMAGE: Top by Obesity and Speed / bikini by Malia Mills / shoes by Jimmy Choo / bangles by Bally. SECOND AND SEVENTH IMAGES: Bodysuit by Victoria's Secret / shoes by Giuseppe Zanotti. THIRD IMAGE: Bikini top by H&M / boy shorts by American Apparel / shoes by Aldo. FOURTH IMAGE: Top by Bebe / boy shorts by Marlies Dekkers / shoes by Aldo / bangles by Swarovski. FIFTH IMAGE: Sheer top by BCBG / corset by Alberta Ferretti. SIXTH IMAGE: Bathing suit by Noelle.