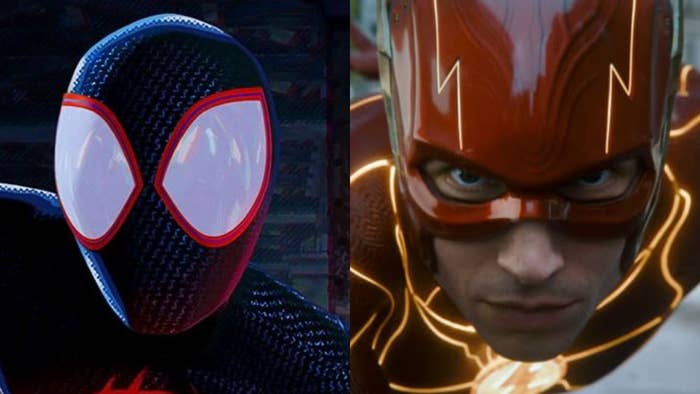 Spider-Man: Across the Spider-Verse took the top spot from The Flash at the box office after the DC Comics film suffered a historic decline, Variety reports.
In its second week of release, The Flash declined 73 percent from last week, falling to third place by earning just $15.3 million in the domestic market. The sharp drop is the most for a DC Comics adaption since Black Adam fell 59 percent and Shazam! Fury of the Gods dropped 69 percent in their second weeks respectively. It's also the most significant drop for any superhero film ever. Yikes.
The Flash, which had a budget of $200 million, has barely made a profit, after earning $87 million at the domestic box office and $123.3 million overseas, bringing its worldwide total to $210.9 million.
The latest Spidey film, on the other hand, returned to the No. 1 spot in its fourth weekend with an impressive $19.3 million. According to Variety, it's rare for a film to retake the box office this deep into its theatrical run and right before the fiery summer movie season. The Sony Pictures film has earned a whopping $316 million in North America and $560 million globally, giving it a worldwide total of $876 million.
Meanwhile, Disney and Pixar's animated film, Elemental, stayed in second place with $18.5 million in its second week of release. That number brought its domestic total to $65 million while taking home $121 million globally.
There are several reasons why The Flash has been considered a box-office flop. The film had been marred by lead star Ezra Miller's legal issues, unfavorable critic reviews, and the DC brass constantly attempting to push its troubled movie universe forward despite obvious complacency from audiences.
The latter has dramatically hurt The Flash and its potential at the box office. Before the film was released, James Gunn and Peter Safran—the co-chairmen and co-CEOs of DC Studios—announced the DC universe would be getting a reboot that wasn't received well by fans given the comic book company's recent struggles with the film adaptions of its superheroes.
DC Studios has two more chances to get their reboot off on the right foot. The next film up is Blue Beetle, which is scheduled to hit theaters on Aug. 18, followed by Aquaman and the Lost Kingdom, which arrives on Dec. 20.