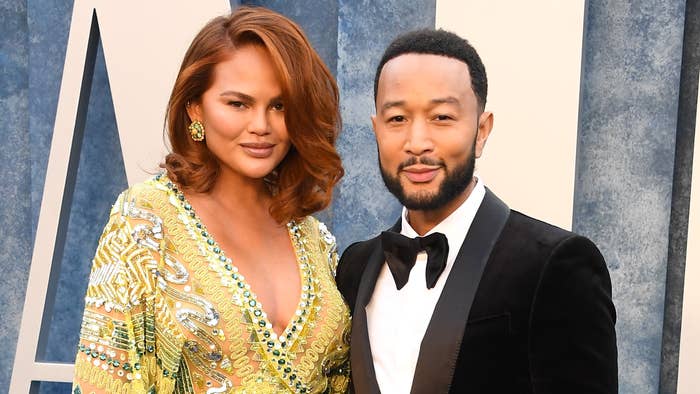 John Legend and Chrissy Teigen have welcomed a new baby boy to their large family.
On Wednesday, Chrissy took to her Instagram with a lengthy post highlighting the baby boy, Wren Alexander Stephens, born through a surrogate. In her post, the 37-year-old revealed she always wanted four kids ever since she was a child playing with her "2 glow worms" and "2 cabbage patch dolls."
The Cravings cookbook author then said she didn't think she would be able to have kids anymore following the loss of her baby Jack in 2020 from pregnancy complications but wanted to try anyway. She gave birth to a daughter, Esti, earlier this year, but the Legend couple had already been working with another surrogate when Chrissy was carrying Esti. The surrogate became pregnant with a boy that was born on June 19.
"We want to say thank you for this incredible gift you have given us, Alexandra," she said alongside a series of photos showing Tiegen and the surrogate. "And we are so happy to tell the world he is here, with a name forever connected to you, Wren Alexander Stephens."
The married couple now has four children, Miles, born in 2018, Luna, born in 2016, Etsi, born in 2023 and Wren, born this month. With her last pregnancy with Etsi, Teigen had a cesarean section, which she spoke about back in March with People.
"I was kind of excited because I'm like, 'Yeah, I've done the vaginal thing twice. Let's try this,' " she said of her previous births with son Miles and Luna. "The incision is a lot, and you never know how your stomach's going to come together. I think your organs are on the table for a second, but that, to me, is so cool. I was taking pictures above the seat. I have the craziest pictures of the cord and everything."