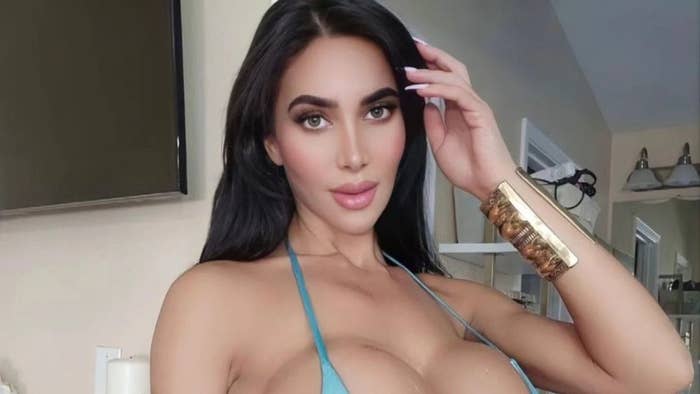 UPDATED 5/11, 10 p.m. ET: A Florida woman was arrested last month in connection to the death of OnlyFans model and Kim Kardashian lookalike Christina Ashten Gourkani, as reported by TMZ.
Vivian Alexandra Gomez has been charged with involuntary manslaughter and practicing medicine without a license.
According to the Daily Post, San Mateo County District Attorney Steve Wagstaffe said Gourkani received "several injections" of what is believed to be silicone from Gomez on April 19. Gourkani started experiencing health issues shortly after the procedure was performed. Her family's GoFundMe states they received a call the following day that she was dying. 
See original story below.
Christina Ashten Gourkani, the OnlyFans model and Kim Kardashian doppelgänger has passed away after suffering cardiac arrest following a botched "medical procedure."
Gourkani's family shared in a GoFundMe post that the 34-year-old content creator died on April 20 after suddenly suffering cardiac arrest.
"In the early morning hours at approximately 4:31am on 4/20/2023 our family received a tragic phone call from a family member who was frantically screaming and crying hysterically on the other end of the line….Ashten is dying...Ashten is dying," her loved ones wrote. "A phone call that instantly shattered our world and will forever haunt our family for the rest of our lives."
The family added that the model had undergone a "medical procedure that took a turn for the worse," which they said is now being investigated. The family added their raising money to cover medical and funeral expenses for Gourkani, and added they're "grateful" for the love and support they've received thus far. They've since raked in more than $4,000.
"If you knew Ashten you knew that everyone mattered to her. She was such a caring and loving free spirit that always took the time to bring a smile to anyone's face she crossed paths with," the statement said. "She was the kind of person that would kneel down and talk to children at eye level, she searched for the lonely person in the corner and made them feel special as she has such a gift of connecting with people."
The statement continued, "On many occasions, I've seen her turn her adversaries into life long friends just after 10 seconds of pouring her charismatic joy, positive energy and her beautiful smile that she gave to those around her," her family continued. "Ashten's spirit is a light that will forever carry on to her loved ones around her and those that she has left behind."
They added, "You will forever be our guardian angel."