After Khloé Kardashian owned up to photoshopping her daughter True Thompson into Disneyland pictures, her sister Kim took to Instagram to issue her own response, saying the choice was made to keep up with her current Instagram aesthetic.
"I didn't realize how much you guys were going to enjoy my Photoshop post," the Kardashian mogul wrote. "If you thought that was good I have so much more...this is fun."
Kim then posted a screenshot of a recent Page Six story that featured her current beau Pete Davidson. The article accused the Keeping Up with the Kardashians star of photoshopping her boyfriend's jawline, which she mocked before showing the real photo to prove her star comedian boyfriend didn't have any work done to his face.
"Hmmm I guess Pete's jawline is Snatched!!!! To the point u guys thought I photoshopped it!!! One pic he's laughing in mid convo! Wait I did add a grainy filter though. How do you photoshop a live photo? Asking for a friend."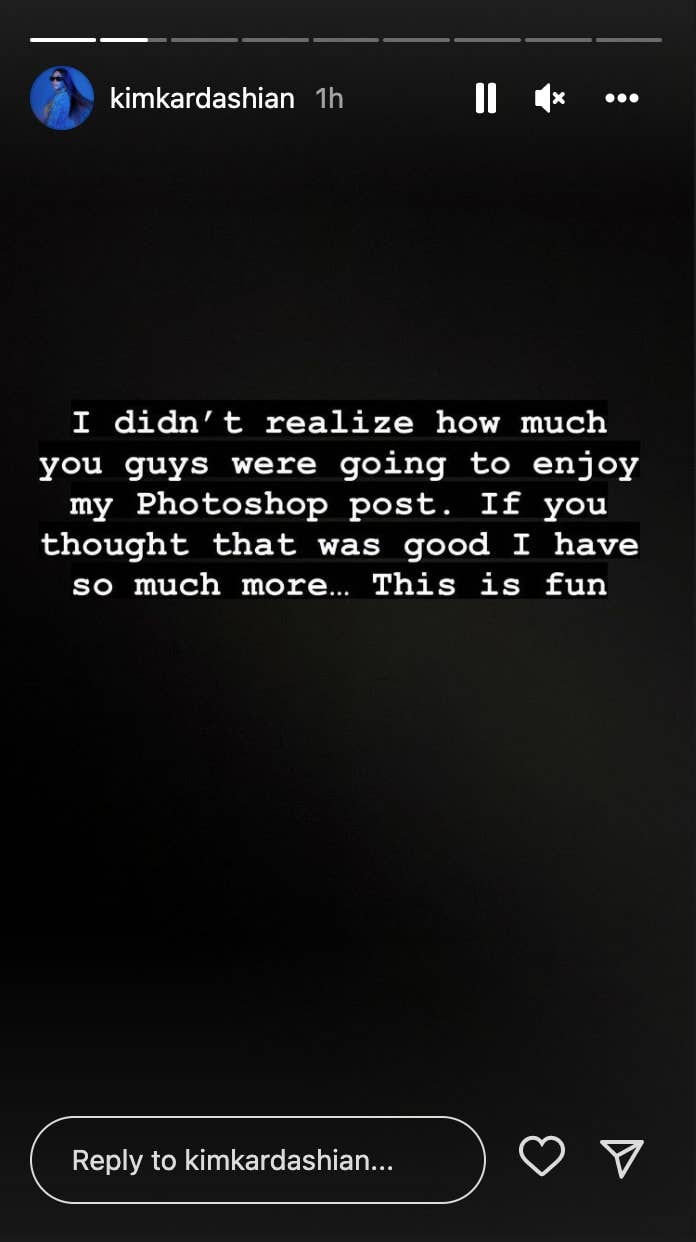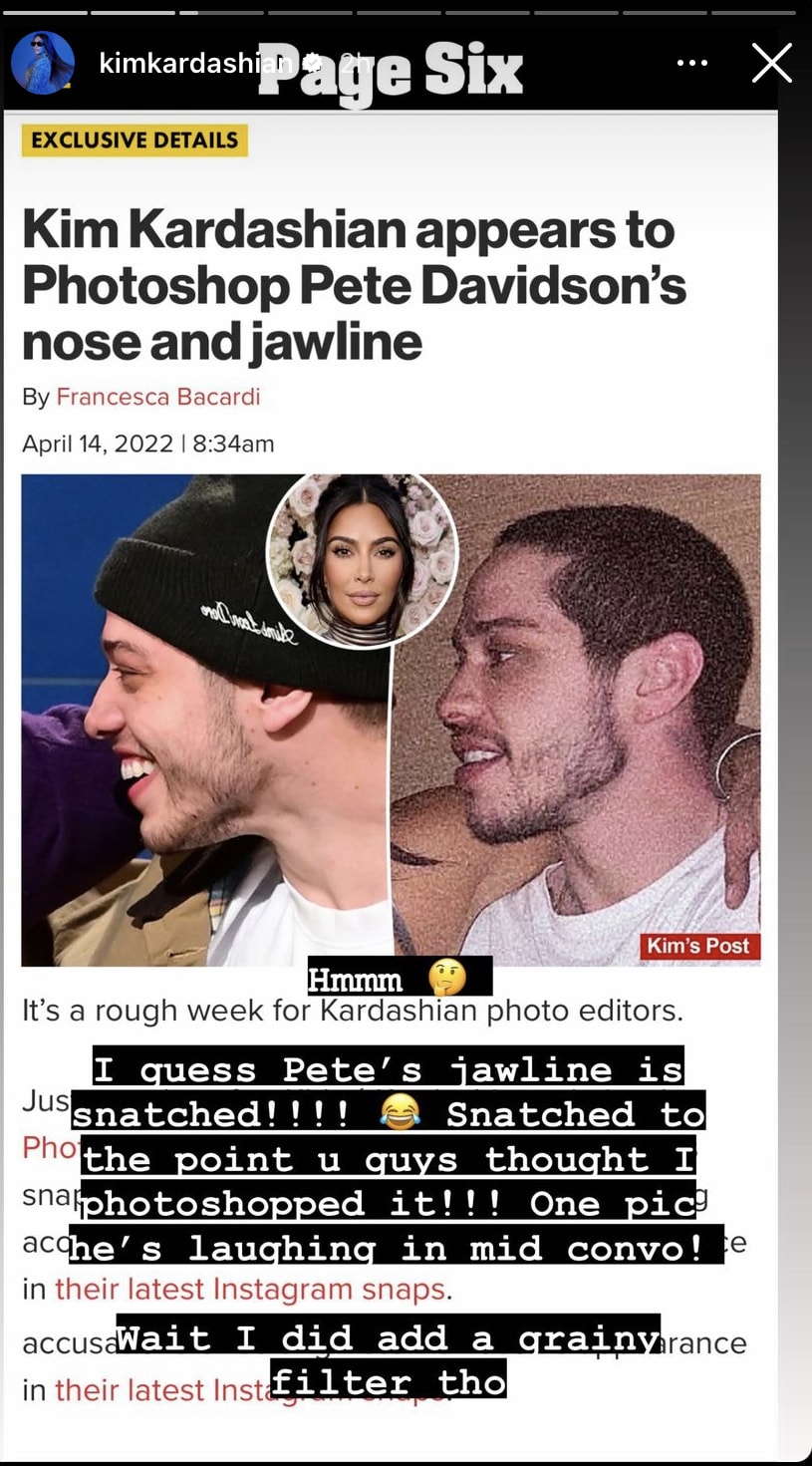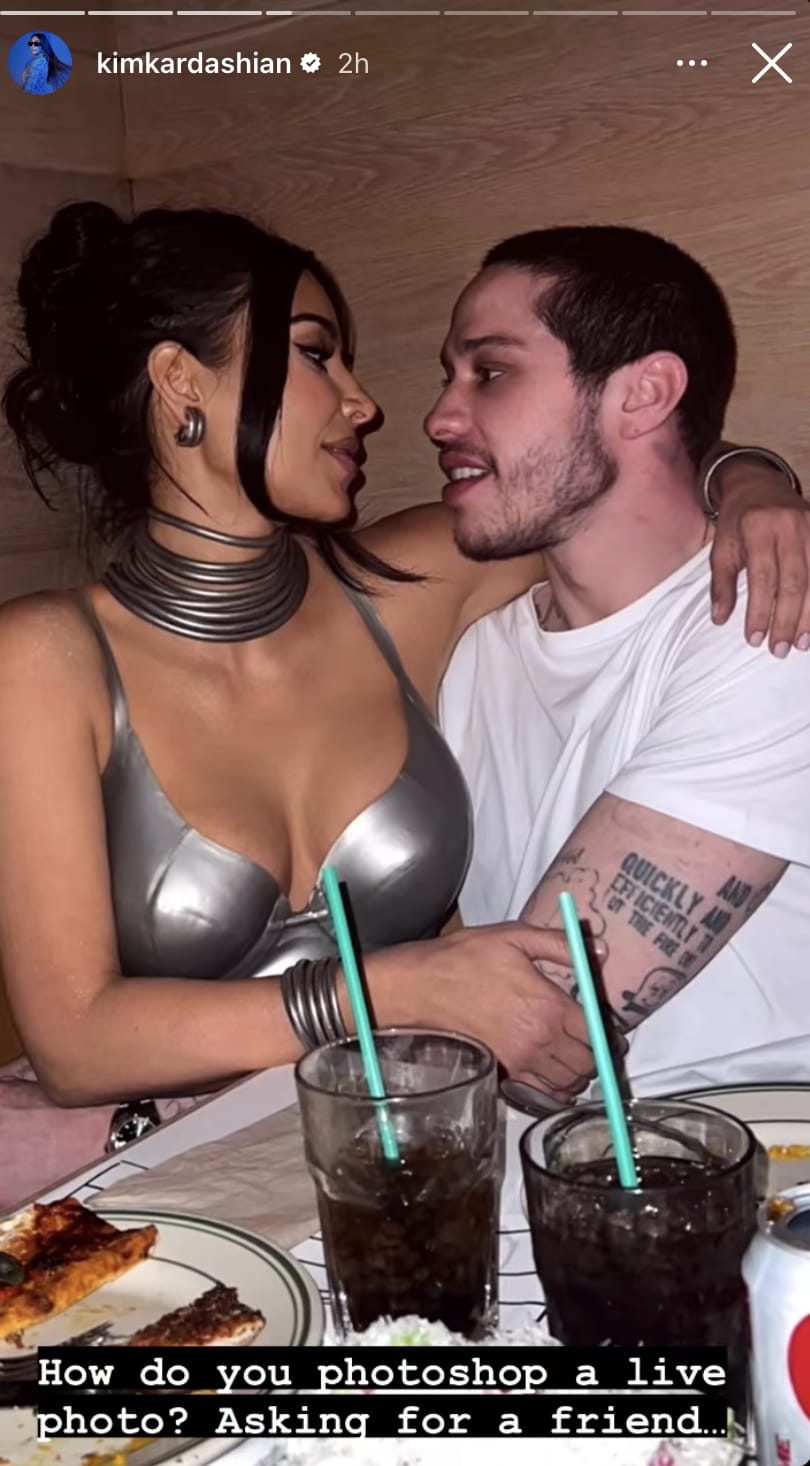 Kardashian then moved on to the pictures in question, which feature Khloé's daughter True alongside Kim and Kanye's daughter Chicago at Disneyland. The pics had been originally posted in celebration of True's fourth birthday, with a detail-oriented TikToker calling attention to the contrast in clarity between True and Chi.
As Page Six reported, Khloé admitted after some pushback that she did in fact add-in her daughter. "Welllppp I fucked this one up. Anyways…..let's focus on something else," she tweeted.
"Ok guys I do have a photo shop confession while we are safe here in the circle of truth...Ugh this one needs some explaining," Kim said on her IG Stories. "OK OK sooooo you know I am all about my aesthetic! And my IG grid is pink and blue lately. Isn't it so cute and well planned out!"
She continued, "The original pics were Stormi! However I asked @kyliejenner if I could post them and she said she wasn't really feeling posting at the moment and so I respect that! But it wasn't going to mess up my IG feed. Chi was wearing pink and it matched perfectly."
Kim concluded by saying the Photoshop was merely done to satisfy her craving for a color-coordinated IG grid.
"It wasn't the aesthetic I was going for and I can own up to that! You know how much a good aesthetic means to my soul. And I will be dammed if Kylie will ruin that for me and mess up my IG grid," she wrote. "So thank you True for taking one for the team! I didn't think it would be that big of a deal if her own mom questioned If I snuck her to a Disneyland for the first time."
Regardless of how many people are or aren't personally flustered over the deceitful photoshopping, The Kardashians was Hulu's most-watched premiere in the streaming platform's history.
Check out the screenshots below.