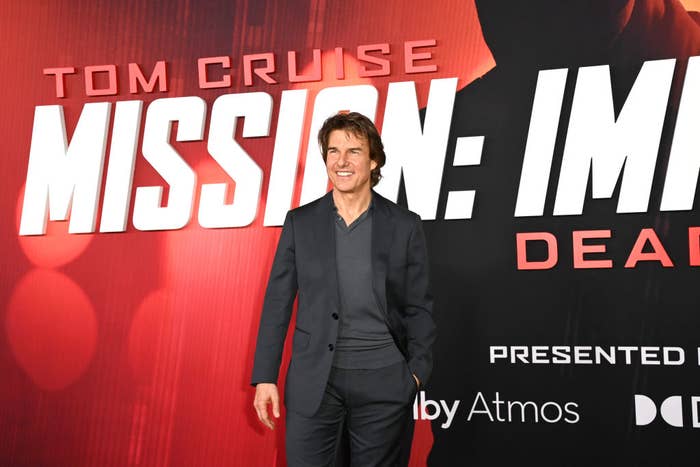 With Mission: Impossible — Dead Reckoning Part One hitting theatres this week, some had the chance to catch an early screening with an added surprise.
People attending a matinee showing of the film at Cineplex's Scotiabank Theatre in Toronto were shocked to see Tom Cruise and director Christopher McQuarrie pop in to thank them for attending the premiere and for supporting movies in theatres.
"Thank you all for being here," Cruise said. "We dream of these moments to make these films for you and for you all to see it in this kind of format so it really is such an honour to entertain you and I'm just so happy to see everybody here."
"We love seeing movies in the cinema like this so please enjoy the mix, the music, the picture. Our entire crew that made this film, our cast and crew, this is the stuff we talk about and we love movies and we love you all, and thank you very much," he concluded.
On Sunday, Tom Cruise had an interview with eTalk where host Sonia Mangat challenged Cruise to take on the traffic in Toronto for two hours.
"You know what, I have done that challenge and I have been in that traffic. I've made movies in Toronto, I've visited Toronto, I have friends in Toronto," Cruise said. "What's up with the traffic in Toronto? Have they figured this out?"
"It gets even worse," Mangat replied.
Cruise looked shocked that Toronto hadn't fixed its traffic problem, but he accepted the challenge regardless (as is customary for the Mission: Impossible actor).
Last month, Cruise spoke to Complex about his new movie, a stunt he dreamed of enacting since he was a kid, and the importance of going to the movies.
Mission: Impossible — Dead Reckoning Part One releases in theatres tomorrow, July 12.