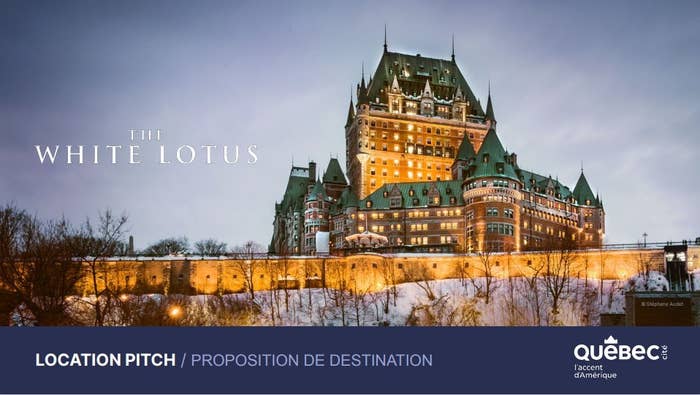 After stops in Hawaii and Italy, tourism organization Destinations Québec Cité wants HBO's The White Lotus to consider Quebec City as a possible location for season three.
In a publically available pitch deck, Robert Mercure, the general manager of Destinations Québec Cité, pleaded his case to the series creator Mike White, hoping that the veteran writer would bring The White Lotus over to Quebec City. 
"You know, this has always been a bit of a dream for us. And we've been thinking about it for a while: to be one of the next destinations for your acclaimed series, The White Lotus," Mercure wrote. "We're inviting you to our city because we believe Quebec City is a destination extraordinaire."
"With its majestic Fairmont Le Château Frontenac, historic fortifications, architectural treasures and over 400 years of history next to 21st-century modernity, Quebec City will undoubtedly give The White Lotus a certain je ne sais quoi as captivating as the city itself."
Further down in the presentation are six individual reasons why Quebec City would be "extraordinaire for The White Lotus," including the Fairmont Le Château Frontenac, the St. Lawrence river, and Quebec City's snowy winters.
The White Lotus wrapped up its seven-episode second season on Dec. 11, drawing in nearly a million live viewers.
While no setting has been confirmed yet, Mike White showed interest in going to Asia for the third season.