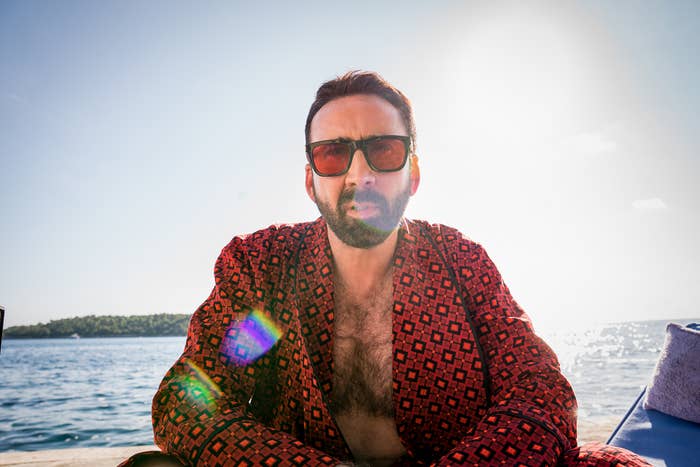 "I'm trying to give you something unique," Nicolas Cagetold Complex last fall, "because I have to stay interested." This wasn't a comment on his upcoming Lionsgate release, The Unbearable Weight of Massive Talent (which hits theaters on April 22), which recently debuted to "career-best" talk for Cage (alongside a 100 percent Fresh score on Rotten Tomatoes), but it damn sure fits. For a thespian who's been working in the industry since 1981(!), one has to imagine that any script coming his way has to be as insane as Massive Talent or Pig or anything that's dropped in this New Age of Cage.
The film, which is directed and co-written by Tom Gormican, finds Cage taking on a role that could almost be as insane as his other works: a fictionalized version of Nicolas Cage, who has many of the woes he deals with in real life (debt, fighting for good scripts) and falls into an insane adventure after accepting a gig to work a billionaire's birthday party. That's when the feds come in and recruit Cage for one hilariously insane covert operation.
A true love letter to Nicolas Cage's legacy, this is one of those films that Cage lovers are going to enjoy. Maybe that's why it received a standing ovation after its SXSW Film Festival premiere earlier this month. They could have also been applauding Cage and Pedro Pascal's bromance, which is without a doubt one of the best parts of this film. (The Mandalorian star Pedro Pascal isn't the only familiar face in this film; Tiffany Haddish and Ike Barinholtz are together once again after recently appearing in 2018's The Oath, part of a larger supporting cast featuring Neil Patrick Harris, Sharon Horgan, and Lily Sheen.) There's something about the way these two get into hijinks that bring forth some of the best moments of Massive Talent, although truth be told, this is a Nic Cage affair.
For most people, this film had them at "Nic Cage as Nick Cage." The Unbearable Weight of Massive Talent is one of those "take the entire squad" movies; you won't be able to stand this Blitzcage alone. Most importantly, this film isn't a mockery; you can tell that this was a labor of love, providing pure, authentic appreciation for Cage's history in cinema and his unique skillset.
Circle April 22, 2022, on your calendar as the day you and your assembled squadron will be hitting theaters to partake in The Unbearable Weight of Massive Talent.