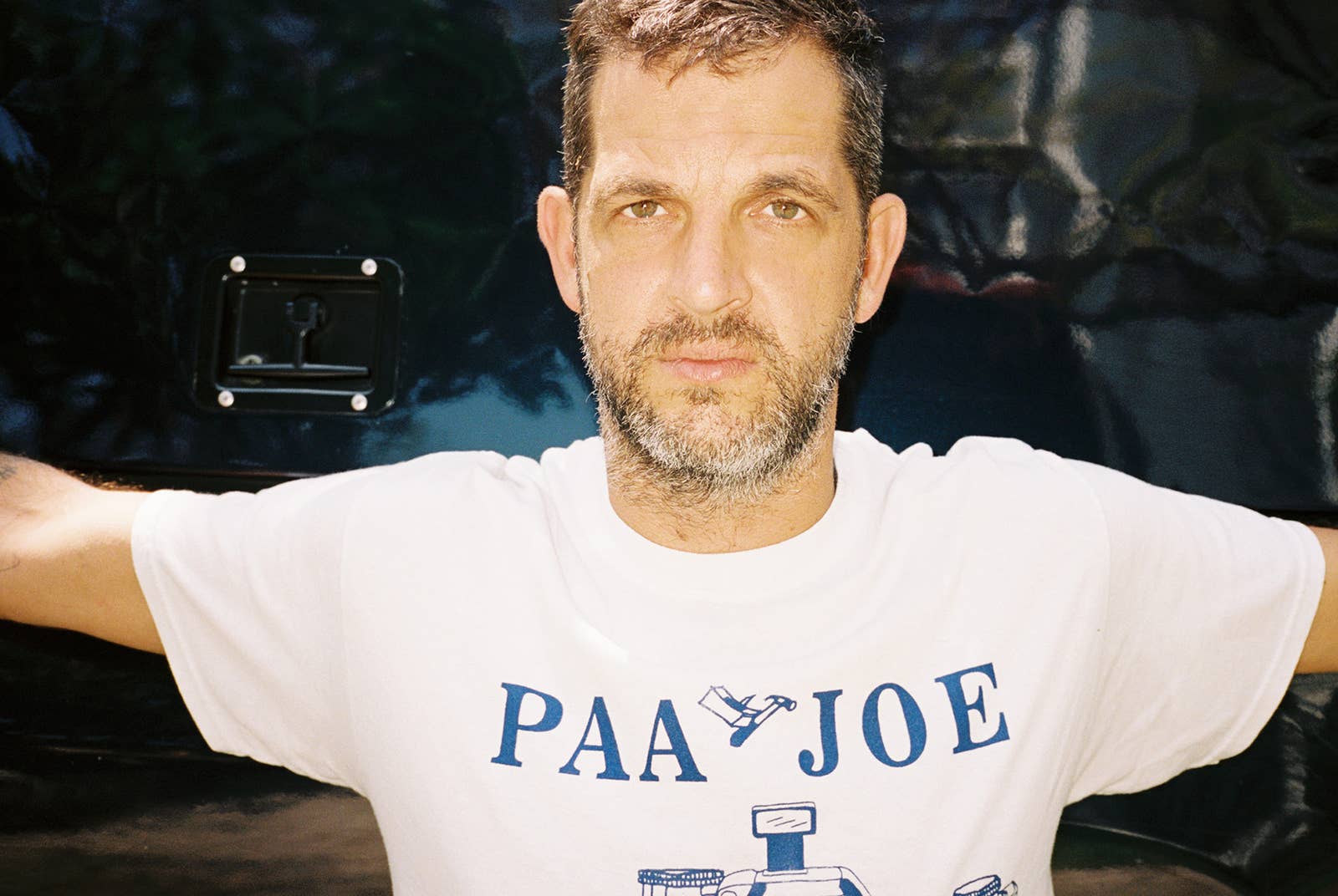 "It's been a long road," Nabil Elderkin, the man who's likely directed some of your favorite music videos, told me halfway into our conversation about his feature-length directorial debut, Gully. "You're catching me at kind of close to the finish line of a long-ass road." Elderkin actually didn't need to mention that to me, though. From across the country, the stress of Gully's release (June 4 in theaters, June 8 for digital/VOD) was ever-present, especially while he was wrapping up everything from the film's soundtrack—which includes music from 21 Savage, 2 Chainz and Snoh Aalegra, among others—to the Gully merch drop. Nabil's stressed, but he has a right to be. We're talking the culmination of his directorial debut, a five-plus year journey that's dropped him into the thick of the studio system. It's a massive undertaking, one in which he's tried to protect his original vision as best as possible. Plus, you can tell that he actually gives a shit about what he's doing, telling Complex, "the more I get into my process, the more I realize that what I really care about is the underrepresented."
The Chicago-born, LA-based Nabil's been around since the early days of Kanye West; he famously bought kanyewest.com before Kanye signed to Roc-A-Fella, a genius move that he was able to leverage into shooting West's first publicity photos. Nabil's directed the music videos for Kanye West's "Mercy," SZA's "Love Galore," Kendrick Lamar's "DNA," and Travis Scott's "Yosemite," among many others, as well as working with Frank Ocean, Nicki Minaj, Nike, Foot Locker, and, well, Complex (including shooting Zayn Malik's Apr./May 2016 cover, among others). And while Nabil plays it humbly ("Dude, people give me money to make visuals of music that I love," he shares), just one look at what he did for Baauer and Just Blaze's "Higher" and you can tell that this director had some cinematic chops in him. He even directed a documentary, 2010's Bouncing Cats, which likely got his appetite whet for taking on a feature film.
That arduous process—which Nabil pins to starting some time around 2015—grew into Gully, an ambitious indie with a cast that's only just now getting the props they deserve. No bullshit; for this film to have been shot in 2018, who would've imagined the string of critically-acclaimed performances Kelvin Harrison Jr. (Waves, Luce) had up his sleeve, or that Lovecraft Country starJonathan Majors—who's already joining the MCU and could be in the next Creed film)—would become such a big name in such a short time. The cast also features Jacob Latimore (with a truly awesome performance), Charlie Plummer, Terrence Howard, and Amber Heard helping weave together a complicated tale that can be as violent as it is fanciful, showcasing what the strong bonds of true friendship can become—for good or ill.
My personal history with this film has been a journey as well. Prior to its world premiere at the Tribeca Film Festival in 2019, Gully was one of the heavily-talked-about features. At the time, Tribeca reps were high on it, especially Kelvin's work (Luce would've already gotten Sundance buzz, and we wouldn't have even been ready for Waves at the time), and there was talk of Nabil finally stepping into the feature film zone… but then it was just that, a dope film that no one had seen—present company included. The film finally dropping in 2021 sounds like the story a number of independent film's have post-2020, but in speaking with Nabil, he may have encountered similar frustrations with the studio system that Illegal Civ's Mikey Alfred did during his process to get North Hollywood released. To no surprise, both Alfred and Elderkin were determined to keep their films as much in their control as they could.
During this brief break in the final countdown to Gully's release, Elderkin speaks candidly on how the process began, Travis Scott's future in acting, his frustrations with—and what he's learned from—the studio system, the soundtrack and art from Gully, his plans to start his own production company, as well as if he has any upcoming plans for directing more music videos.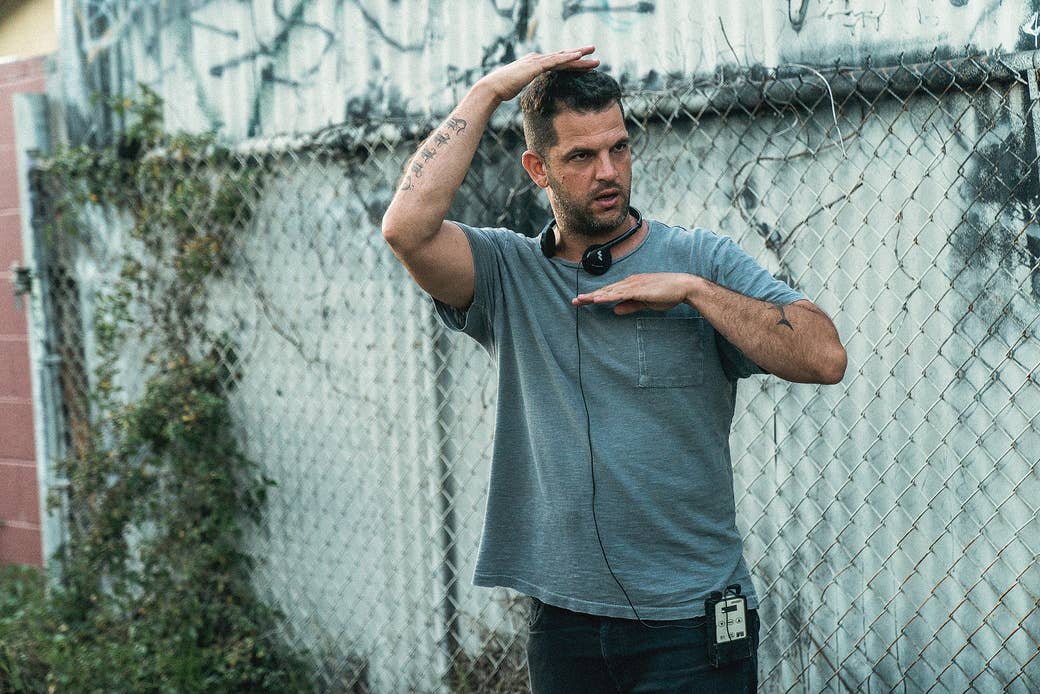 What have the last couple of years been like for you working on Gully? 
Just in my stomach rumbling, but you know what? I think it's a blessing. At first, it was hard. It was my first baby and my first thing. To be honest, it didn't pan out how I dreamed it would pan out, but I'm so grateful and it's much better than what could've happened. The process, I'm blessed by it, but like fuck, dude. 

What was your grand idea for Gully, initially? 
It was just to make something different, something to create a conversation and to represent maybe some voices that aren't represented in film without it being in a very specific way. I just wanted to make something different. I just wanted it to be a big movie and obviously it would do well. But the more I got into it, I realized that I don't think everyone has the same intention with film. I'm not saying I don't think the film is for everyone. I hope it's for everyone. But I think that it's polarizing.I want it to come out in a way that it's embraced from the ground up. The more I get into my process, the more I realize that what I really care about is the underrepresented.

What was the process like, finding the script that eventually became your first feature?
I had been bouncing around with the idea of making a feature. I came from photography and obviously shooting for Complex and other things. [Laughs] That was my background. I got into music videos through 'Ye and stuff, then I became more in that world. Then I made a documentary. At one point I was like, "Man, it would be amazing to make a film." I didn't go to film school or anything, but I was like, "Man, one day," watching movies like City of God, The Game, Children of Men. So many movies. So many movies that just made you feel something about the world and want you to learn more. I was like, "Oh man, I could maybe do that one day." I just started the journey. 
I did a couple videos. People hit me up like, "Do you have management? Do you have representation? Do you want to do films?" Sure. What am I going to say? "No, no." Sure. Then I did general meetings. People would send me scripts. A couple of them, they were pretty good. But I remember I was at The Bowery one day and this guy I met, Alex [Georgiou, Gully producer], was like, "Yo. I've been trying to get you this script." And I was like, "Oh, sure. Send it to me." He sent it to me and I was in a different place in my life—I was in bed the next morning, not feeling so great thanks to alcoholic beverages. I remember just being like, "I'm going to read this," and having that extra layer of the hangover. I remember starting it and just having to give it a moment and then picking it back up and reading and being like… I couldn't put it down and when I put it down, I couldn't… I just remember texting my representation at the time saying, "I have to make this film somehow." And texting Alex and I was like, "Yo. Yeah, I have to make this. This is my movie."

When would that have been? 
Probably around 2015. Maybe before. Maybe before then, but somewhere around then at the latest. 

So you start shooting in 2018, it premieres about a year later; how do you go about the casting? Were there certain people you were looking for to be in the film? 
I had met Jonathan Majors through another friend Yen who did a film with him. He told me, "Yo, this guy is great." I sent him the script and we talked and we vibed, and it was amazing. He's become a friend and an amazing human being. He just said, "I'm in." And that was before it was even really moving forward. Same with Charlie Plummer. I met him when he was way younger. At that time, I was like, "Man, he's kind of too young, but I'll meet him." I met him and he was great. He was excited and I was like, "This guy's cool. I think he's going to be great." And then funny enough, it took a couple more years, so the age [differences] all worked out perfectly. He was still in, and I was just so grateful that he was still down. His career started growing. Then Kelvin got into the mix. Obviously he's killing it and super talented. I remember when his name came up, I was like, "Heck yeah." Friends had also worked with him on Monster at the time. That was another thing that was shot at one point and it took a long time to come out.
The rest of it just happened a lot closer to the shoot time, just getting, having names sent in, feeling the pressure. That's when things really happen is when you're pulling up to shoot time and you're like, "All right. We got to put this thing together." And things fall into place for a reason. Yeah, it's amazing. I wouldn't have wanted anyone else. Even though there's things that come with certain choices, but ultimately I'm grateful for everyone giving their 120 percent, because this is a small indie film. This was a small budget, and shooting in LA, it goes quick. 

Of course. I would imagine, being somebody who's worked so much in the music video industry, it's a major downgrade, but there's so much you got to think about when it comes to, "All right, this is my ceiling now."
Yeah, but I came from doing those other videos. From the beginning, I never did those big videos. I get bigger budgets now just because I put in my work, but "Novacane" was $5000. "Welcome to Heartbreak," I think, was $30,000 or $40,000, when he was doing million-dollar videos. I was just trying to make cool things that would slip under the radar that they don't ask too many questions about, you know what I mean?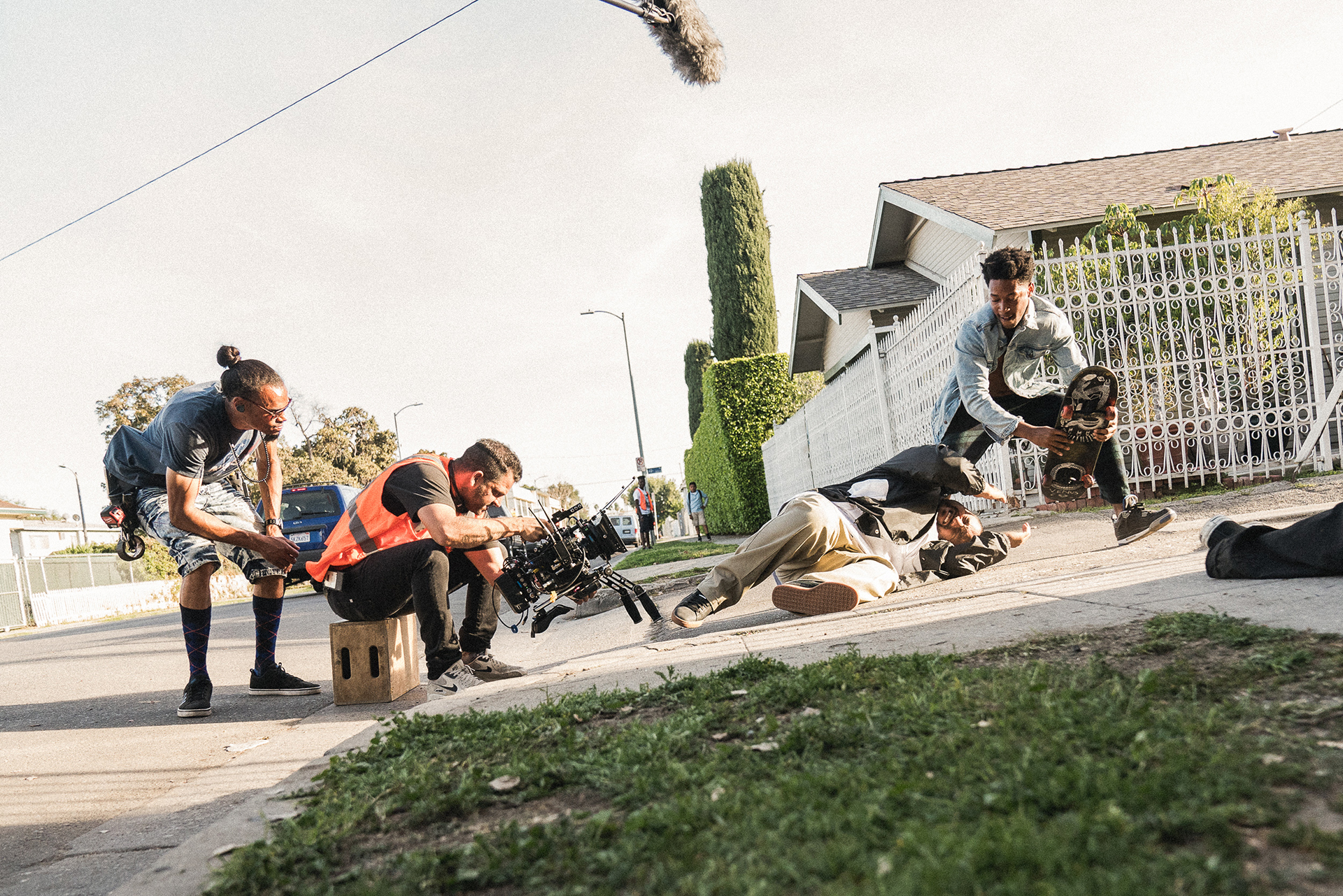 One of the more intriguing performances in Gully comes from Jacob Latimore. It's very… mystical is not the right word, but there's a lot of fanciful elements to it. All of that was in the script? Were there things that came out during production?
Both. Marcus [J. Guillory] wrote something very beautiful and poetic. Then we worked on the script and we went through many, many changes and many, many rounds, but ultimately Marcus wrote it in a very poetic kind of way. Then Jacob got in his zone, you know what I mean? That was a feeling throughout this process because it was a 20, 21 day shoot. It was quick. We shot in South LA, East Side, like 43rd and Avalon. We—minus a couple people higher up—really wanted to feel authentic and be in the right place. We went there. Community was awesome. They embraced it. They brought vibes. Some of the people that are in the film are some people I met there. 

Oh, wow. 
Yeah. There's a couple people that were there and I was just like, "Man." My dream moving forward would be to do more of that, work with as many people… Authenticity is the key.
Were there any sequences or scenes that were more difficult to shoot than any other ones for any reason? 
Yo, yes. I'll start off by saying I'm happy it happened because I'm grateful for the performances, but I shot the last scene the first day. 

Really? 
I'm not going to say too much, but on the beach, yeah. 

Those are really big emotional beats to try and just dive right into. 
Yeah. That was like a zero to 100 wake-up call and I was baffled at how this was happening, but I didn't have much I could do about it. That's to show the testament, too, of my actors, of their amazing abilities. It's wild if you think about it. Once you've seen it, you know what it is, you're like, "Oh, wow. Shit."

With this being your first feature film, there's got to be a learning curve there. Talk about adapting to the movie-making process.
I think a lot of people maybe don't know how out of sequence and how much continuity is a part of your film, like how the hair looks, how the sky looks. We have to adapt to a rainy day and create things. When there was a rainy day when he was skating, there's a part, I had to create certain things to put you into the understanding, like look up to the sky or a sound effect so that it introduces so it's not just out of nowhere like, "Oh, shit. What?" Those kind of things were just like, "Whoa, I've never had to deal with this on a two-day shoot or a one," you know what I mean? 
But then there's another level to it, because when you start getting to editing, you start playing around with sequencing and what's necessary and what's not necessary. "Oh, shit. He's wearing this here. How do I get to here?" It's like a jigsaw puzzle, especially if you're not telling a very linear story, which, this isn't that linear. It's linear, but there's also fantastical elements. 

How do you deal with that? Are you keeping a storyboard on the wall, making sure you're in right certain points? 
We had a continuity person on set always. But there's also like in your mind, I have, which I've realized more and more, I have this thing where I can, "Oh, this happened here? Let's make sure we get this so that..." And my editor's a G. I got to hand it to Damian [Clayton]. 
It's just a whole team of people that really come, you realize how much of a team it is. Every person from every level, to the security guy, to everyone. Everyone's in this circus together, trying to put together the seamless show for everyone.
I've realized how… Now I've been in the deep end. I would never do things the same way, but I'm so glad that it happened this way. 

I shouldn't have been shocked, again, knowing your history in music, but seeing Travis Scott on screen was dope. Was it hard to talk him into that? Was he ready to get on screen? 
He was going to be in it way before and he was going to be in it more, but as time passed and careers and age, things change. But he's the bro and I'm so grateful that he came through. I think he caught it on set, because he killed it. He came in and I gave him the beats, but he did his thing and brought it. I was almost like, "Oh, man. Why couldn't we have a bigger part?" 

Was he there for just like a day or so? 
He was there for like three hours. He just came in and snapped. He's got a future in film, too. I'm not going to speak for him, but I know he has a future in film and I know he's got some things brewing. I'm excited to see what they are, because I know he's going to do it right. He's an artist. Some people can come and bring something, and he brought it.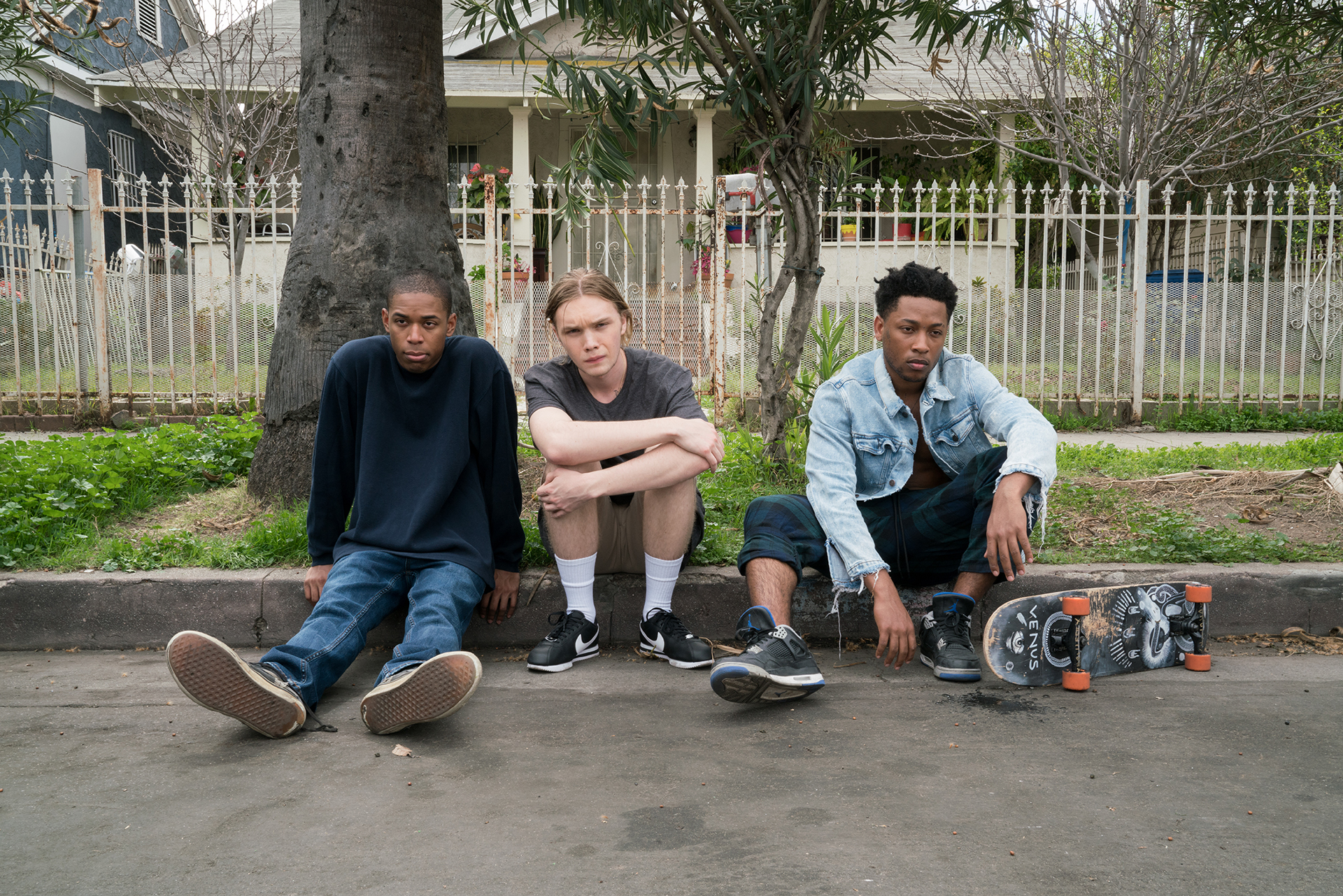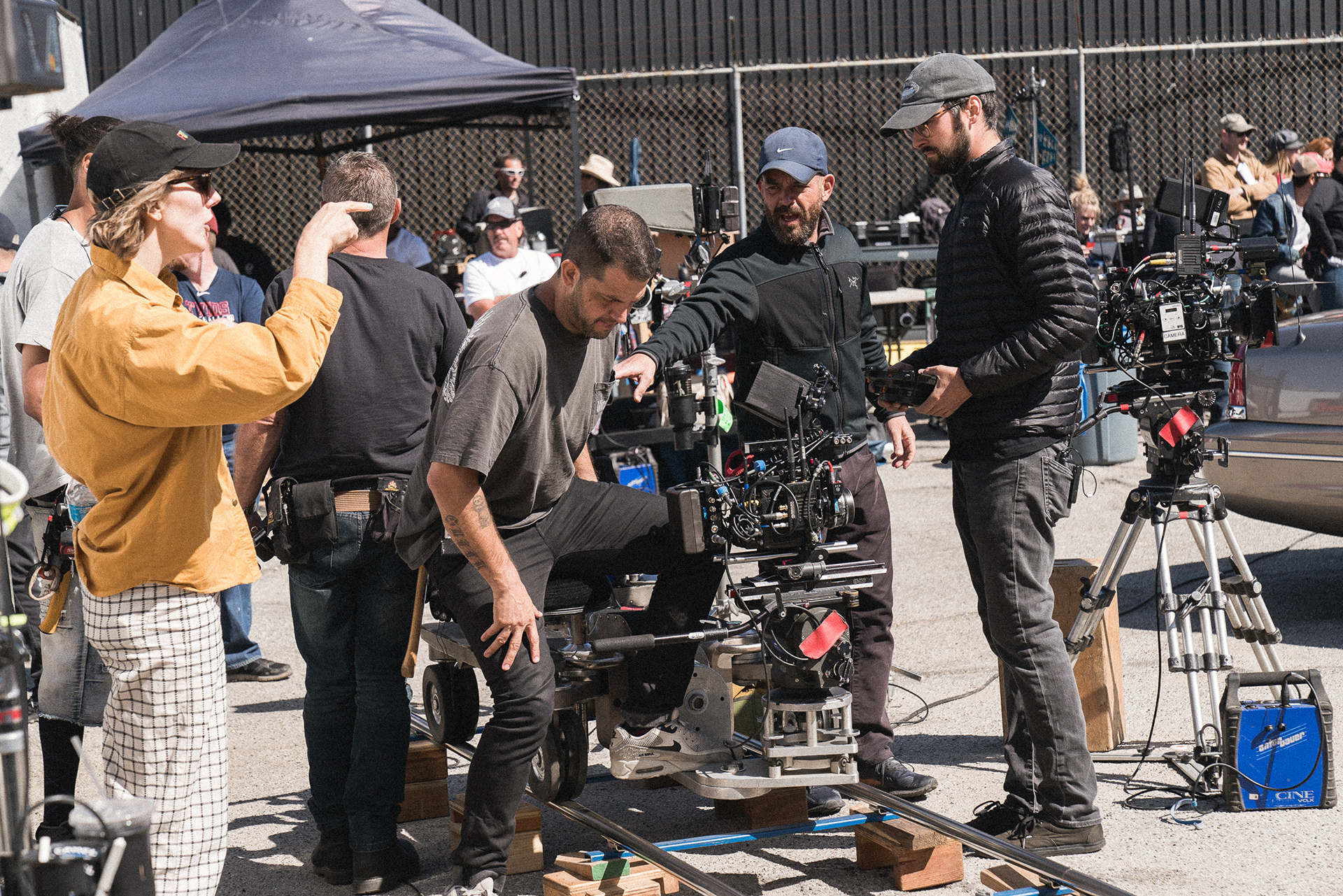 With the way COVID-19 affected the movie industry, and your film buzzing since 2019, I wonder, did the pandemic play a part in Gully not coming out until now?
I think so, but also, I don't know if the market was ready for the film. I had a lot of realizations. [With] this film, a lot of people were interested in a lot of levels and then it would hit a certain level and then-

-they were out of it. 
People were out of it like, "Nah." It was really tough for me, because I know what the film is, you know what I mean? But I'm learning and growing. I had good people around me to help me just weather the storm. And the film, it's a better time for it.

You know Mikey Alfred from Illegal Civ, right? 
Yeah. 

His story with North Hollywood is kind of a similar thing in regards to having a project that people seem like they're behind, but then all of a sudden nobody wants to pick it up. Looking at the two films, there's definitely something to what you were speaking on earlier. Maybe Hollywood just isn't ready for or doesn't feel like they're prepared to start unleashing some of these stories or exploring different ways of telling these stories. 
I think you just hit it right there. I've spoken to Mikey during his whole process and I know it was also difficult for him. I'm proud of him for making something and pulling it together. It's such a feat. It really is. Until you've done it, until you understand… And to be able to do it the way you want to do it. This was done in a very specific way and I know he probably did, I know he did the same thing. 

All I care about is that people get the chance to see it and hopefully they can feel something. That's all I care about. People can talk this and that about the actor or actress, but at the end of the day if you feel something from it, then I'm happy, even if you don't fuck with it, you know what I mean? 

I wanted to talk about the art that goes along with Gully as well. When the trailer dropped, there were two different illustrated posters that came out. But then during the end credits, there's a really awesome painting that's shown as well. Talk about that side of Gully.
I just wanted to represent the film in how I wanted to represent the film. I did it. I even put it out without everyone being onboard. Because I knew that, you know… And there's more art coming out. There's a lot more. I went to artists. I went to a whole array of artists, mostly POC, and just said, "Yo. Watch the film and make something." And this is what I got back with for a lot of it. The things I'll put out is different people's interpretations. We had this Jamaican artist, Pirate Bwoy, Ricardo is his name. I just saw his work, what he did with this artist Protoje, and I was like, "What?" Then I hit him up. I was like, "Dude, I'd love you to give me an interpretation." He watched the film and came back with a sketch and I was like, "Yo."

There's a lot of artists. There's more stuff that I've made, people in different countries and different things. I've approached different, yeah. Because I know art is a big thing in how people get to access and view; music, too. So that's why I'm just trying to put together as many elements as I can that are a representation of the film from different artists. 
I had gotten a note about the soundtrack you've been putting together. Was it a similar process, where you would have artists watch the film and make something?
A couple of them, they were already made, but I had shown Metro and Ty Dolla and told them. Well, Metro had seen it. Ty, I just told him what I was looking for. Most of the songs were made for the film. I'm so grateful to have been able to work with these artists, and then for them to come back and bless me. It's overwhelming. I don't even know how to explain it. It's been a long road. You're catching me at kind of close to the finish line of a long-ass road. I'm still right now working on what's actually going to be on the soundtrack today. 
There's so many different levels to this world and approvals and this and that. Shoutout to all those music supervisors. Shoutout to all those people at labels that are great, not the whack ones.
It sounds like you've learned a lot about the film industry, and you're still very much wanting to keep control of a lot of this stuff, so when the next feature comes up, how are you trying to…
You guys can't see me in the text, but I am doing karate chops and somersaults. [Laughs] I'm just doing it my way and I'm going to make sure that from the beginning I don't have to fight for a vision. That's not saying that people didn't give me the flex, but there's certain things that I would do much differently.
I want to do things different, whether it's, I'm creating my own company, developing talent, I'm developing IP. Not all of it that I'm going to direct, but I'm going to produce through this process. I produced, too. I want to help people be able to tell stories and do it in a way that they want, because I think there's a lot of people that come in between the final product that people don't even get to make those stories that I feel need to be told. You see the appetite for it. You see the Minari's and the Parasite's. Look at it. Look what's going on. There's an appetite for films that are smaller, that feel, you know what I mean? I want to be part of the shift in making that.
There are so many great movies that have been made, too, that I wish people could rediscover. I feel like somebody could make a platform of just curating movies that are already made. Or even almost like a crowdsourcing film platform. Because I was talking with one of the guys from Vimeo and I ran into him years later and I was like, "Wouldn't it be amazing if a venture capitalist or whatever, wouldn't it be amazing if something like a platform could..." I don't even know, but basically make it a lot easier for filmmakers to go through the process, and if you come with a good script and a good deck, help make the films get made. They can be done for budgets, like you could probably fund 20 great independent films for one studio film, you know what I'm saying? I guarantee you seven out of those 20 films are going to be awesome. Even if three of them are, even if three of them are. 

That's kind of where Mikey and I were discussing the idea of maybe shifting the platform or shifting the place where people consume content, because the idea is if people can't get these indie movies into theaters because they don't think they're going to make money, they have to get them somewhere. I think it's figuring out what that's going to be for the creatives who are going to be pushing things. That's the hurdle.
Man, I want to be a part of that shift. That's what I'm trying to do, and that's what I am doing. I just need to get this one out and hopefully people respond to the film. What'd you think about the film, bro? 

I enjoyed it. I came to the table already following Kelvin Harrison Jr. and being a fan of his work in Luce, being a fan of his work in Waves, things like that. Jonathan Majors is consistently one of my favorite guys. I'm like, "All right, let's get into it." It's one of those films that I want people to go into cold. At its heart, there are stories in Gully that I think people can gravitate towards, whether it's a band of brothers or having to deal with something that is very traumatic and trying to find the best way to come to grips with those experiences. And again, Jacob Latimore, I'll keep saying it. He's a guy I've seen in a lot of things. For me, it's him in that role. I was right there with him. I've never really seen him go into that bag before. 
He really brought it. Everyone brought it, but it was a transformation with him.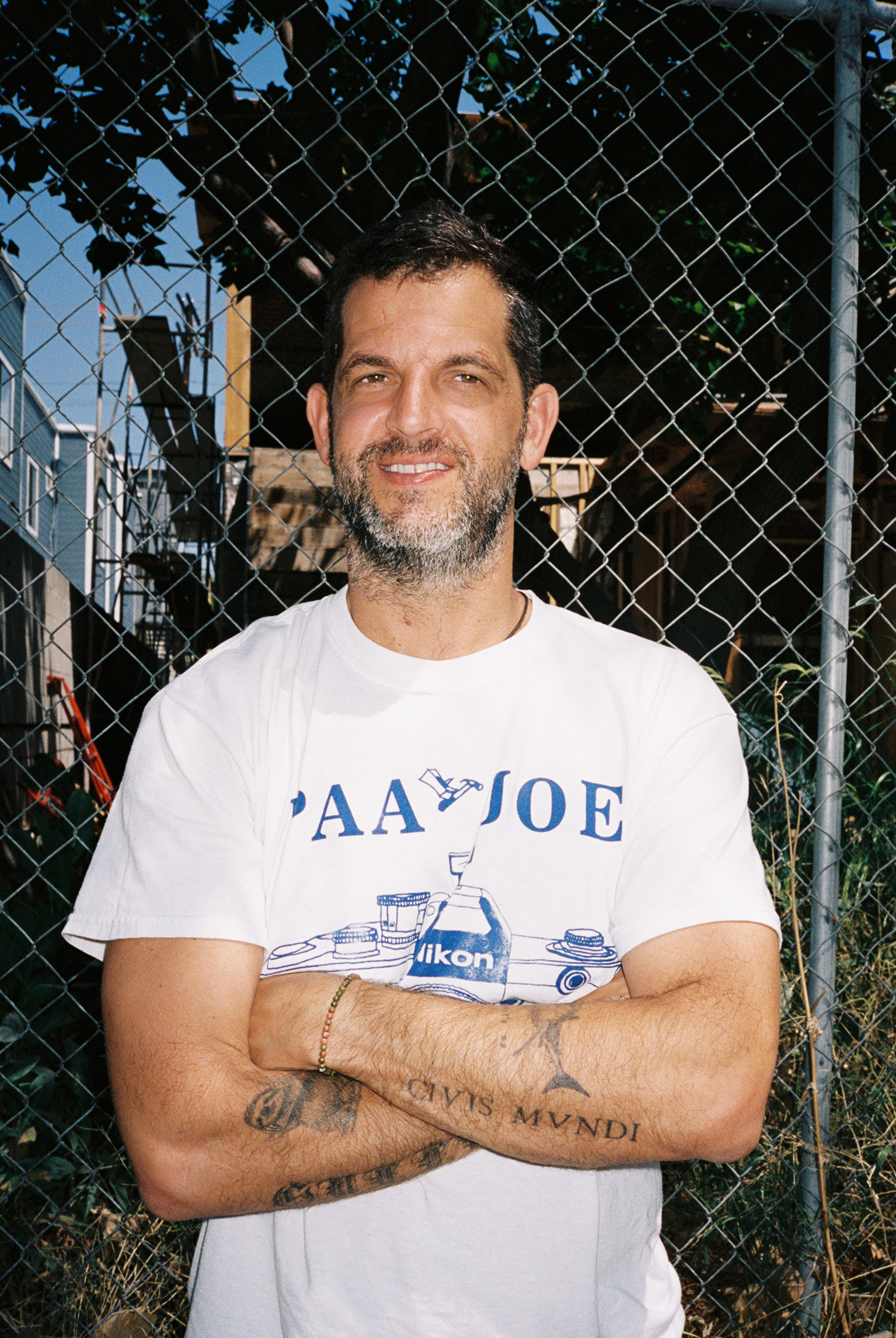 Now, of all of those scripts that you were reading before you got to Gully, are any of them even on the pile of, "Maybe I would try and make something with these"? 
Funny you say that. Yes. I ran into one of the execs that has power to one of the scripts and I asked him [recently]. I was like "What's going on with that script?" And he was like, "It's just kind of sitting there." But it's in the studio system, so that's a whole other bag of bones. But the guy is really cool, this guy named Jesse. I'm going to follow back up and maybe we can do something with that. But I'm developing a couple other films, I'm developing some TV shows. Some in America, some abroad, some in Jamaica. And not all of them me directing. A lot of them are just me coming and producing and developing, because just so many amazing filmmakers that I've come across that I would love to help nurture, too. Voices that should be heard. 

Outside of the soundtrack, are you working on any other projects with musicians? 
There's another part [with] Don Toliver. There was Part 1 [Ed note: Nabil directed the video for Don Toliver's "What You Need"], now there's a Part 2 coming out soon. I'm going to do some work with Buddy, who I really am a big fan of. He's awesome. I'm talking to a lot of people. I'm slowing down on the videos. I've always worked with music that I felt that I'm in a place where I really want to just do it once in a while, and just good people, really. Cordae is my bro, too. I can't wait to do something, whether it's photo or film or whatever. But there's so many great talented people that have shown love to me that I want to be able to work with them, too.
I just really want for this film and for what I do forward, I just want to say something. It's going to be tough. I've been going through a lot of life changes myself and working on vulnerability. I think you have to be able to be a lot more vulnerable to make things and make things that you feel passionate about that you want people to feel. It's a never-ending process, but it's like I'm blessed to be able to do it. Dude, people give me money to make visuals of music that I love. It's such a blessing. That's why I'll always do music videos. No matter what, there's not a day… I don't think until people think I'm lame and I'm a has-been, I'm going to keep making videos. It's such a cool thing to make this small thing and have a base. Almost like, the song is almost like a rough script for you to work with. 

You mentioned working on yourself and especially you mentioned vulnerability. Is that something this process, the process of making Gully, has brought out? Or is part of that because of 2020 in general?
It's both of them. It's both of them. There was a lot of life changes. There was a lot of humility. I had to work on making the film, but also throughout the pandemic, I was blessed that I quit drinking right before the pandemic. 

Congrats.
It's tough, but it's the best thing that happened to me. It's tough because you have to take things head-on at that point. There's no escaping if you really do want to make the change. I think the whole world is going through this change, too. This is like a wake-up call for, I think, everyone and everything. It's so big. I try to talk about one thing, but it's just like each person's going through their own shit and it's hard to talk overall because there's so many people in different parts of their lives. I just really hope that this becomes that kick starter, and I hope it already has become something that can really just… I don't even know. What do you think? 

I think that mentioning something being the catalyst to a better future, or at least the start of progressing to where we hope to be as a people, it's tough. It's a tough time. There are so many different layers, so many different stories. 
That's what I'm saying. It's like, and I don't want to say the wrong thing, because so many people are going through different things. I'm talking about my journey, but wow. This is an exciting time that we're in right now where we can really take things in our hands and shift. Because that's what it did. It shook things up so that all those systems got shook up. Now is the time. People are creating their own things. They're working in a different way. Who needs to go back to the work the same way that it was? But then again, there are people that have to do certain jobs that they've been in it and they haven't had a chance, so it's hard for me to say that, but I just hope everyone comes out of this stronger and better, and being friends. Friendship. That's something I wanted to show in the film; how friendship and caring for those around you—it could just be one person—it really does spread.
Gully hits theaters on June 4, with its digital/VOD release coming on June 8. The Gully soundtrack—which features 2 Chainz, 21 Savage, Snoh Alegra, Buddy, ScHoolboy Q, and many others—is out now, and Gully merch is available over on gullymovie.com, with 100 percent of the proceeds going to Surf Bus Foundation, which aims to "empower people to have a healing connection to the sea." Check out the pieces below.