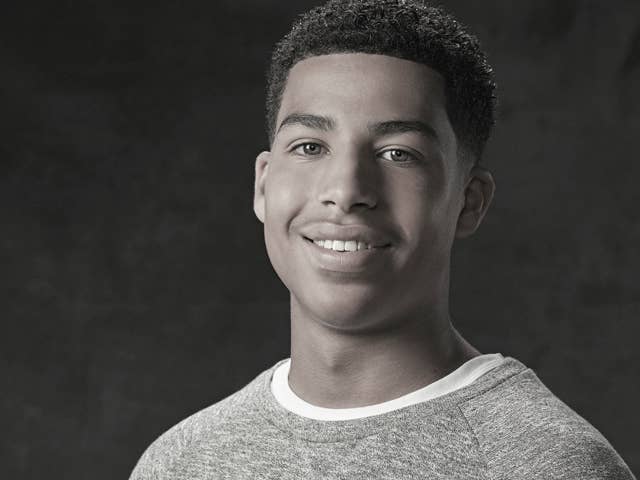 When it comes to #realtalk on network television, it doesn't get better than black-ish. After becoming the go-to woke sitcom for black folk, one that has spawned an entirely new series (grown-ish, which kicks off in January 2018 on Freeform), ABC has moved the show to Tuesday nights at 9 p.m. After a third season that not only saw their oldest daughter making her way to college but the birth of the newest member of the Johnson clan, Devante. That's a lot of change, and makes for a new dynamic in the household.
To figure out how things have truly changed, we got a chance to talk to the second oldest Johnson kid in the household, Marcus Scribner, who plays Andre Johnson, Jr. Having seen Scribner go through his teenage years on the series has been a joy; he's the awkward black boy who is in tune with his roots but also rocks with loads of pop culture...basically, he reminds me of me as a youth. That is, without the insane class president campaign that he ran in season three, or the love triangle he got himself into (and the ensuing biracial dating discussion that went on), or the role he's having to take looking after Jack and Diane with his sister Zoey going away to school. She might getting grown-ish, but Junior's growing up, too, and hopefully we get to see more of that this season.
While getting over a cold, Scribner talked about why he's excited for this fourth season of black-ish, which finds him being the real big man in the household, maybe getting a little love, and ultimately getting into more of his insane antics.
How are you feeling about this fourth season?
I'm super pumped. We have some new things changing as all the kids are growing up, Yara has moved on to grown-ish. I feel like our first episode is going to be a really exciting one like a musical, with dance numbers, really explosive.

Is it a full-on musical, you are doing musical numbers as well?
I don't want to give away too much of the episode but I think I can tell you that not the whole thing is going to be musical but we will have musical numbers.
The first episode is about Juneteenth; I think a lot of people don't know about that holiday. Were you aware of it going into the episode?
I had a slight awareness of what Juneteenth was beforehand, but the episode really breaks it down in depth to where you get the full history, the minute details. Our goal for the entire episode is to get the whole country to recognize it as an actual holiday, I know they celebrate it in Texas and singularly it is celebrated on the East and West Coasts, but hopefully it becomes a nationally recognized holiday.
Have you learned a lot over these past four seasons about social issues and black history?
All of the issues that we have talked about I think I am well versed in such as police brutality or the post-election episode. I try to stay on top of current affairs, but being on black-ish you get to experience different viewpoints, especially from Junior. He has different viewpoints than maybe I would have and it sways your opinion and being able to step in somebody else's shoes. Being on black-ish has definitely changed my thought process and what I think of situations as a whole.

You mentioned Yara [Shahidi] going on to grown-ish. What is the household going to be like now that big sister is gone?
It is really sad to see Yara go, she is moving all the way across the lot [laughs]. She is going to have a really fun set, with a lot of young people and they are going to be tackling some really fun topics. As for [our] show, Junior is definitely stepping up into more of a senior position being the oldest kid in the house, helping take care of the new baby in the house, even though that isn't one of Junior's strong suits. 
Are we going to be seeing more of his love life?
Yeah, for sure, Junior is definitely a lovebird. We will see some new relationships for him, maybe even a long-term relationship, who knows. The whole family, in general, will have new aspects, especially with the new baby.
What is it like having a baby on set?
At first, I thought it was going to be super difficult because people were saying how hard it is working with babies. We have twin babies that are playing the same character, they are the sweetest and most quiet babies you will ever meet. We lucked out; our babies are pretty tight.
How similar are you to Junior?
I think that me and Junior do share a lot of similarities being that we both love comic books, video games, things of that nature. But at the same time we differ in a lot of areas, I feel like Junior is a little too gullible for my taste but that's what makes him so loveable as well. 
I also read that you are a diehard Lakers fan, what are your thoughts about this season with Lonzo Ball coming in?
I'm excited. I feel like Lonzo brings a new energy and a new vibe. Our team already had energy but he brings leadership, passing skills, even [during]Summer League he was taking our entire team on as a passer and he brings the play-making aspect to the team that I am excited about. We have a nice squad and I'm hoping we make it to the playoffs but the West is stacked now, it's disgustingly stacked.

Do you make it out to Lakers games often?
The Lakers charge an arm and a leg for tickets. A lot of our cast and people involved with the show are Clippers fans so we get a lot of Clippers stuff, but I'm a Lakers fan. 
I was looking at your Instagram and peeped that you had a pretty nice sneaker collection. Are you a big sneakerhead?
I guess I could be considered a sneakerhead, I have a nice big sneaker collection. I want to get the Bape Adidas pretty soon; I know I sound like a hypebeast, but they are so nice. But they are like $1,000 on eBay, hoping to snag those for a lower price. My parents let me spend some of my money on my sneakers, when you are on a television show you have to look good. As for everything else, they definitely make sure that I stay grounded and work for everything that I get.