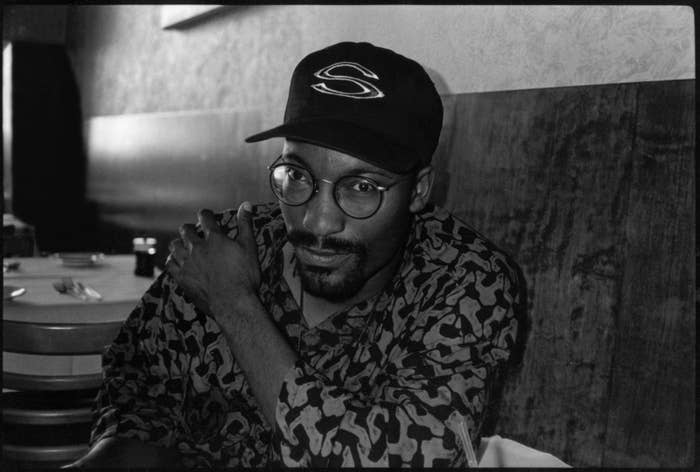 While I grew up a huge fan of movies and television, it was rare that I felt I could actually make either. Coming from Trenton, New Jersey, the closest I saw my town get to the mainstream was the video for Poor Righteous Teachers' "Rock Dis Funky Joint." Being black in America, especially as '80s babies, we seldom witnessed realistic on-screen depictions of the areas we were from. But in 1991, John Singleton released his debut feature film, Boyz n the Hood. At the time, many outside of South Central Los Angeles had only heard about that area through N.W.A lyrics; being able to see Tre, Ricky, and Doughboy navigate those streets and come to grips with their realities? It was breathtaking. Having that film be nominated for two Academy Awards—including Best Director, making Singleton the youngest and first African-American to receive that nomination—was beautiful.
Hearing that John Singleton had passed away at the age of 51, after recently suffering a stroke, was downright scary. He'd earned OG status in the hood for films like Boyz n the Hood and the BET staple Baby Boy, but it's amazing to think that he only had nine feature films to his credit. Maybe you only need nine when your first trilogy—Boyz, Poetic Justice, and Higher Learning—is so ingrained in the minds of those of us who grew up in the '90s, trying to navigate a rapidly changing world. From gang violence in the inner city to relationship issues to race relations on college campuses, moviegoers were served heavy doses of harsh reality when purchasing tickets to a John Singleton film and were honestly better for it. The three movies, which he also wrote, dealt with gang warfare, the treatment of women, school shootings, and more. For many, these films were the best way to serve those lessons.
Singleton's legacy wasn't just in educating America on its hard truths, though; he helped shape what black film was during the 1990s. Building on the foundation that vets like Spike Lee laid during the '80s, Singleton offered a blueprint of how to excel as a filmmaker during an era when more black creatives were being given chances to bring black stories to light. Singleton also upped the ante; while it didn't deliver monetarily, his 1997 film Rosewood, based on the 1923 Rosewood massacre in Florida (which saw a white lynch mob murder black people and destroy their town), was a critical success, with Roger Ebert himself calling it a "gripping, important story." That film would mark Singleton's grittiest work, but part of that was because the asks were getting bigger, with his 2000s films playing more heavily to action (including the second film in the Fast & Furious franchise, along with a Shaft reboot), although one of the films he's more fondly remembered for, 2001's Baby Boy, dropped in the middle of that output.
One of his most intriguing pieces, Baby Boy was an examination of young black men who stay young black men in the inner city. The images of a grown Tyrese in the womb, crying out, might have been too on the nose, but the story Singleton wove around the actor's character Jody (a role that was famously written for 2Pac) put on full display the problems within the black community that contribute to a vicious cycle with far-reaching consequences. The film, a weekend viewing staple for many, showed that a decade after the Oscar nomination, Singleton was still here, bringing a vital eye to the stories in our communities.
Singleton was also unafraid to put talent that might be new to the audience in his projects. Boyz n the Hood was the first film of Ice Cube's illustrious acting career, in a role that was written specifically for him, and was also the first place many saw the talents of Cuba Gooding Jr. Morris Chestnut, and Nia Long. Poetic Justice was Janet Jackson's first feature film, and while viewers had seen 2Pac on-screen before, they'd never seen this tender, more romantic side of him. Everyone from the Academy Award-winning Regina King (Poetic Justice, Higher Learning) to Michael Rapaport (Higher Learning) to André 3000 (Four Brothers) to Taraji P. Henson (Baby Boy) got to sink their teeth into the vivid tales Singleton created, delivering memorable performances in these features that no one like the director was bringing to the cinema.
As of late, Singleton had been spending more time developing and directing television shows. His TV directing gigs didn't start until he worked on an episode of Empire in 2015. That led to directing an episode of The People v. O.J. Simpson, which was right up his alley, showcasing not only the way Simpson's home was staged for a visit from the jurors but a legendary showdown between Christopher Darden and Johnnie Cochran during the trial of the century. This led to him developing series, from the short-lived Rebel on BET to the FX's acclaimed series Snowfall, a chronicle of the crack epidemic in Los Angeles in the '80s.
While he may have been picking better projects and doing less in the industry, Singleton definitely kept his ear to the street. During a visit to ComplexCon in 2017, he showed love to the Academy Award-winning Moonlight, as well as Donald Glover's Atlanta, both of which feel like they were taking the baton that he passed off years ago and running in new, exciting directions. "We need to keep on kicking up dust and not make our fight against our persecution​ a fad," he said at the time, and those words should be ringing loudly in the ears of anyone who deems themselves a creative or an activist.
Singleton shouldn't just be remembered as the guy who made Baby Boy, or as the first black director to get an Oscar nomination. Nor should his legacy start and stop with putting hella rappers in films. It can't be reduced to one particular film or movement, either. Singleton's legacy should, ultimately, show creatives from all walks of life that their truths are important and that bringing those truths to life is what the mediums of television and films were made for. Hopefully, today's dreamers can examine the moves Singleton made in the industry and use his legacy as the blueprint for speaking their truths on-screen.