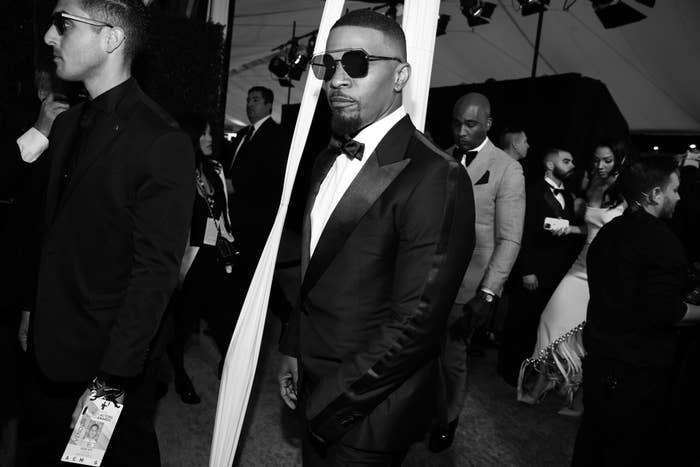 Over the last few years, it's been​ said that Mike Tyson said a biopic on his life, starring Jamie Foxx, was indeed in the works. "It's on, as of right now," a 2017 The Jasmine Brand report had Mike Tyson saying. "Jamie Foxx has signed on for it. Filming hasn't started yet but it's going to happen. A lot of people aren't going to like the things I've done in my life."
While I'm not sure who would be surprised as the things Tyson has done in his life (he's on record for biting a grown man's ear off during a boxing match AND having done time on rape charges), what did surprise me was how insane people got over this news. You'd think no one listened to Jamie Foxx when he described the opening scene back in April of 2015 during a Hot 97 interview:

It sounds amazing, and yet somehow this is flooding my Twitter timeline like it's the first we're hearing of it. Have people really not been up on the Jamie Foxx as Mike Tyson news cycle over the last four or five years? If not, here's a quick primer on the evolution of this project, with hopes that we hear something concrete on it in the near future.
This movie has been talked about since 2008
According to a Slashfilm post dated Feb. 29, 2008, Mike Tyson appears to have been developing this idea for some time. "I have a movie on the verge of happening, probably in two years from now," Tyson said. "Me and Jamie Foxx are going to do a collaboration. He's going to play me in my life story. We've talked about it many times." Tyson spoke on it again in 2009, saying. "It's gonna' be [about me]. It's gonna' be Jamie Foxx portraying me in a life story… I don't know [who might direct]. Jamie discussed the things he wanted to do. He didn't know which way he wanted to go, but it was something he wanted to do. He told me not to tell anybody [too much]. He's just interested in doing it."
With Tyson letting the cat out of the bag (again), it looked like Jamie Foxx was OK to discuss it. In October of 2009, Foxx spoke with MTV News about the project, but at that time Taylor Hickford (who helmed the 2004 biopic Ray that Foxx won a Best Actor Oscar for in 2005) was in the director's chair. "Taylor Hackford, who also directed [the] Ray Charles [biopic]," Foxx said, "I think is my man. We have a certain kinship, and we've talked about when we do get back together what it would be like. I think, for something like this, it would be great because everybody remembers that era. And it's been a long enough time that people need a refreshening." Foxx also mirrored what's in the new report about Tyson, saying he's "been privy to some of the private things that I just think are so amazing."
Foxx brought it back up on Live With Kelly & Michael, and mentioned that while Tyson used to hate Foxx for his impressions, they ended up being cool, and at the time, Foxx said that he "hoped" to portray Mike in a movie at some point.
Talk about the project started to heat up in 2014
After that Live interview, it felt like the wheels were truly in motion. Tyson told the Daily Mirror in July of 2014 that "within a year to 18 months, we're going to do the Mike Tyson story and he's going to portray me, and now they have this new animation; because you know Jamie's pretty much my age so he can't portray me but they have this new system." That backs up what Foxx was saying about the intro in that 2015 Hot 97 interview about CGI allowing him to portray a younger Tyson.
It wasn't until March of 2015 that Martin Scorsese (yes, you read that right) was reported to be attached to this biopic. That nugget was dropped by Foxx during an interview on The Breakfast Club, where Foxx also said Terrence Winter would be on hand to write. For those who aren't aware, Scorsese and Winter teamed up for The Wolf of Wall Street. Foxx later hit Ellen in May of 2015 and said he was playing Tyson, relaying the story of Tyson being in the audience when Foxx gets to his Tyson joke.
Then, things got quiet
Back in 2015, we fantasy-casted the Tyson biopic, and looking back at it now, it feels like Black Panther-level of #AllBlackEverything casting. As of right now, though, there isn't much else we know about this project. That iMDb page is looking boring af.
With this renewed interest in the film, we hope it's only a matter of time before the important stuff gets solidified, as Foxx (and Tyson) have been selling us a vision that could be one of the illest biopics since, well, Ray. Make it happen, Hollywood.
...until they weren't!
All was quiet on the Western front until Foxx posted a photo he took with Mike Tyson on his Instagram page on May 1, 2019. "Thank u for the trust," Foxx wrote in the caption, adding the tease of "one step closer" at the end. Hard to tell what this meant; could it have been Tyson and Foxx ironing out the details of the story before it gets taken to producers and financiers? Who knows.
Foxx takes to IG...again
After that promising post back in 2019, radio silence was maintained until Juneteenth 2020, with Foxx dropping a carousel of photos on the 'gram showing off the results of the process Foxx appears to be undertaking to become Tyson, physically.
"The transformation begins," Foxx's caption began before writing "FINDING MIKE" (what does that mean? Why is it specifically capitalized?). "It is no secret that I have been pursuing the @miketyson biopic for some time," Foxx continues, saying that people always ask him when the film is going to happen. "Things have finally lined up," Foxx states. "A few months ago we started the journey… The first but biggest task is to transform the body... with a regiment of pull-ups dips and push-ups we are off to a pretty good start."
So Jamie Foxx is in beast mode. With COVID-19 shifting how things like television shows and films get made, this could be a blessing in disguise, giving Jamie enough time to get in shape so, assuming that the deals he's been working on are seemingly in good shape, he could get to work. We'll keep you posted on further details about the Mike Tyson biopic as they are released.