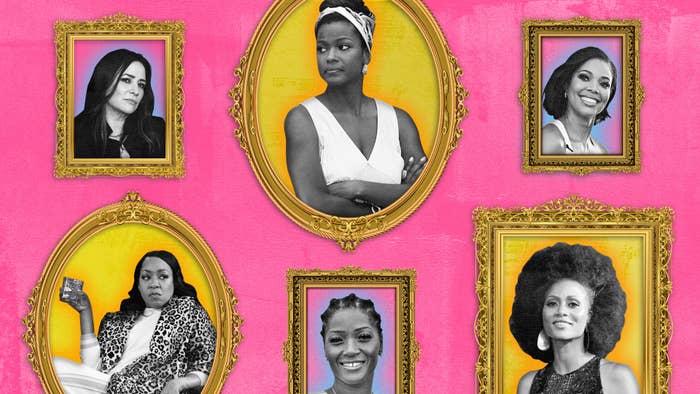 If you're spending time with mom this Mother's Day, it's fair to assume that after the card-giving and celebratory meal time you'll end up in whatever room the family watches television. Of course there's no shortage of viewing options for you and mom on the second Sunday in May; but what shows will appeal to both generations equally? 
Whether it's a hilarious sitcom mom or a stoic matriarch at the center of a dramatic series, there are a number of small screen sheroes to watch with your own. From the ride-or-die moms who stick with their kids to the bitter end to the mothers who pay attention to the world and try to impart wisdom on their children early, today's crop of mother figures across streaming services is as diverse—and as good—as they come. We're talking superhero mothers, mothers of superheroes, business owners, and queens. Just in time for Mother's Day, here are the best moms on TV and in film streaming right now.
ZOEY BAKER, 'CHEAPER BY THE DOZEN'
Portrayed by: Gabrielle Union
Where to Watch:Disney+
Disney+ put a new spin on Cheaper By the Dozen, with black-ish creator Kenya Barris writing and producing the latest tale on an insanely-blended family; this time headed by Zoey and Paul Baker (Gabrielle Union and Zach Braff, respectively). 
Union's Zoey is refreshing. In a film that features a racially-diverse blended family of 10, it's dope that Zoey is aware of what's going on in society and is willing to speak up about it. Zoey realizes that a part of protecting her children is making them aware of what's going on in the world they're living in. It's an admirable trait especially in a family comedy where social issues may be deemed too taboo. 
Outside of being aware of what's going on in the world, Zoey wants to make sure that her family is living in it, together, enjoying themselves. Making the world a better place so that she can enjoy life with her children? Zoey is the mom we all want and need. 
SAM FOX, 'BETTER THINGS'
Portrayed by: Pamela Adlon
Where to Watch:Hulu
Pamela Adlon's real life as a working single mother of three young women is the reason why FX's critically acclaimed Better Things is so authentic. Adlon's work as Samantha "Sam" Fox pays homage to what many women go through. 
Sam's family life isn't easy especially as she raises three growing children who are all radically different. Better Things, which just wrapped its fifth season, explores everything from Sam maintaining a career as a recognizable star in the industry, to the gaping hole her ex-husband left in all of their lives. Adlon's work as Sam has christened her"everyone's mom,"  and, at numerous times in the series, she literally has been. 
The diverse array of guests who've been together in the Fox household has been awesome. It's one thing to preach diversity, but it's another to show people—all from different walks of life—living their truths in a series that tells stories that matter and attempt to get to the root of what's going on on this blue rock. 
Sam's not just everyone's mom, she may be the mom everyone needs right now.
VIVIAN BANKS, 'BEL-AIR'
Portrayed by: Cassandra Freeman
Where to Watch:Peacock
Peacock's Bel-Air, the dramatic reimagining of The Fresh Prince of Bel-Air, became one of 2022's most talked-about TV series. In the process of updating the story of the Banks family's lavish lifestyle in Bel-Air, Cassandra Freeman's portrayal of Vivian Banks is more important than meets the eye. 
Freeman's Aunt Viv left her promising art history career to become the glue that holds her enterprising brood together, and in Bel-Air, she questions if she made the right decision, putting her family above her own aspirations. The balance of work and home life is tough for everyone, especially the working mother. It's a dope opportunity for Freeman to make an impact, and makes for a relatable road for Bel-Air to travel down. And not for nothing, Vivian Banks is one of the wealthiest Black women we've seen on television in a while. That fact alone puts her in rare air compared to most mothers on TV right now.
HELEN PARR / ELASTIGIRL, 'THE INCREDIBLES'
Portrayed by: Holly Hunter
Where to Watch:Disney+
Helen Parr, better known as Elastigirl from The Incredibles, may have the toughest job. Sure, mothers across the globe have to raise their kids while maintaining their own lives. It can be a real hassle, especially when multiple things are going wrong. Now add children who can become invisible or have super speed coupled with the responsibility of having to do it all while your husband is out saving the world, and it's a wonder that Elastigirl can keep it together. 
She protects the lives of her superkids when needed, and even gets back out into the superhero game in TheIncredibles 2. She may not be your superwoman, but Elastigirl damn sure holds it down at home and, when needed, whenever there's trouble afoot that's too big for mere mortals. That's a lot of work and similar to many mothers out there, Elastigirl tends to make it look like she hasn't broken a sweat.
LESLIE BENNETT, 'EUPHORIA' 
Portrayed by: Nika King
Where to Watch:HBO Max
With HBO's Euphoria getting as many things right about the realities of teen vices as it does wrong, having (at least) one strong parent in the series was necessary. In Nika King's depiction of Rue's mother Leslie Bennett, we saw the reality of the situation come to a head on Sunday nights. 
During season 2, Rue's reckless lifestyle forces Leslie to make hard choices for the sake of their family, which means protecting Rue's younger sister, Gia. Leslie's at her wit's end by the conclusion of the season, having attempted to get through to Rue a number of different ways. Some of those scenes feature Leslie having to eat the abuse being hurled at her by her daughter. It's a tough position to be in and one that sadly isn't foreign to King, who drew from her own experiences with addiction in her family for this role. 
Bennett's may be one of the more important roles on this list, as seeing Leslie try to save her daughter could help parents and children understand each other before it's too late. 
MARGE SIMPSON, 'THE SIMPSONS' 
Portrayed by: Julie Kavner
Where to Watch:Disney+
Marge Simpson may hold the crown for longest-running best mom in the modern era. The matriarch of The Simpsons hit No. 1 on Entertainment Weekly's list of best TV mothers in 1994 and then six years later the entire Simpson clan earned a star on the Hollywood Walk of Fame. 
But why do people identify with Marge so much? A big part of our admiration for her is that, like us, Marge isn't perfect. She doesn't run from this fact, and is okay with making mistakes, as well as forgiving the mistakes of others. Loyal to her family, Marge isn't far off from the sitcom mothers many of us grew up watching as a kid, but similar to series like Roseanne, there are times where Marge keeps it real about the stresses of her life—sometimes having to put Homer Simpson in his place, for the betterment of the family. Marge's gone a bit overboard at times, but her family's well being has always been at the forefront of her intentions. Hell, Marge Simpson may be the kindest, most considerate mother on television. She's also got the tallest hair out of anyone else on this list, so she's destined to stand out from the pack. 
JADA WASHINGTON, 'THE CHI'
Portrayed by: Yolonda Ross
Where to Watch:Showtime
Four seasons of Showtime's The Chi has seen Jada Washington be the primary mother on a series focused on the lives of Black folks living on Chicago's South Side. Viewers know her as the mother of  Emmett (played by Jacob Latimore), who's more concerned with his kicks than what he's doing for his kids, and Jada wasn't shy (no pun intended) when it came to dishing out tough love. It was a hard lesson, but one Emmett learned from. 
As the series progressed, fans saw Jada balance everything from entering new relationships to dealing with breast cancer, which disproportionately affects Black women at a higher rate. It's a role Ross embraced, and overall one that's impact is most felt with the women who are living the same life as Jada on The Chi. 
CISSY SAINT, 'SNOWFALL' 
Portrayed by: Michael Hyatt
Where to Watch:Hulu
As the audience for FX's Snowfall has grown from season to season, so has Cissy Saint's ride-or-die nature for her son, street kingpin Franklin Saint. 
The series, which charts the rise of crack cocaine in the 1980s in California, finds Cissy Saint initially not wanting anything to do with her son's burgeoning empire. As Cissy and Franklin reconcile, they start to work together, mostly because Franklin's capital would be put to good use in the community through Cissy's real estate dealings. While wrong on a moral level, you don't always see a mother stand beside her child when they're doing wrong, but a mother's love is unconditional and Cissy is no different. 
It's a story as old as time; a mother's love compelling her to protect her child, no matter what the cost. 
TINA BUTLER, 'THE NEIGHBORHOOD'
Portrayed by: Tichina Arnold
Where to Watch:Paramount+
Watching Martin, you may never have pictured Pam (Tichina Arnold) as a mother, but in CBS' The Neighborhood, Arnold's played a dope mother, Tina Butler, and loving wife to Calvin Butler (Cedric the Entertainer). Similar to her work as Rochelle on Everybody Hates Chris, Arnold brings Tina to life as a no-nonsense business owner who holds down her cupcake empire and her insane family (and neighbors). 
Seeing successful Black women on television isn't necessarily new, but it is always appreciated, especially when they're running their own business. And while not a one-to-one, Arnold's a single mother IRL and drew inspiration for Tina from her own mother, aunt, and grandmother. It's an amazing testament to Arnold's career, where she's in a position to continue to win at her craft while lowkey paying homage to the women in her own life.
QUEEN RAMONDA, 'BLACK PANTHER' 
Portrayed by: Angela Bassett
Where to Watch:Disney+
Unexpected pick? That's fine, but don't forget, Ramonda is legit known as the Queen Mother of Wakanda. 
After losing her husband, King T'Chaka, Ramonda sees her life become a balancing act that many may not realize while taking in Black Panther: Ramonda must consider what's best for the people of Wakanda while also preparing her son T'Challa for life as king. She's as concerned for the people of her land as she is about the relationship between her children Shuri and T'Challa, and was shown making sure that her son was able to fulfill his destiny as king of Wakanda. When the chips are down Ramonda is ready to ride, which she proved when it was time to make the trek with Shuri to get help for T'Challa in his time of need. 
Calm yet firm, the Queen Mother more than earned that title, and was the only woman who could have guided T'Challa into becoming the fearless leader he was destined to be.