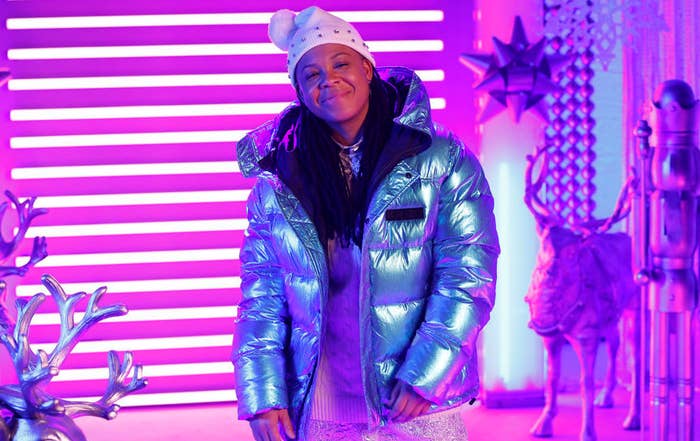 When COVID-19 hit in 2020, Punkie Johnson's life changed for the better.
While the rest of the world struggled to adjust to the results of a global pandemic, the comedian got a call from her agent asking if she wanted to audition for Saturday Night Live. Johnson did, and the rest is history. Prior to that, Johnson was set to leave New York and move back to Los Angeles to continue pursuing comedy while working as a bartender to make ends meet, but instead, she became the eighth Black woman to be a cast member on the legendary sketch comedy show. 
Starting a TV career on SNL is like starting a singing career at the Super Bowl. While she had done stand-up for nearly 10 years, working at The Comedy Store in LA as a paid regular and appearing on a number of shows like Space Force and A Black Lady Sketch Show, she still feels like SNL is her start. She may not have the preparation her colleagues have, but she has the skills and dedication necessary to make it on the show—already delivering some of the most praised (and viral) musical moments of this season. "When I first got there I started talking to the cast about their past. A lot of them went to school at The Second City, The Groundlings," Johnson tells Complex. "II didn't have any of that experience. So a person like me, I got to get in where I fit in."
The NBC show, which aired its first episode in 1975, is responsible for introducing some of Hollywood's biggest names who have gone on to have remarkable careers, like Eddie Murphy—whom Johnson wants to model her career after. The legendary comedians' headshots fill the hallways at 30 Rockefeller Plaza, and while impostor syndrome weighs heavy on Johnson at times, seeing them and all they have become since their time on the show gives her the push to keep going.
She first joined the show for Season 46 amid social distancing rules that kept her apart from the rest of the crew. Now in Season 48, Johnson feels more confident in her abilities and is finding her place on the show. Complex hopped on a call with Johnson to chat about her experience on SNL so far, the responsibility she feels to uplift Black women and the LGBTQ+ community through her performances, and being the one to provide the show's musical moments following Pete Davidson's departure. Check out our conversation, lightly edited for length and clarity below, and check out Punkie Johnson live from New York City on SNL this Saturday on NBC.