Sometimes when you want things done up to your standards, you have to do it yourself—and that's what Kenya Barris did with You People, his feature directorial debut he wrote alongside Jonah Hill. 
The comedy flips the interracial couple genre on its head, featuring a Jewish man named Ezra from Los Angeles who falls in love with a Black woman named Amira (Lauren London), who is from a different part of LA and whose family is Muslim. The pair couldn't be more different from each other but they quickly fall in love and everything is smooth between them until they introduce their respective families into their relationship and things go left. 
Barris' intent in all that he does is to make TV shows and movies that are relatable to everyone. The writer/creator/director refuses to be boxed in and enters the film world with a comedy stacked with some of Hollywood's most talented and beloved actors. Barris was able to land Eddie Murphy, Nia Long, Julia Louis-Dreyfus, and David Duchovny to play Hill and London's parents in the film. Murphy and Louis-Dreyfus are comedic legends and their performances and humor elevate the film even further. London and Hill have a natural, easy-going chemistry between them that's hard to find in modern rom-coms, and they both shine as the film leads.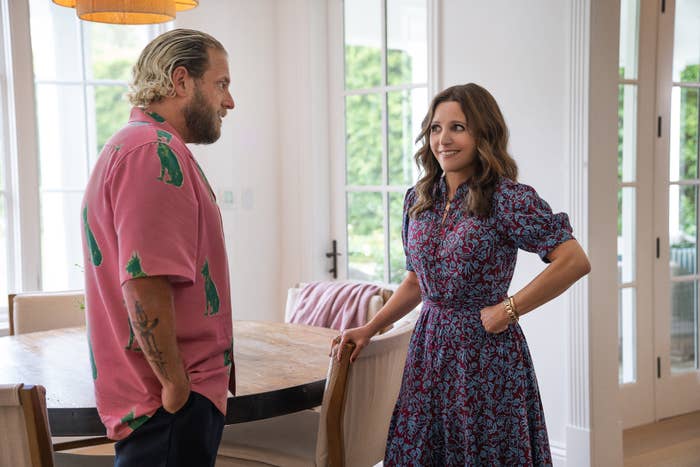 The concept of the movie was inspired by Hill dating a Cuban woman, and Barris' ex and mother of his children, who is biracial, but also the cultural differences between the Black and Jewish communities. "We started talking about it in general, the Jewish and Black cultures often sometimes run into oppression Olympics and we loved the idea of that. I grew up in LA, he grew up in LA, and we'd have those conversations," Barris tells Complex. "So there were a lot of things that we wanted to talk about that we felt like would be interesting and hadn't really been explored or would make it feel like it was of the time. We didn't know how much of the time it would be at that moment, but we definitely wanted to talk about things that were in our heart."
In the film, Ezra and his father-in-law, played by Murphy, have a conversation regarding Kanye West and Jay-Z's hit song, "Ni**as In Paris." While it's one of the most hilarious moments in the film, the creator and Netflix felt like a different clip should be used as a teaser trailer due to West's recently making controversial antisemitic comments. The team went with a different clip instead, where Ezra invites Amira's parents for lunch at Roscoe's House of Chicken 'N Waffles and it's as awkward, tense, hilarious and tone-deaf as it sounds. But it's the most clever way to introduce viewers to what's in store when You People hits the streaming service on Jan. 27, 2023.
The film also features performances from Sam Jay, Mike Epps, Yung Miami, Lala Anthony, Andrew Schulz, Deon Cole, and more. Complex hopped on a call with Kenya Barris to talk about making the film, working with Jonah Hill and Lauren London, and more. Check out the first look clip above and our interview, edited for length and clarity, below.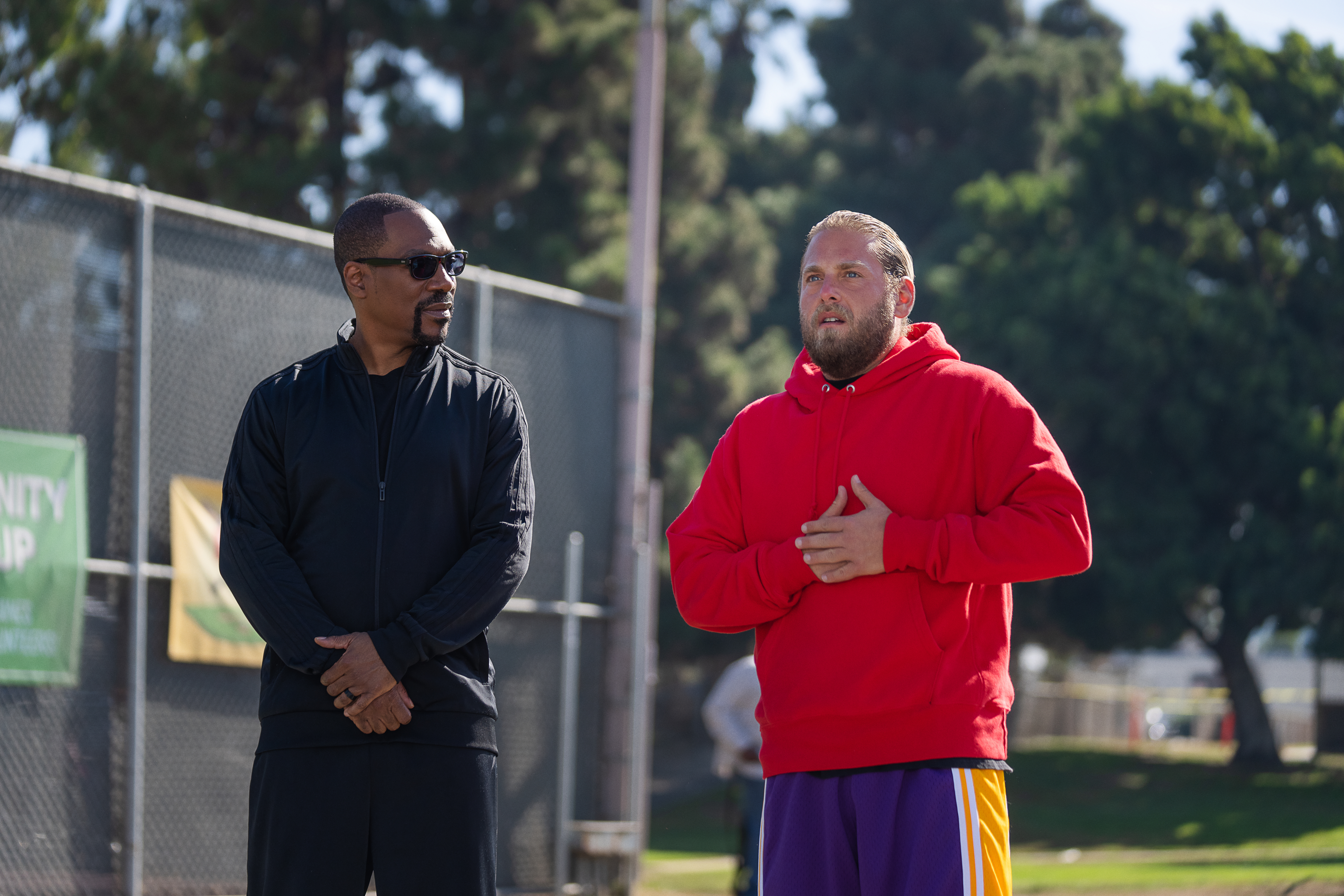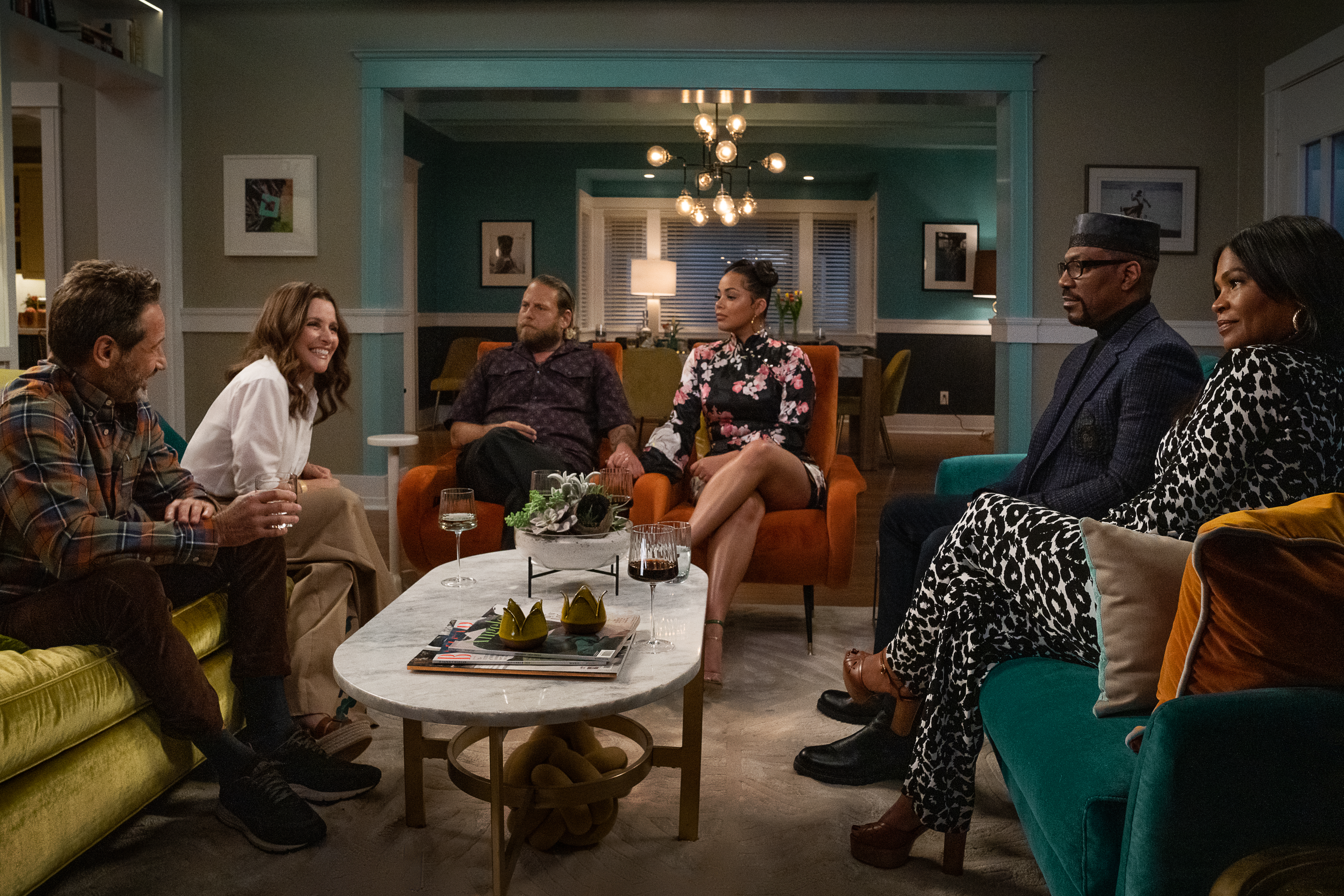 For sure. And like you said, Jonah Hill is incredible in this movie. So funny.

And in a leading man role that we haven't really seen him in.
How was it writing with him and creating this story with him?

It was great. He's so funny. And he's been in that [Judd] Apatow camp, in the [Adam] McKay camp, and all those camps. He's a comedy genius and we have really, really, really leaned into like, for us, like let's just try to push this, and let's try to make something that feels new and fresh and it feels like takes off from where those guys were at. And now speaks to more where we want to be at.
Also, the rest of the cast is incredible.

Julia Louis-Dreyfus is our comedy. David Duchovny was just a pleasure. Taco, Travis Bennett who plays her brother, and Nia Long is Black royalty. Eddie is Eddie. Eddie is an institution. Even our side characters Deon Cole, Lala [Anthony], and Young Miami are just blazing a trail. Then a crazy surprise I think for a lot of people is Sam Jay. I think in some aspects she's almost got the best role in the movie. And you haven't seen her do that in that way. I love her. We have become friends and I mean at every place we feel like we really, really got struck gold.
When you were writing these characters, did you have in mind who you wanted to play them? Or what was that casting process like?

We knew we would love to have Eddie, but felt like this isn't going to happen. I think our mind was that we knew we wanted Eddie. We were like Eddie or Denzel Washington just because we thought it would be funny to have Malcolm X literally sitting across from Jonah during one of our conversations. But we knew we wanted Eddie, Julia Louis-Dreyfus was also our first choice. We were like, what if we could? We didn't think we were going to get them. And people kept responding to the script and I think it was one of those things where I looked up and I'm like, "This is my first movie?" It was not in any way shape or form what I would've thought, but it was such a great experience and such a learning experience for me as well.
But it also speaks a lot to your work. I feel like when anyone hears Kenya Barris is attached to any project, they look up instantly. It's because of the work that you have done so far.

Well, I hope that continues. I'm really, really, really lucky and blessed, and just take it all in and say that it all can change. But you saw Entergalactic. Being able to work with those people and get those types of things, and really keep trying to challenge and do different things that feel like they take the voice of what would've been considered a "Black movie," what would've been a Black animation piece and push out those boundaries and make it for everybody. I think that's the thing that I really, in these latter years of my career, I've been really trying to say. How do we make things from people who might have been niched into a real sort of segmented thing and make it really mainstream and popular?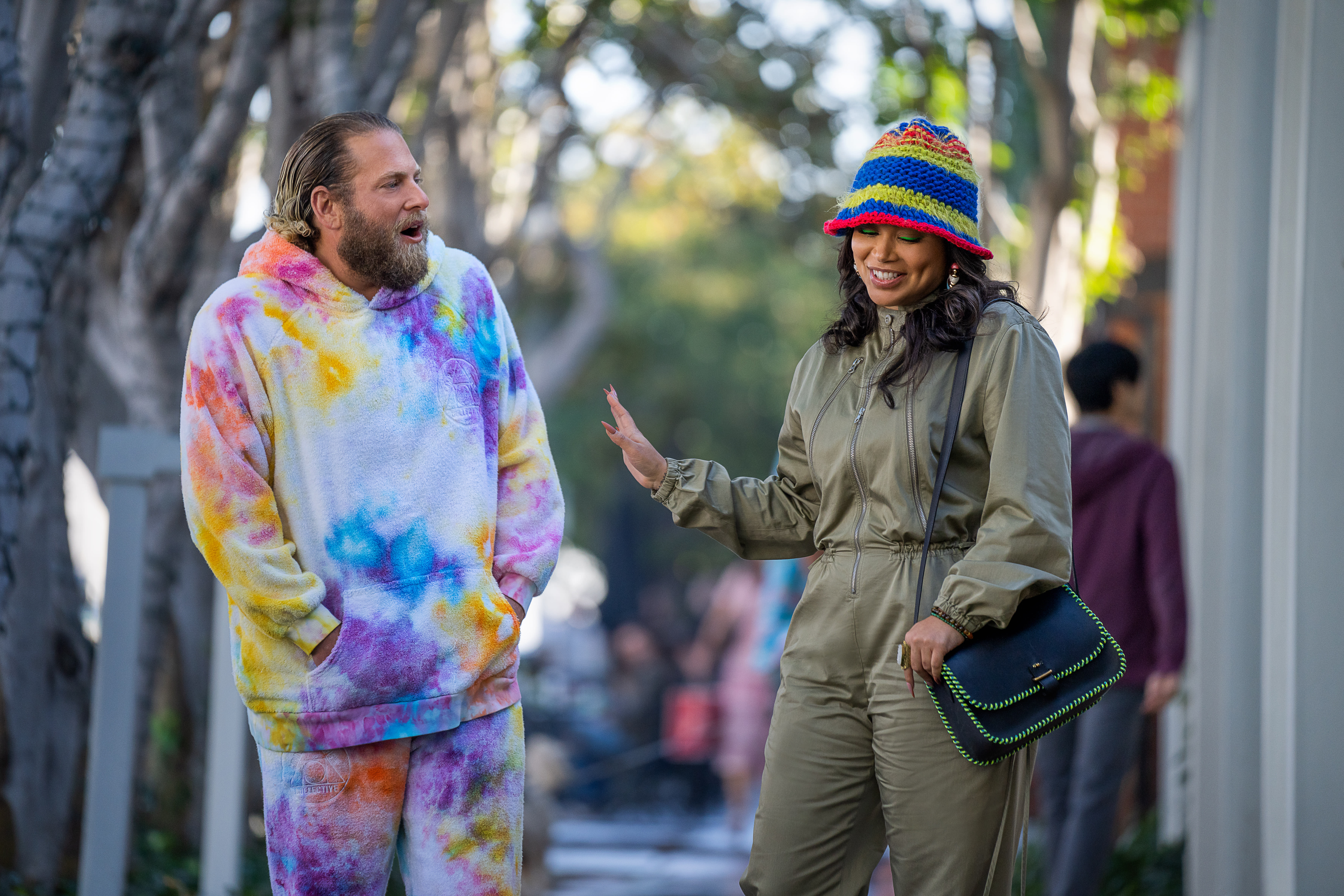 I think this is what You People does particularly well. I don't think there's anyone who could watch this and not relate to it in some way.

I hope you are right. I hope you're right.
Can you talk a little about selecting this conversation that they have at Roscoe's to be what people see first from this movie?

This was a hard-thought conversation. There are a few different versions of it. I love this conversation. We're at an interesting time. We had another great conversation. There was a great conversation with him in the car about the song that he likes and what's the name of the song, which we would've all kind of leaned into what a great teaser that would be. And then controversy that we had no idea about came up and we were like, although we all agree that this would be a great teaser, do we want to just open the door? But I feel like Netflix has been really, really supportive in saying, "Look, we understand, we want to support this. We don't want to get caught up in the noise, but at the same time we have to play and we want to make this movie just reach as many people as possible without any obstacles."
People on the team at Netflix really leaned in and we went into this Roscoe's scene. I do think it was a really good sort of first look at what this movie's about because it does show Nia, shows Eddie, shows Roscoe's, and it shows Jonah being uncomfortable. It talks about that sort of uncomfortableness that we've all felt with our meeting our in-laws for the first time and having that question. And I feel like it does it in a really funny way.
We have seen movies about interracial couples before, but I really like that it flipped at this time and it was a white man and a Black woman. Was that intentional of something that you wanted to do or did that just happen because Jonah was the lead?

Well, I think we wanted to flip Guess Who Is Coming to Dinner? And flip that on its head. Eddie is Spencer Tracy. And Julia is happy to be almost in a sort of way, fetishizing the idea of the Black daughter, and Eddie's like, "I'm not quite sure." And I think that was a really big flip on its head for the genre. And we wanted to say times have changed and there is a wokeness and a Black pride that we didn't see back then. So we wanted to say how would that happen now? How would we do that? And I think that's what makes it as far from Guess Who Is Coming to Dinner? as we wanted it to be.