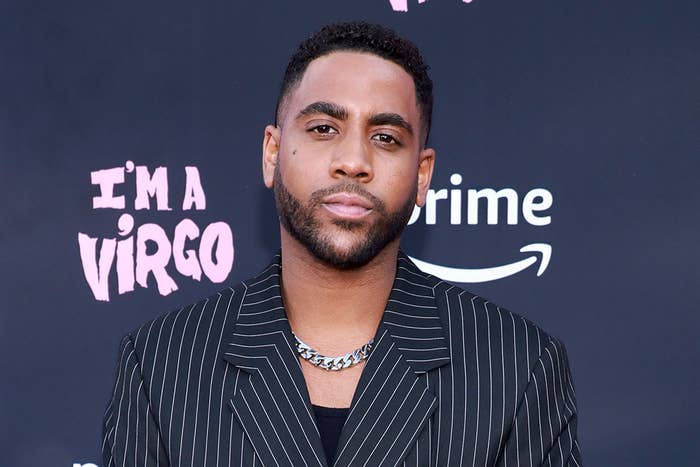 Jharrel Jerome's talent is larger than life.
That was evident since his breakthrough appearances in the Oscar-winning Moonlight and in Netflix's When They See Us. Now, after some time away (way too long if you ask me), he's back as the lead in Boot Riley's new genre-bending Prime Video series, I'm a Virgo.
The series, which is a coming-of-age story that blends fantasy, comedy, surrealism, and drama all in one, is about a 13-foot-tall young man named Cootie who has lived in hiding for most of his life. He breaks free and begins having the experiences a young 19-year-old man should be having—making friends, partying, and falling in love—while also fighting for his freedom and for his people. The show's premise is not easy to explain—there's a superhero component, underlying messages about capitalism, and symbolism about race—but what stands out most is Jerome's portrayal of Cootie.
Cootie is unlike anything we've seen on TV before. Complex visited the I'm a Virgo set in Oakland in May 2022 and we were able to witness how Riley (who also directed 2018's Sorry to Bother You) and Jerome constructed this giant's world, while also keeping him relatable and accessible to his regular-sized counterparts. The director and his production team built an actual 13-foot puppet modeled after the actor, giving it keen details on his face, hair, and clothing, as well as moving, flexible extremities that would make him appear real in the scenes the puppet is in alongside his human costars. Smaller versions of the other actors were also designed and used to create a forced perception and to make it easier for Jerome to interact with when filming his scenes.
"You did get to see all the intricate pieces to it. Because when you talk about it, people are like, 'Whoa,' but when you see it, it's a whole different thing," Jerome tells Complex. "When Boots presented the idea to me, my jaw was on the floor. I knew that more than anything it was going to be a challenge, which is why I was like, 'Yes, I want to do this.' This is so innovative, so fresh, so original, but then also requires so much work for the actor who's going to play Cootie."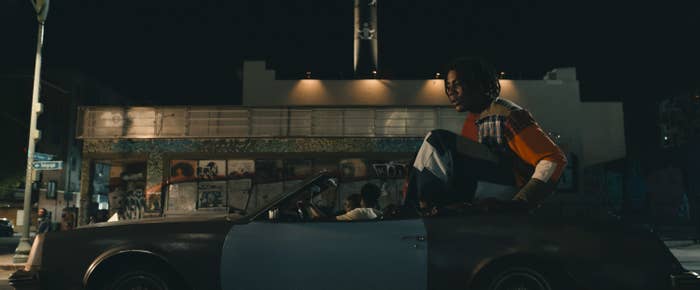 The set design was also intricate, and a joy ride scene filmed in downtown Oakland meant having to drive around with a huge puppet in the backseat of a convertible car, then redo the takes in order to capture Jerome's facial expressions up close.
"I knew it would be a challenge and I more than wanted to take it. Shooting forced perspective comes with not being able to see your scene partner in the eyes because of the camera angles and the positioning," he said. "Working with many set pieces and figuring out, 'Well, how would a 13-foot-tall giant use an iPhone? He'd probably just use his little pinky or something.' It was a lot of attention to detail, and that's always challenging when you have to try to give life to a character that's so different."
The show's title might also raise some eyebrows. The story is about a giant, young Black man but somehow the spotlight is on his zodiac sign, a distinction Cootie takes seriously. Cootie attributes a lot of his quirks and personality quips to being a Virgo because to him, being tall is all he knows—it's other people that have to get used to his height. Cootie hasn't been jaded by the world yet, and his parents Martisse (Mike Epps) and Lafrancine (Carmen Ejogo) have gone above and beyond to keep him sheltered and largely removed from the realities of the society they live in, while also exaggerating how bad things are to keep him fearful and stop him from wanting to explore the outside world.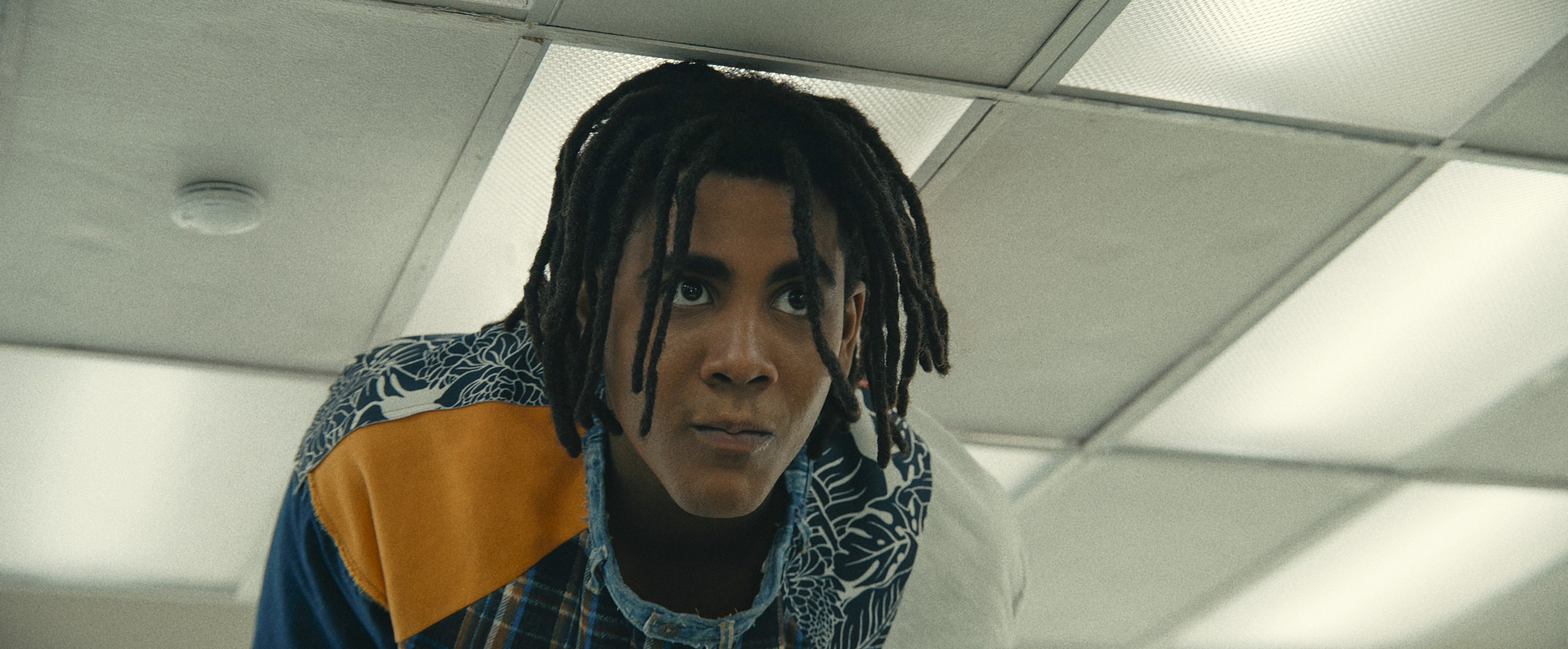 "The goal for me was to make sure people forgot that Cootie was 13 feet tall by the end. Obviously, when you see him, you're freaking out and your brain has to rework something and try to make him seem normal," Jerome says. "For him, it's not too big of a deal. It's about who he is, which is why the show's not I'm a Giant or I'm 13 Foot Tall, it's I'm a Virgo. It's what makes me me, it's the human in me."
At some points throughout the show, you do forget that Cootie is this imposing being that doesn't quite fit into the world around him, and that was intentional. He's endearing and fumbles through his first interactions with people on the outside. He may be 19 but in terms of social cues, dynamics, and interpersonal skills, he's still a young, naive boy. "The real challenge beyond all the technical challenges was making sure by the end of the journey, that the audience latched onto Cootie in a way that they didn't latch onto this giant, they latched onto this human, this kid," the actor says.
Jerome himself is just as warm and approachable in person, and at 25, he still exudes a strong childlike energy, similar to his character, yet he is also somehow wise beyond his years. "I have this weird mix between being an old man and a very young boy," he says. "I have this wisdom but then I have this extreme youth and this bright-eyed—like I'm still learning every time I'm going. I just let Cootie be that, and it made sense for who he was."
In 2022, Jerome approached the tent I was standing under after wwatching him shoot a scene with On My Block alum Brett Gray, who plays Cootie's new friend Felix. Jerome was welcoming, friendly, and down to earth, and behaved the same way when we saw each other again the next day on the bus that drove all of us around during the joy ride scene. We caught up on Zoom more than a year later and I told him about the anticipation, and frustration, that I have felt waiting for him to return to our screens.
This summer he has Virgo coming out as well as Apple TV's limited series Full Circle, which he stars in with Zazie Beetz and Claire Danes. The last time we've seen him on our screens was in 2020's Concrete Cowboy, which he starred in after his role as Korey Wise in Ava DuVernay's When They See Us, which was about the Exonerated Five from the infamous 1989 Central Park jogger case.
Jerome's portrayal of Wise was so gut-wrenching and memorable that it landed the then-21-year-old an Emmy for Best Actor in a Limited Series/TV Movie, making him one of the youngest-ever winners and the first Afro-Latino to win in that category. I tell him his acceptance speech and his press room interview were the purest form of representation I had seen at an award show, and he says: "I had to bring that to the Emmy stage. If we're going to do it, we have to do it like that."
A few years prior to the win, he took a break from studying at New York's Ithaca College to star in his first movie, Barry Jenkins' Moonlight, which took home the Oscar for Best Picture in 2017. That's a strong place to start for any young actor, but that also came with its own pressures. Jerome has been focused on getting back on track, especially after COVID-19 forced Hollywood to come to a standstill for some time, and he and his team have been meticulous when it comes to planning his return.
"It's not necessarily that I'm not doing anything as much as I'm trying to do the right thing and the perfect thing that will really raise the bar that has already been set with some of the work I've been blessed to do already," Jerome says about his hiatus. "Half of it was, of course, the industry shutting down and certain things delaying projects, but the other half of it was making sure I chose the right projects. I'm a Virgo and Full Circle are exactly the vision that I had three years ago. It wasn't easy and it was scary, but it feels good to be here now."
"It wasn't easy and it was scary, but it feels good to be here now."
Riley has been open about handpicking Jerome for the role and having the foresight to choose him even prior to his Emmy win. It was only after the win that other executives were also on board with his casting. But that experience of winning any Emmy helped inform how Jerome would portray Cootie. "In my life personally, I have dealt with a lot of newfound insecurities and trust. Who do I trust? Who's in my life for what specific reason and who views me for me, the human in me, the 'I'm a Libra' in me, as opposed to the stature of who I am?" Jerome says. "When the Emmy night happened, my life shifted. I felt very much like Cootie where I must have been a giant, but I did not feel like it. I still was this child who just yesterday was hanging out on the block with my friends at McDonald's. I had to adjust and learn how to move with the image that was being placed on me just based on the work I was doing."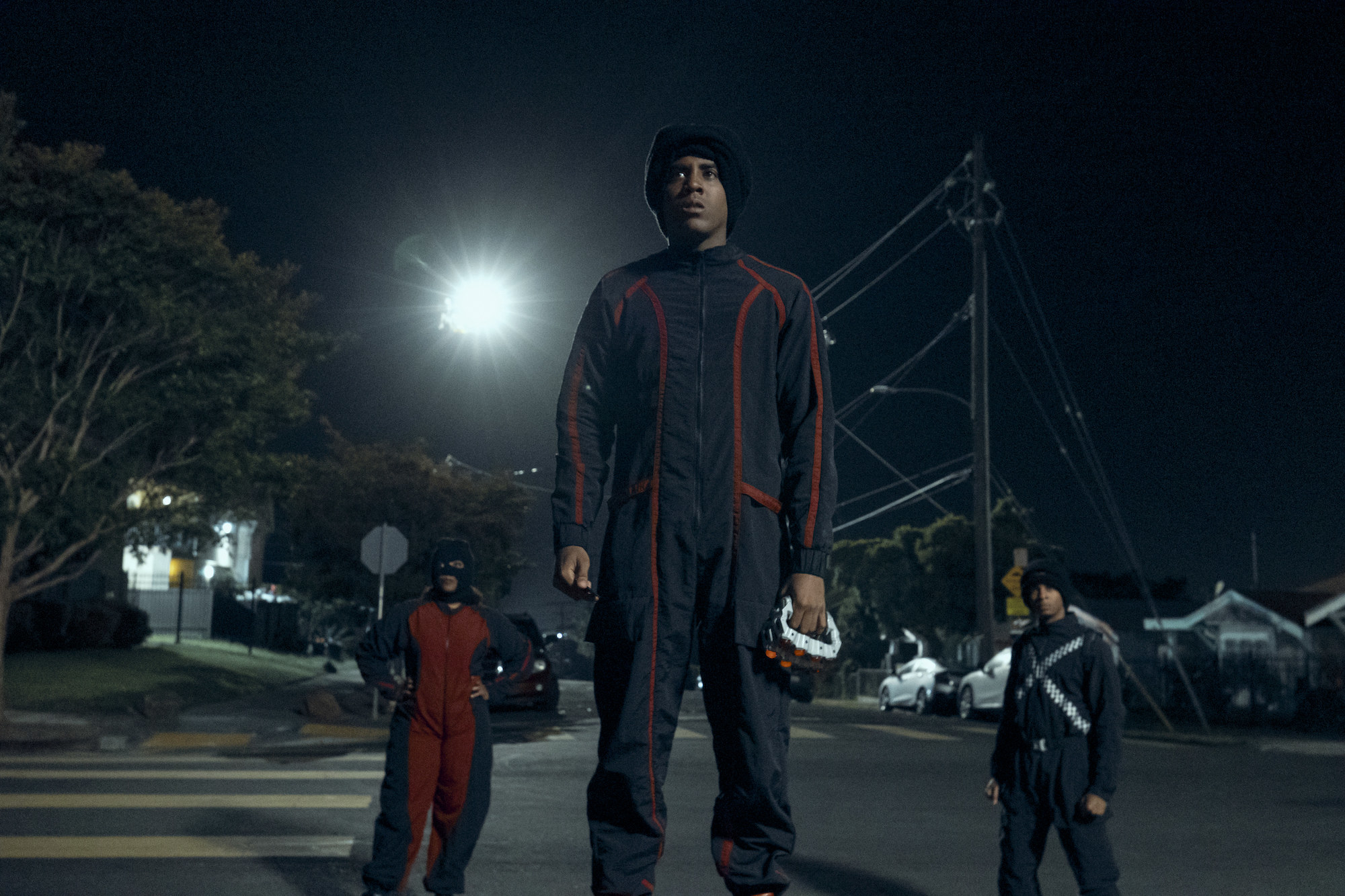 Another aspect of the show that Jerome has previously mentioned and Riley spoke to Complex about earlier this year was how Cootie's height represents the way Black men are perceived by society when they step outside. Their appearance is often the first thing people notice and they determine how they react based on that and their own fears.
"That's my personal experience of being a Black man in America and going outside, and having to shift and adjust the way I speak, the way I walk when I see maybe a police officer. But Boots is a genius, that's point-blank," Jerome says. "It's such a testament to his genius. How he is able to manage to create a fantasy world and create all these light themes that feel so fun and feel joyous and lighthearted, but under the entire time, there is this dark, dark brooding concept of this system that we live in. And Boots is able to attack the source."
Capitalism is another topic that is centered throughout the series, and Jerome, who is also an executive producer on the show, explains how that also relates to racism. "A lot of projects that involve young Black actors involve Black trauma, prison, and slavery. These are traumatic experiences that fall under the umbrella of capitalism. Capitalism has dropped these things off, dropped imprisonment off, dropped slavery off along the way, and Boots is talking about that," he says. "It's so important to get to the source. We often speak about what we go through as Black people in this country, but we don't often like to talk about the politics of it because, well, it's boring, it's misconstrued, it's old, it almost feels like there's no use. Boots makes it fun. We could talk about the politics of it, but let's make it fun. There's such beauty and revolution to that way of working for him. He's done that with his music way back in the 90s, and he's doing it now as a filmmaker."
Boots manages to fit an array of concepts and ideas that the actor believes will be received differently depending on who is watching and where they are in life. "I hope, just like Sorry To Bother You, you leave and you have so many things to think about, so many questions and curiosities. You want to learn more about what you just watched and you want to rerun it one more time to make sure you saw what you saw. That's what makes the show so exciting," Jerome says. "That's what makes it so genre-bending—there are a million different things you can catch. A kid could watch the show and see an entirely different show than a 45-year-old Black man sitting in Atlanta. A teenager in the Bronx is going to see that wholly differently, too. Everybody's going to have a very different opinion of it. That's the magic in it."
The lead on this show had to be someone that could easily carry that sort of depth and deliver in a way that was digestible to all sorts of audiences. And Jerome was fully equipped to do so. As a child, the actor auditioned to get into different performing arts schools in New York to avoid going to his local high school in the Bronx. His mother, who is Dominican, encouraged him to continue pursuing acting after he got into LaGuardia High School of Music & Art and Performing Arts and the rest is history. Coming from where he comes from, and as a Dominican Afro-Latino, there are specific groups of people who are cheering for him to keep thriving. But that sort of weight can be debilitating at times.
"I try not to think about it too much. It's tunnel vision for me right now. Hopefully, there will come a time in my career when I can breathe and think about what the heck has been going on, and maybe inspire and go back to where I'm from," he says. "I have dreams of teaching. I would love to go back to the Bronx and just do classes for kids like me when I was 13 who just wanted to leave my hood. I wanted to leave my area and do something new. "
He adds: "The amount of talented kids there are in the Bronx right now ready to just shine, I can't even imagine. I would love to be a part of that one day. As for right now, there's so much pressure I feel weighing on me that instead of thinking about it, I'd rather just hold it up and keep walking and not think about how heavy it is and not think about how I could drop it at any point. I don't want to think about these things. It's not worth it."
"There's so much pressure I feel weighing on me that instead of thinking about it, I'd rather just hold it up and keep walking and not think about how heavy it is."
The actor says he hopes to build a career at the caliber of someone like Denzel Washington and other great artists that he grew up watching but to do it his way, without succumbing to making his career fit any particular standard. "I want to emulate them and follow in those footsteps, and be smart and be militant. But I want to not be put in a box and not be this Latino on the screen, not be this Black guy on the screen, be none of these things besides an actor—a person that when you go and watch all of who I am gets thrown away and I am this person in front of you now. I just want to do that to the fullest," he says.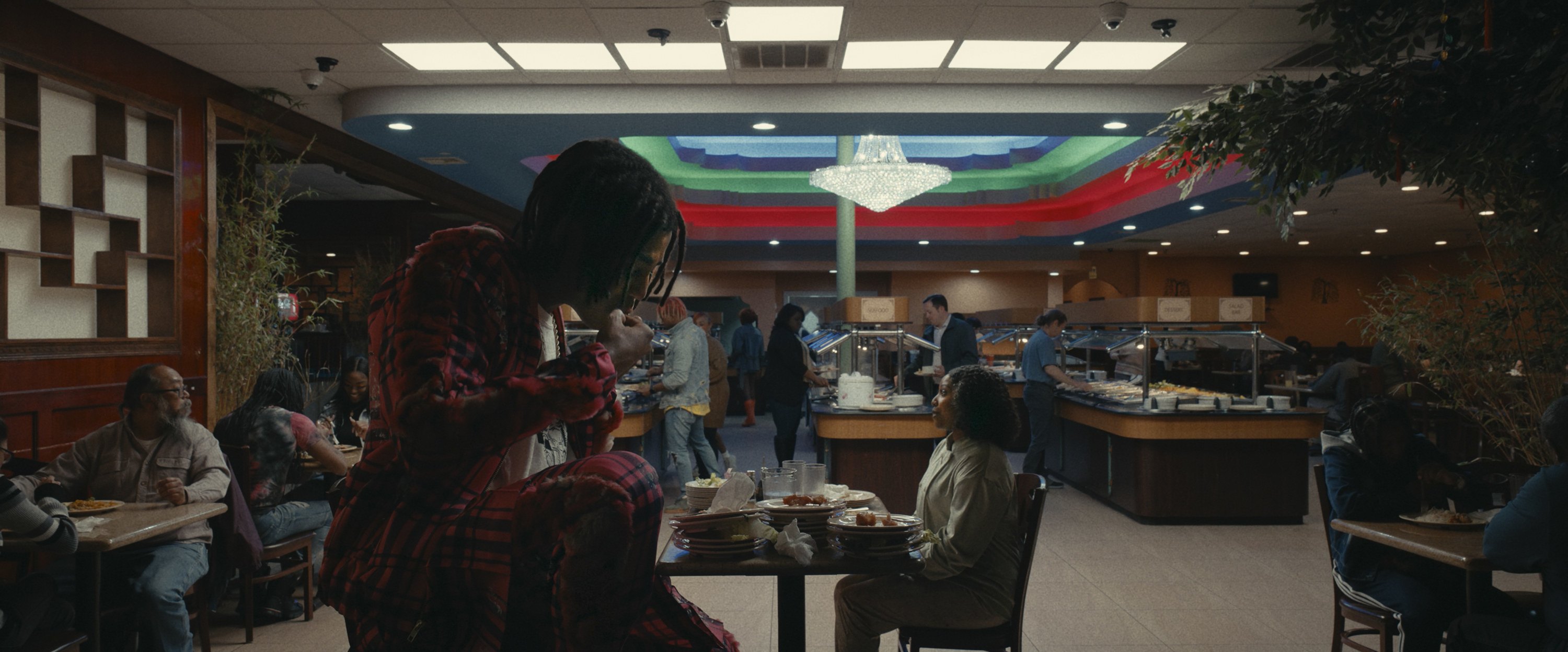 Jerome is also in a special group of people in Hollywood who are high achievers at a young age. People like him, and let's say the Harry Potter cast, could accomplish nothing else in their careers and still be remembered for what they have already done. But the Bronx native is not satisfied just yet. He plans to continue building a legacy and a career with his early success as the foundation. "The marks I hit already are not even close to the amount I want to hit. I want to look at what I've done already as just the very beginning of a career. There's relief in terms of, 'Hey, this is a great start,'" he says. "But the pressure was definitely immense and the catalyst to why I have been so quiet and have been so focused on doing the right thing. I definitely feel like I've achieved more than I ever thought I'd achieve already, but I just have so much more left in me. I'm trying to just make sure it happens the right way."
Jerome speaks like a seasoned vet and a novice all at once, and he is aware of the unique position he is in. He knows his track record gives him some leeway but Hollywood is also known to forget those who don't stay top of mind. As careful as he wants to be, it's sometimes necessary to just take the plunge and keep working to stay relevant. "I love the idea of longevity and being 45 years old and looking on my IMDB page and looking at the credits. It obviously requires a lot of risks, honestly, financially, and career-wise, and keeping people aware of who you are because it's a very fast-paced industry and society now," he says. "I like where I'm at and I want to keep going. I definitely don't want to take as big of a break next time."
"But I'm super proud of the work and I'm proud of how decisive I've been because I think this little comeback is pretty cool."
However, he's aware that it will take time and patience for the right work to come in regularly but he dreams of directors like Spike Lee, Ridley Scott, Steven Spielberg, and Martin Scorsese calling him up to offer him roles: "That would be a dream. In order for that to regularly happen, I have to be smart now, and I have to just do it right."
Following the already critically acclaimed release of I'm a Virgo this week, Jerome will be starring in the HBO miniseries Full Circle out in July. It's about an investigation into a botched kidnapping that takes place in New York and connects multiple people from a variety of cultures throughout the city. I am of the belief that people as talented as Jerome—and others like Keke Palmer, Daniel Kaluuya, and Damson Idris—should be highly sought after and always have a project in the works but that's also depending on casting directors making the right decisions.
Jerome's future is bright, his talent knows no bounds, and as tall as the heights he has already reached are, there's still higher ground for him to cover. And there's no doubt that he will. "I honestly feel like I hit a reset button and I'm preparing for a new chapter in my life. I'm just trying to stay grounded and wait for it," he says. "But I'm super proud of the work and I'm proud of how decisive I've been because I think this little comeback is pretty cool."
All episodes of I'm a Virgo Season 1 are now streaming on Prime.