The Deep Water trailer arrived earlier this month and it had people talking and counting down the days for the movie to drop. Ben Affleck and Ana de Armas are starring in the marital thriller arriving on Hulu on Friday, Mar. 18, and 20th Century Studios has shared an exclusive clip prior to the film's release. The flick is about a man named Vic Van Allen (Affleck), a successful tech guy, who is married to a beautiful and sensual woman named Melinda (de Armas).
Vic is aware that his wife is having affairs but he ignores them in order to avoid losing her and to dodge a potentially messy divorce. Things start to get out of hand when her lovers start to disappear, making him the prime suspect. Open marriages seem to be all fun and games until it's time to face the reality of it, and that's what happens to Vic in this scene.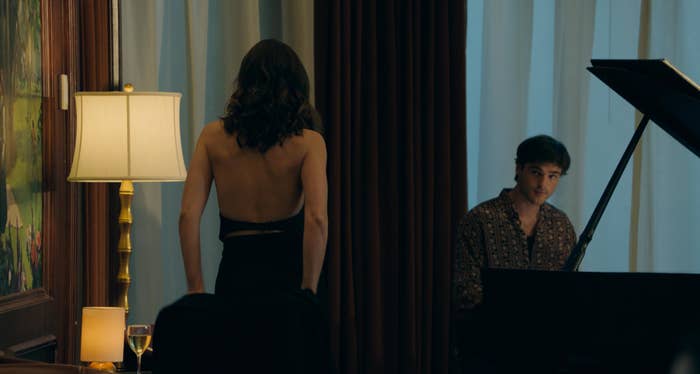 Melinda is open about her extramarital affairs and goes as far as inviting the guys to attend events with her. While at a party, she goes out of her way to introduce her new "friend" and piano teacher Charlie (Euphoria's Jacob Elordi) to her husband. While she makes it seem like it's a casual and ordinary introduction, it's clear that Vic is aware of who Charlie is. Melinda lurks behind them to witness the interaction, carefully observing her husband and how he responds to her friend. 
Charlie is charming when meeting Vic at first, but there's a slight tension between them that's hard to miss and instantly makes things awkward. It's one thing to agree to have relationships outside of your marriage, but to bring them home to meet your husband? That's quite a risky move. And judging by the trailer, Melinda's recklessness in handling her flings soon starts to affect all parties involved. 
The movie is based on the 1957 novel of the same name by Patricia Highsmith, and the screenplay was written by Zach Helm and Euphoria's creator Sam Levinson. Tracy Letts, Lil Rel Howery, Dash Mihok, Finn Wittrock, Kristen Connolly, and Rachel Blanchard are also starring alongside Affleck and de Armas in the erotic psychological thriller.
The Adrian Lyne-directed film was originally scheduled to arrive in November 2020 but was delayed on more than one occasion due to the COVID-19 pandemic. The wait is over, though, so check out the exclusive clip above and catch Deep Water on Hulu this Friday, Mar. 18.